Kid Rock Just Got a Killer Custom GMC 4×4, And We're Extremely Jealous
He's a cowboy, baby.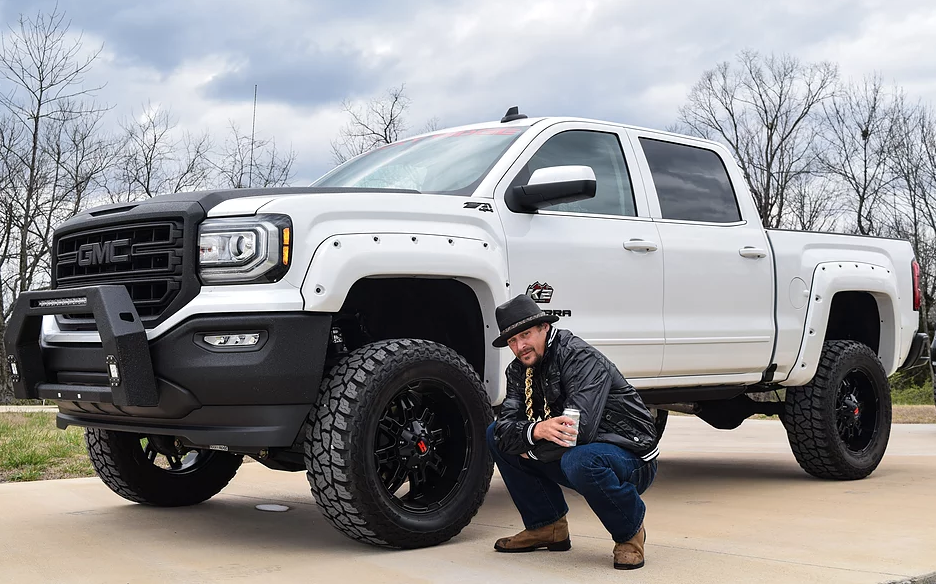 Possible future senator Kid Rock has joined a roster of celebrity entertainers and athletes who enjoy the custom 4×4 pickups from Georgia's Rocky Ridge Trucks, with his crisp-looking white-and-black new GMC Sierra 1500 the shop built just for him.
Country singers like Jason Aldean, Florida Georgia Line, Luke Bryan, MLB pitcher John Rocker and second-generation NASCAR drivers Jeb Burton, John Hunter Nemachek, and Chase Elliott all appreciate the capability of Rocky Road's customized pickups and Jeeps.
Kid Rock's supercharged 577-horsepower beauty looks too clean to take off-road, but maybe he only needs it to survive the potholes in his native Motown.
Naturally, he specified unique touches to make the truck his own, so you'll see American Badass upholstery and Detroit Cowboy badges.
The off-road goodies include  Rocky Ridge's Signature Series 6-inch Suspension Lift, 35-inch Mickey Thompson Baja ATZ Tires, 20-inch Black Havok Off-Road Wheels, and Stealth Coated hood, grille, and bumpers.
There's no mention of the upgrades to the sound system, but we can guess what will likely be blasting from this GMC's speakers.