The 5 Greatest Moments From the 2017 Daytona 500
Monster Energy's Kurt Busch drove the company's scantily-clad controversy to victory.
Getty Images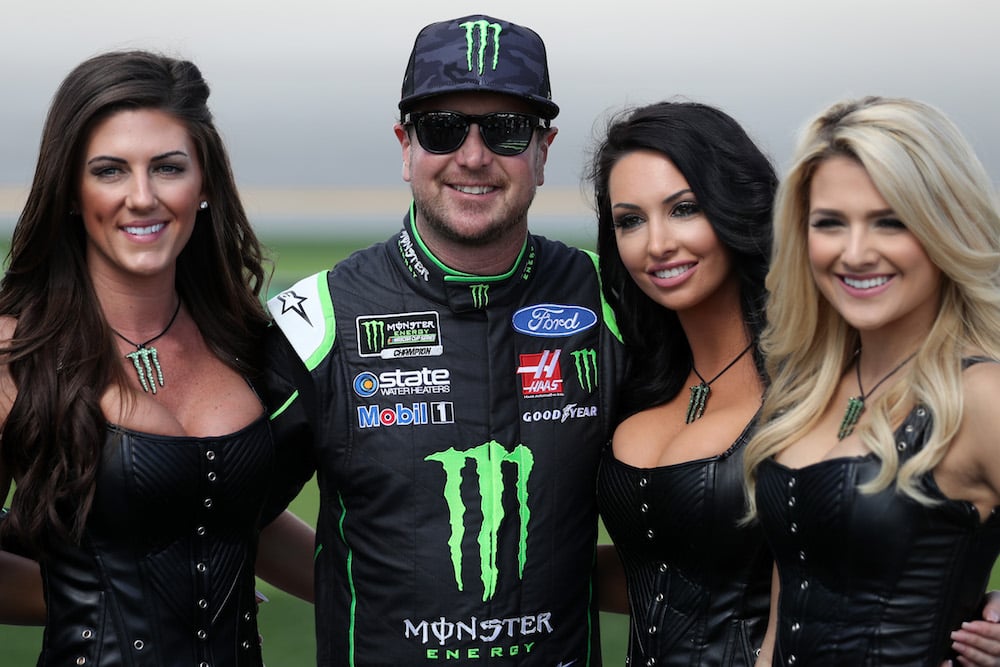 Sunday's Daytona 500 debuted a bold new era for NASCAR racing, with buzzy new title sponsor Monster Energy replacing Sprint, Kurt Busch winning the race, and a somewhat confusing format that turned the 500-mile classic into three shorter race "stages."
Amidst all the controversy and confusion, we've identified the five most memorable moments from this year's Great American Race.
1. Monster Energy Has Arrived 
The energy drink giant entered Nascar as title sponsor with a splash, as its Monster Girls' sexy outfits stirred controversy earlier in the week and then appeared on the pre-race television broadcast with NFL bro king Rob Gronkowski, who posed a very important 69-themed question to a Monster Energy Girl in the video here:
https://twitter.com/FirstDownFR/status/835930877796438016
The race was won by Busch, a Monster-sponsored 37-year-old veteran, who scored his first Daytona 500 win by passing 23-year-old Ryan Blaney on the final lap to complete the Monster domination of the event.
2. There Were Lots of Crashes
Fan faves Dale Earnhardt Jr. and Danica Patrick, along with 2016 Nascar champ Jimmie Johnson and 2016 Daytona 500 winner Denny Hamlin, were eliminated by  crashes
https://www.youtube.com/watch?v=Ku4uV6tFZfg
These kinds of crack-ups are inevitable in the bumper-to-bumper drafting demanded by the power-limited engine intake restrictors used on super speedways like Daytona.
3. Kyle Bush Won Stage One 
Race-winner Kurt Busch's brother Kyle won the first-ever Nascar "stage" 60 laps into the 2017 Daytona 500, to score ten points toward the 2017 end-of-season playoffs.  He soon crashed out due to a flat tire, taking other top drivers with him in the wreck. 
4. Kevin Harvick Won Stage Two  
Race-winner Kurt Busch's Stewart-Haas Racing teammate Kevin Harvick won the second stage (apparently it was a day of one degree of separation), but he was also soon eliminated when he was caught up in another of the multi-car crashes that were the race's theme. At least he scored the ten points for the stage win.
5. Fuel Economy May Have Won The Day 
By the end of the race, the cars remaining in the greatly diminished field were in a bind. They had juuust enough gas to make it to the finish, if they tiptoed around, drafting one another at part throttle. A pit stop for more fuel would doom any chance of winning, so all the contenders stuck to the same strategy, fingers crossed.
Some would-be challengers sputtered through the last lap, unable to mount an attack for the win. But Busch had the fuel he needed and floored it to sweep around leader Blaney just before the finish line for a perfect Monster finish.