We Test-Drove the 2020 Lamborghini Aventador SVJ Roadster
Behind the wheel of one of the most powerful roadsters ever made.
I'm flattening out a paper map of Southern California over a wooden table at the Crossroads Cafe in Joshua Tree. Eschewing my iPhone, Google and Waze, the old-world relic of cartography leaves little doubt the quickest way home is to head south and jump on Interstate 10—a thin blue line shooting due west from Morongo directly back to Venice Beach. 
As I sip coffee and consider my options, something glimmers from the corner of my eye. There on the curb outside the Crossroads' window, the eggshell blue paint of the Aventador SVJ Roadster (for Super Veloce) tugs at my attention like an unwelcome solicitor. Its geometric surfaces shine in the light like facets of a diamond; the desert morning air is crisp, but the Roadster's top is off, beckoning me into its cozy jetfighter cabin. 
Resistance is futile. To hell with the 10—I'm taking the long way home. I pop up the scissor door and slide into the black-and-orange Alcantara-wrapped cabin, the race seats wrapping me in a maternal embrace. Pressing Lambo's iconic ICBM-style start engine button, the naturally aspirated 6.5-liter V12 whoofs to life and fills the tumbleweed-quiet Joshua Tree streets with threatening barks. Passersby stare; giddy kids wave. I pull the right magnesium paddle shifter and slip the SVJ into drive, slowly easing it through the deserted western town; the SVJ Roadster doesn't like the lollygagging one bit, lurching clunkily on the low-gear shifts like pulling the reins of a bull.  
Finally I turn right onto Old Woman Springs Road and drive into the open desert towards Lucerne Valley. Eyes squint, grin widens, foot grows leaden. The ridiculous 770 horses awaken and we take off. Tuned to explode from 0-62 mph in a time-warping 2.9 seconds, in a blink we're slicing through the boulder-strewn landscape in a blur of exploding pistons, screaming exhaust ports and delirious, infantile chortling.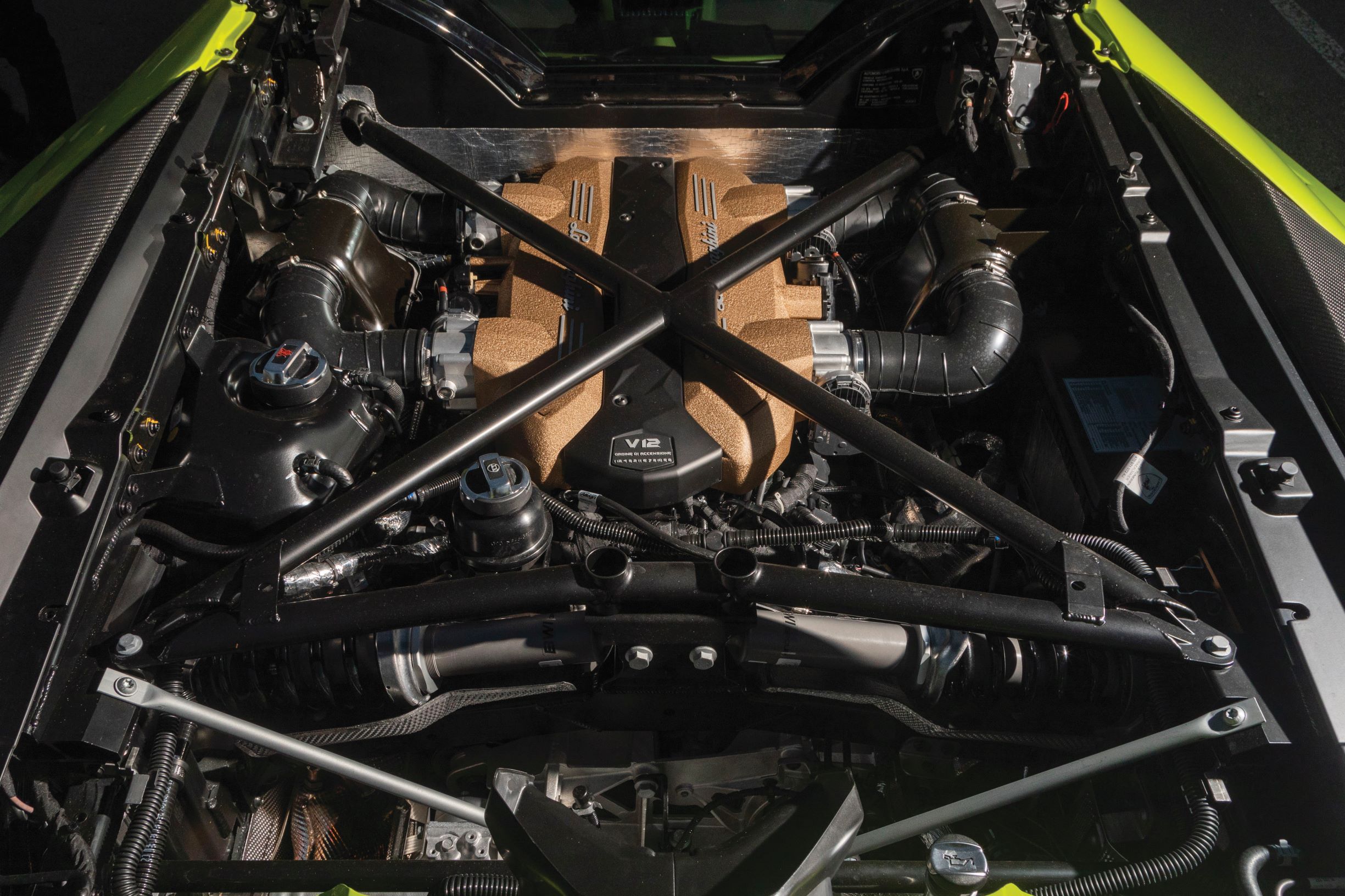 Twice on the long desert drive I have the opportunity to jump onto a highway and shorten my trip by over an hour. Twice I opt for the long road, cruising behind the San Bernardino National Forest, first on the 247 and then taking the Pearblossom Highway that connects the creaky outposts of Victorville with Palmdale. If you don't know this road, it's just a single ribbon of straight asphalt carved on once-open desert, zero turns. 
But it's never boring in the Lambo as the dips and undulations make it so you're never staring straight ahead; while peak power comes at a redline-screaming 8,500 rpm, and its velocity ceiling is a withering 217-mph, you'll never come close to approaching either of these limits on public roads, even ones as empty as these. Regardless, the joys of running the Lamborghini in these environments are impossible to explain—especially the gut punches of accelerations (courtesy of 531 lb-ft of torque) used to overtake caravans of slothing semi trucks.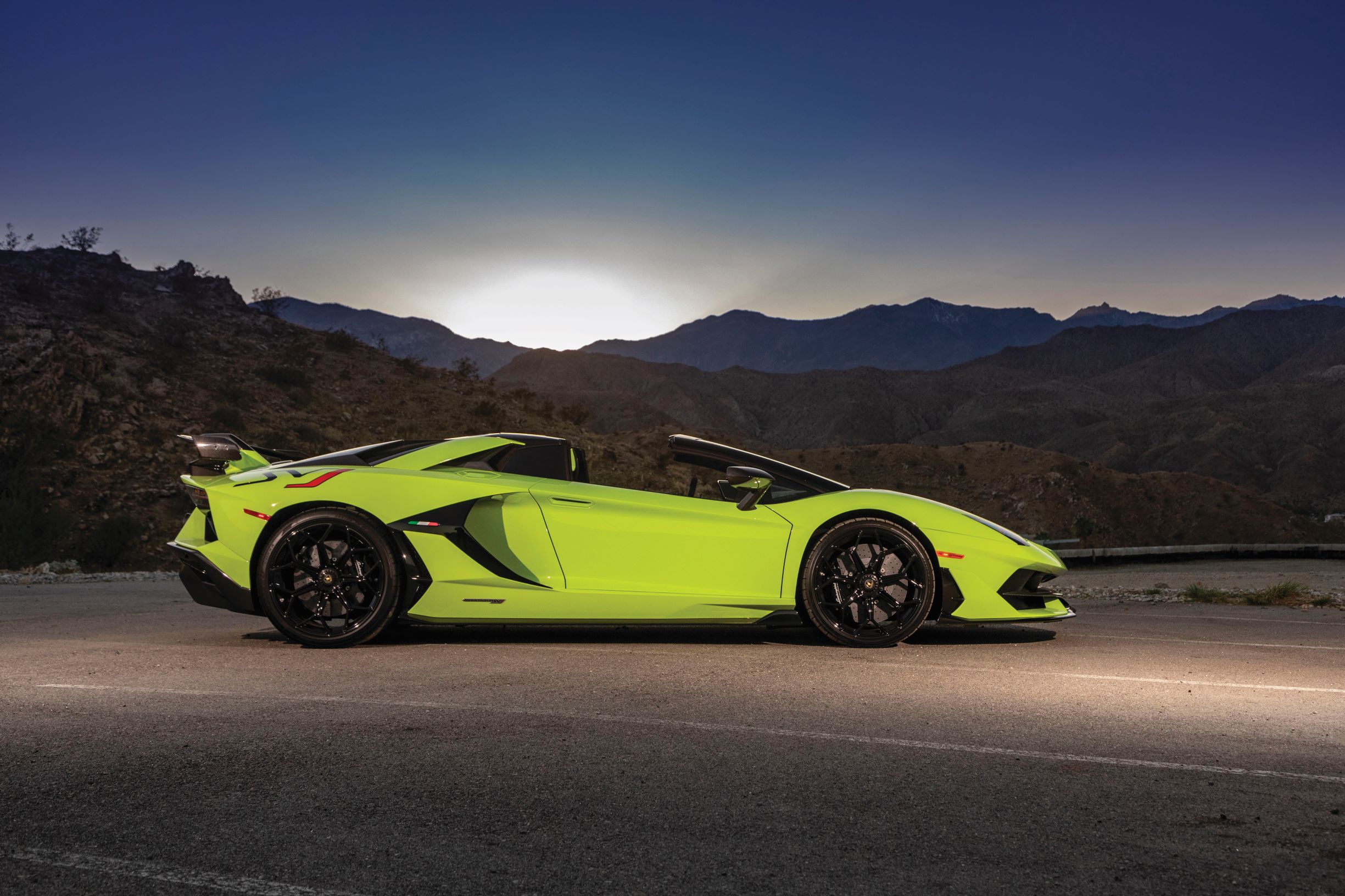 After all the Aventador SVJ is one of the most powerful non-electrified roadsters ever made, a vehicle of great exclusivity—one of only 800 ever to be built. It is currently the Raging Bull's flagship vehicle, until the even-more exclusive Sián hits roads later this year. I guess I could take this thing all the way to Malibu, see how the topless Lambo looks against the crashing waves of the Pacific. If it were up to me this road trip would never end.  
Bullish Future 
While long coveted for its futuristic, genre-defining profiles and unbridled V12 power plant, in recent years Lamborghini has been trailblazing in the world of bleeding-edge technology. Under the leadership of Chief Technical Officer Maurizio Reggiani, a slew of ingenious innovations and a collaboration with MIT has borne some next-level tech, spurring Lambo's overnight success in motorsports. Here are four recent breakthroughs ensuring the Raging Bull's continued place on the podium—and in your garage: 
ALA Wing 
Aerodinamica Lamborghini Attiva (ALA) is a revolutionary active aero system using actuators to open flaps in the massive rear wing: when open the air moves through the wing, minimizing downforce for optimal velocity; closed it moves around, maximizing downforce and braking for optimum grip. Furthermore, while cornering ALA allows the wing to generate downforce on only the inside half, creating what engineers dub aero vectoring. 
LDVI 
Think of Lamborghini Dinamica Veicolo Integrata (LDVI) as a singular über-brain, ingesting a torrent of data from the Huracán EVO's manifold complex systems, processing it all at supercomputer speeds, and adjusting performance accordingly every 20 milliseconds. In totality the LDVI not only lets the car react faster than any Lambo ever has—via external data, driver inputs and driving modes—but it can actually predict the supercar's needs. 
Supercapacitors
Unveiled theoretically in the otherworldly Terzo Millennio concept, Lambo's real-world usage of high-performance supercapacitors will debut in the ultra-exclusive Sián hypercar. Soon they could be implementing an even more explosive version of the technology, as their collaboration with MIT produced a patent for a synthetic material that could serve as the foundation for an entirely new generation of supercapacitors—potentially increasing energy density by up to 100%. 
Energy Storage
Another collaboration with MIT is experimenting on new design principles that integrate high-performance battery materials into the actual vehicle structure. Via 3D printing and nanotechnology, copper wires are infused into the carbon fiber weave that could allow chassis and body panels to pull double duty as energy storage. Batteries are heavy, so reducing lithium ion packs could delete precious pounds from future Lambos.