Lamborghini Celebrates 60th Anniversary With Cyberpunk Huracan Supercar
The Lamborghini Huracan "Timechaser" is a one-off supercar designed by famed futuristic artist Ikeuchi.
The racy Huracan STO is going sci-fi in celebration of Lamborghini's 60th anniversary.
Japanese artist Ikuechi, who specializes combining plastic models and industrial products to create functional works with cyberpunk and "robot anime" inspirations, designed the Lamborghini Huracan STO Time Chaser_111100—the numbers spell "60" in binary code. While Lamborghini didn't elaborate on what changes Ikeucho made, the overall theme aims to express "time" and timelessness."
"[The car] brilliantly expresses Ikeuchi's theme of cybernetics and Lamborghini's historic 60 years encompassing the shared values of always being at the forefront of the times and breaking the rules of the past through creative and authentic expression," according to the company.
Based on the photos, it's clear that the hood housing the 631-horsepower, 5.2-liter V12 has been topped with some sort of computer module—Road & Track suggests that that it could contain hard drives or graphics cards. The four colors seen inside the module are references to four generations of special-edition Lambo flagships—the Countach 25th Anniversary, Diablo SE30, Murciélago 40th Anniversary, and Aventador LP-720-4 50th Anniversary.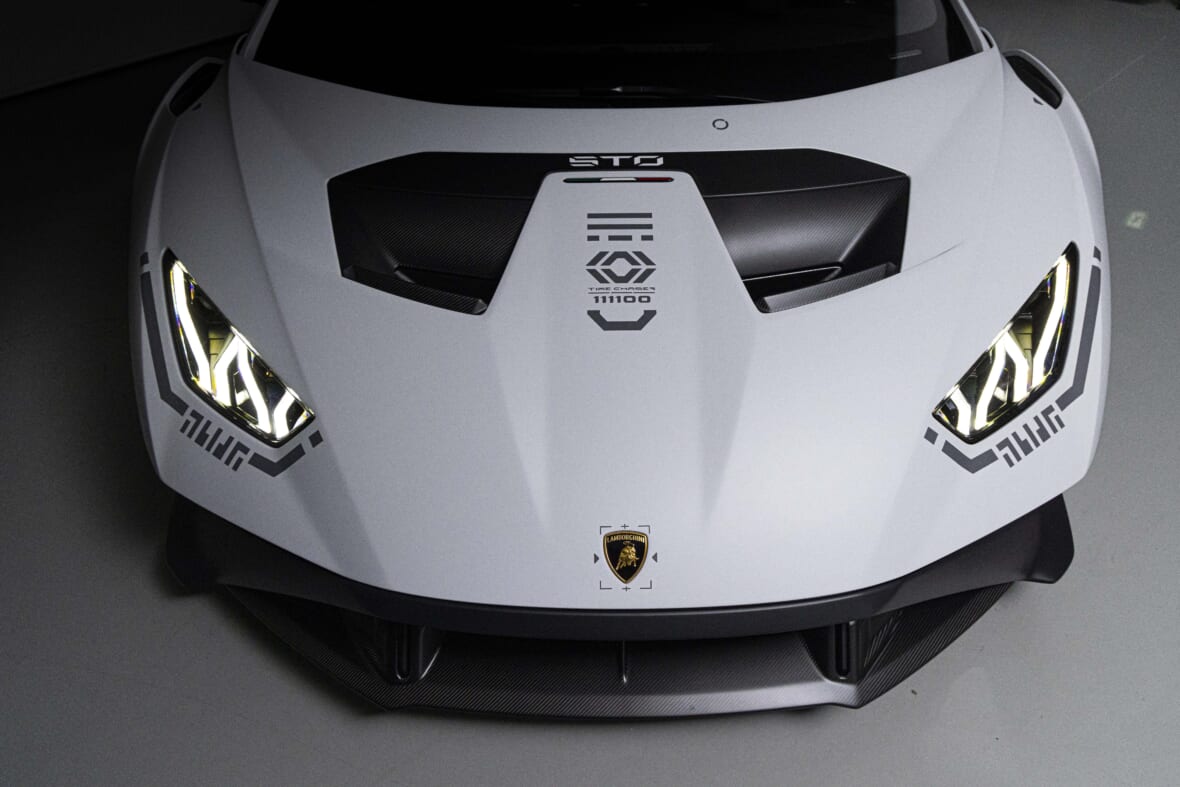 The Time Chaser_111100 also features all neutral colors—the body is mostly white, the doors are gray, but the rims, mirrors, and aero components are rendered in black. Gray decals reminiscent of circuit board channels also accent the headlights and central area in between the carved portions of Lamborghini's "Cofango" front hood-fender combo.
The Huracan STO Time Chaser_111100 is one of two pieces that Ikeuchi has conceived in collaboration with Lamborghini. The other, dubbed Time Gazer, is a large trestle containing an amalgam of Lamborghini parts, including rims, a seat, dashboard switches, and engine components.
"The Time Gazer and the Time Chaser were created by incorporating original parts from past anniversary models and are meant to be a celebration of Lamborghini's history from the very past with the aim of living longer also in the future," Ikeuchi said of his work.
"I hope that Lamborghini owners and many others could enjoy this collaboration as a piece of art that commemorates the next chapter of the ever-evolving brand."