The Majestic 770 HP Centenario Is The Most Powerful Lamborghini Yet
This Italian speed demon marks the 100th birthday of Lambo's founder.
Lamborghini's stunning new $1.9 million, 770-horsepower supercar celebrates a century since company founder Ferruccio Lamborghini's birth with a limited run of 20 Centenario coupes and 20 roadsters—all of which are already sold out.
The Centenario features an uprated version of the company's signature V-12 engine as seen in the Aventador, with the rev limit raised from 8,350 rpm to an even more stratospheric 8,600 rpm.
Acceleration from 0-62 mph (100 kph) is a blindingly-fast 2.8 seconds and the top speed is more than 218 mph, the company promises, while braking achieves the 30 meter benchmark for stops from 62 mph.
The Centenario's angular styling adheres to Lamborghini's current design language, while pushing it to new extremes, especially in the rear diffuser area which is as aggressive as that of the freakish Aston Martin Vulcan. Air extractor vents in the hood recall those in the Ford GT and they serve the same purpose here: generating aerodynamic downforce over the front axle.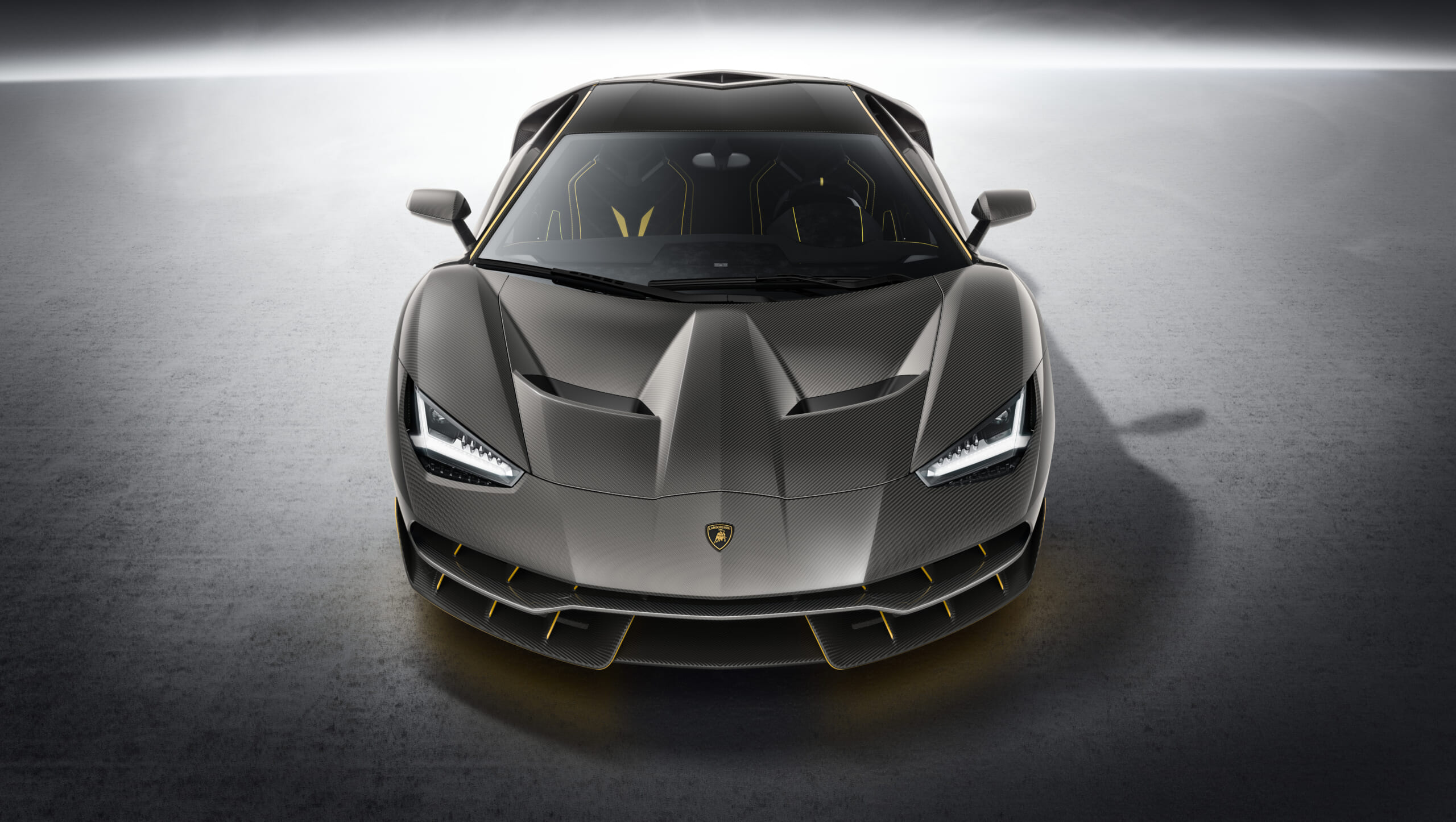 The limited production run starts this fall and will continue through 2017. Customers will be able to specify any color or leave the Lambo's carbon fiber visible if they prefer. 
The strategy of producing limited production models from the Reventon, Sesto Elemento, Aventador J, Veneno and now Centenario lets Lamborghini explore new design themes and technologies, while boosting the brand's image.
"The Centenario has immediately proved itself as a desirable collectors' car, while demonstrating new Lamborghini technologies and outstanding performance," observed departing Lamborghini President and CEO Stephan Winkelmann, who Lamborghini parent company Volkswagen recently tapped to head up Audi's Quattro GmbH performance division.
As if having a 218 mph supercar wasn't thrilling enough, Lamborghini also points out that the Centenario features Apple CarPlay for smartphone integration. Or, drivers could just listen to the glorious symphony produced by the 12-cylinder's exhaust. 
Whichever you choose, the Centenario is pretty much guaranteed to be one hell of a ride. 
For the latest car news, follow @MaximRides and Dan Carney on Twitter.