Inside The Ultimate Land Rover Love-In
Diehard fans of the brawny British 4×4 gathered for California's Trans Terras, a celebration of all things Land Rover.
Land Rover
If there's one vehicle that embodies adventure, it's the Land Rover. No other automobile in history is so closely associated with exotic and extreme landscapes as the slow, cumbersome, undependable and massively charismatic Land Rover.
And that's why we love them. Warts and all, we see a little bit of ourselves in these boxy English utility vehicles. Land Rovers represent an indefatigable spirit that's equal parts bravado and humility. Like the little engine that could, they seem to say, "I think I can, I think I can," as they trudge down the trail.
Best of all, Land Rovers represent freedom and ambition. It's not that most drivers will ever drive them into the swamp or across the savannah (or even onto dirt roads, these days), but it's that they could. 
It's this possibility that resonates with anyone who likes the concept of unencumbered travel. It appeals to our very core because, as a species, we've been migrating in search of the next horizon for millennia.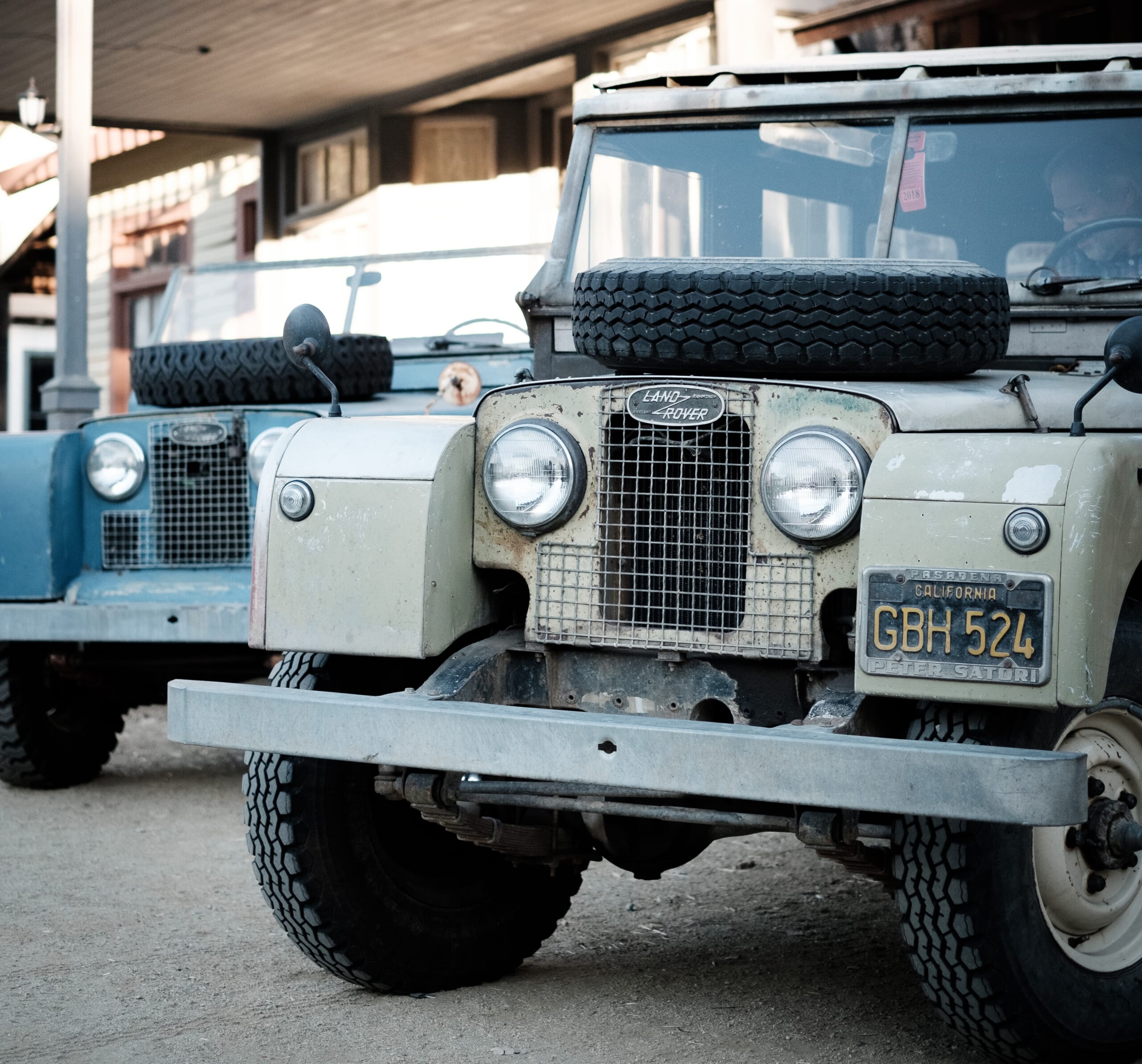 Despite the fact that the American Jeep was the first four-wheel-drive utility vehicle—and was responsible for liberating the world—it was the upstart Land Rover that's captured our imaginations.
A Jeep even formed the basis of the very first Land Rover, and the English duo who created it never denied it. They took a good thing and, in their eyes, simply modified it to their needs. 
There was no claim to originality, it was just sensible adaptation through innovation. But what was designed to be an all-purpose farm vehicle exceeded even their wildest dreams. Seventy years later, it's amazing to contemplate how their creation has conquered the world – literally and figuratively.
https://www.instagram.com/p/BpXJNRfA3Cr
I've always loved Land Rovers. I was fortunate enough to be raised by parents struck with wanderlust, and as a kid I lived in Central America, West Africa and the American West – places where 4x4s were an absolute necessity. 
It was West Africa where my connection to the go-anywhere English truck would be cemented. Like a trusty dog, Land Rovers were there through thick and thin. And like a family pet, they quickly imprinted on me with their distinct personality and immense character.
Seeing the current rising interest in Land Rovers here in the US, I decided it was time to organize an event to celebrate the iconic adventure vehicle.
While the elite Range Rover has been popular among wealthy American socialites since the 1980s, the Series I-III and Defender models – the workhorses of the brand – have been a relatively new phenomena over here. 
So with classic Land Rovers a growing automotive trend (effectively becoming the "new Porsche," which in turn had become the new café racer), or what diehards are ruefully calling a hipster fad, some kind of forum needed to be established.
To my way of thinking, this new interest in Land Rovers is a great thing. It means people are appreciating the legacy, design and symbolism of these vehicles. Although very British, they represent the free, optimistic, can-do spirit of America.  I find that very complementary. 
Furthermore, they are, unlike many Porsche models, attainable. That makes them even more attractive.
The result was Trans Terras (Latin for "across lands"). I wanted the event to honor Land Rover's conquering of the world, from desert and mountain to tundra and jungle, even urban city streets, but in a unique way.
Instead of just a jamboree, I envisioned Trans Terras to be an experiential lifestyle event focused on a curated exhibition of vehicles, both historical and contemporary. 
It was designed to be a celebration of all things Land Rover, where the timeline and bloodline of the marque's influence could be appreciated. But, more importantly, it would be something that would unite enthusiasts, celebrate shared interests, create camaraderie and provide community. I referred to it as a "Land Rover love-in."
After scouting several locations in southern California, I chose the historic Old West movie set of Paramount Ranch just over the mountain from Malibu. 
How cool, I thought, to juxtapose safari vehicles with the dusty streets of a fictional 1800s town where every Hollywood cowboy from Gary Cooper to John Wayne – even West World robots – had gun fights. The result of this "British Western" was a smash hit.
Fifty Land Rovers of all models, from Series I, II and III, to first-generation Range Rovers, classic Discoverys and modern Defenders, were on display and placed – like a 3D automotive art exhibition – around the Old West town. 
Most owners and attendees were from California, but some came from as far away as Portugal, and the unanimous response was, "Let's make this an annual event!"
Tragically, just one week after the inaugural Trans Terras, Paramount Ranch burned to the ground in the infamous Woolsey Fire. Trans Terras, however, was envisioned to be a pop-up event, something that would be hosted in a different location each year so as to keep it fresh and continually provide a unique backdrop. 
New venues, I reckon, will create anticipation and, like Land Rovers themselves, promote discovery. So scouting has begun for a new locale somewhere in southern California for the second November event.
Regardless of your interest in Land Rovers, or any other overland vehicle, the important point is this: turn off your screen, put away your device, and begin creating a story of your own. There's an entire world out there to be discovered and adventure awaits.
Note: News and updates for the November 2019 Trans Terras will be posted to the website, transterras.com.

Jared Zaugg—entrepreneur, author, consultant—can usually be found at the intersection of lifestyle, motoring and culture. Follow him on Instagram.