The Last Ever Lamborghini Diablo Is For Sale
Say goodbye to a piece of Lambo history.
The very last Lamborghini Diablo, the final expression of the original, pre-Volkswagen ways of doing business at Lamborghini's Sant'Agata headquarters, is headed to auction at Britain's Silverstone Auctions.
One imagines that in the old days, Lamborghini craftsmen would stand back and hold their thumb up in their line of sight to estimate the approximately correct proportions like portrait painters do in the movies.
That method is wonderful for infusing art, rolling or stationary, with Italian verve. But it isn't as good for the consistency required of 170 mph high-performance machinery. Sadly, such finicky artisan craftsmanship can sometimes contribute to inexplicable overheating and devilish electrical headaches.
The Diablo debuted in 1990 as the product of then-owner Chrysler's investment in an overdue replacement for the legendary Countach. Its demonic name was in tribute to a 19th century fighting bull owned by the Duke of Veragua. The car's styling met with acclaim, as did the performance of its 5.7-liter V-12 powerplant.
But a steep $211,000 price tag stalled sales, so in 1995, new Indonesian owner Megatech launched the Diablo Super Veloce ("super speed") at the Geneva Motor Show to improve the car's value by boosting performance. The SV was rated at 517 hp and had an adjustable rear wing and improved cooling for the brakes.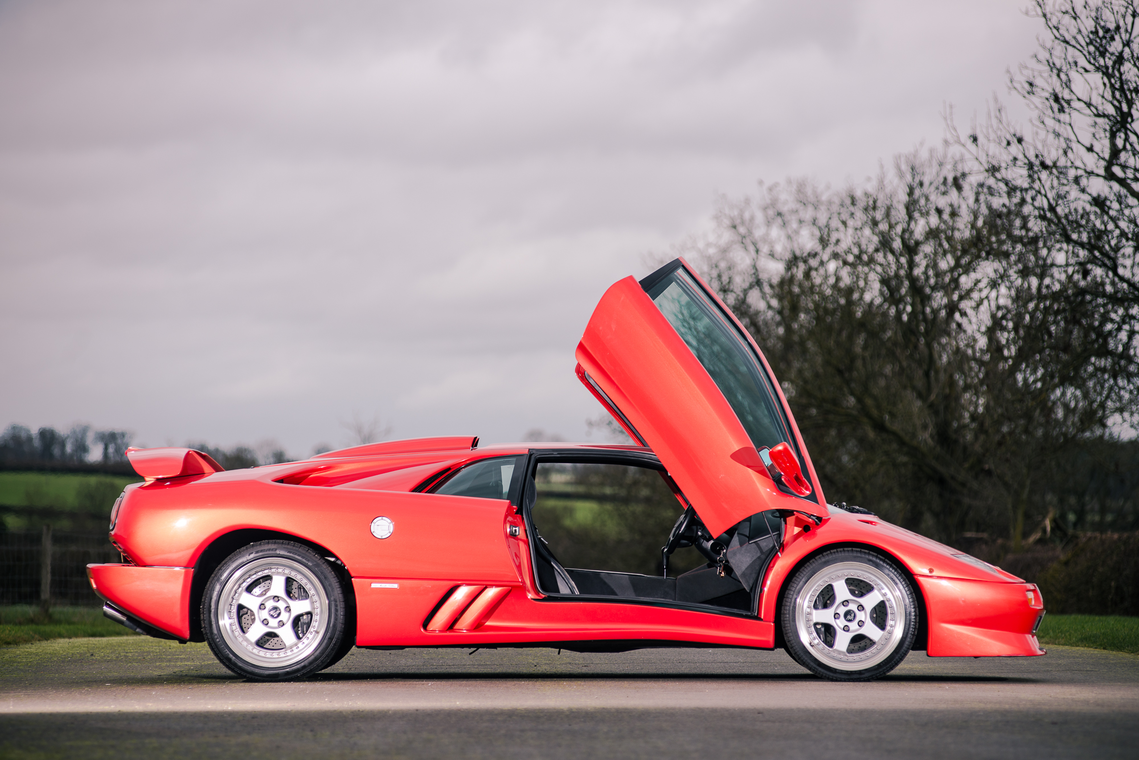 By 1999, the final edition of the car reached 536 hp and 446 lb.-ft. of torque. That is the specification of this example, completed just before the company's Christmas break in 1999. The auction company believes it was the last Diablo built.
In the new year, new owner Volkswagen was preparing to launch the modernized Murcielago, and Diablo production ended with nearly 3,000 of the cars delivered.
The last Diablo was painted in a unique three-coat pearl red/orange hue, perhaps in tribute to its name and because it was the last example. 
It's is in exemplary condition and is expected to sell for $215,000 – $245,000. Get out your checkbooks if you want a shot at Lambo history.
For the latest car news, follow @MaximRides and Dan Carney on Twitter.