The Lexus Sports Yacht Is Pure Boating Perfection
The luxury car company has launched its first yacht, and its absolutely gorgeous.
Lexus
This maddeningly beautiful power cruiser isn't the Lexus of luxury boats, the Lexus Sport Yacht concept is a Lexus luxury boat. Corporate parent Toyota is already involved as a supplier of marine engines, but company president Akio Toyoda wanted a more direct connection for Lexus, so he ordered up this glorious one-off yacht that looks ready to rule the high seas.
Toyoda issued a request to the Lexus Design Center for an open sport yacht for recreational day-touring with six to eight lucky guests, powered by twin 440-horsepower Lexus V8s (borrowed from the RC-F we tested) and with advanced styling and handling.
The 42-foot Lexus Sport Yacht features a carbon fiber hull that shaves 2,200 lbs. of mass compared to traditional fiberglass construction. This, and the stepped underside of the hull contribute to the boat's 49 mph top speed. 
Lexus builds cars, not boats, so they turned to the experts at Marquis-Carver Yacht Group of Pulaski, Wisconsin to actually produce the Lexus Sport Yacht.
A joystick-steered bow thruster provides precise control for docking, so the pilot can avoid any messy Caddyshack docking accidents. The captain controls and monitors onboard systems from a color touchscreen panel showing GPS navigation, digital charts, surface radar, underwater sonar, lighting and entertainment systems.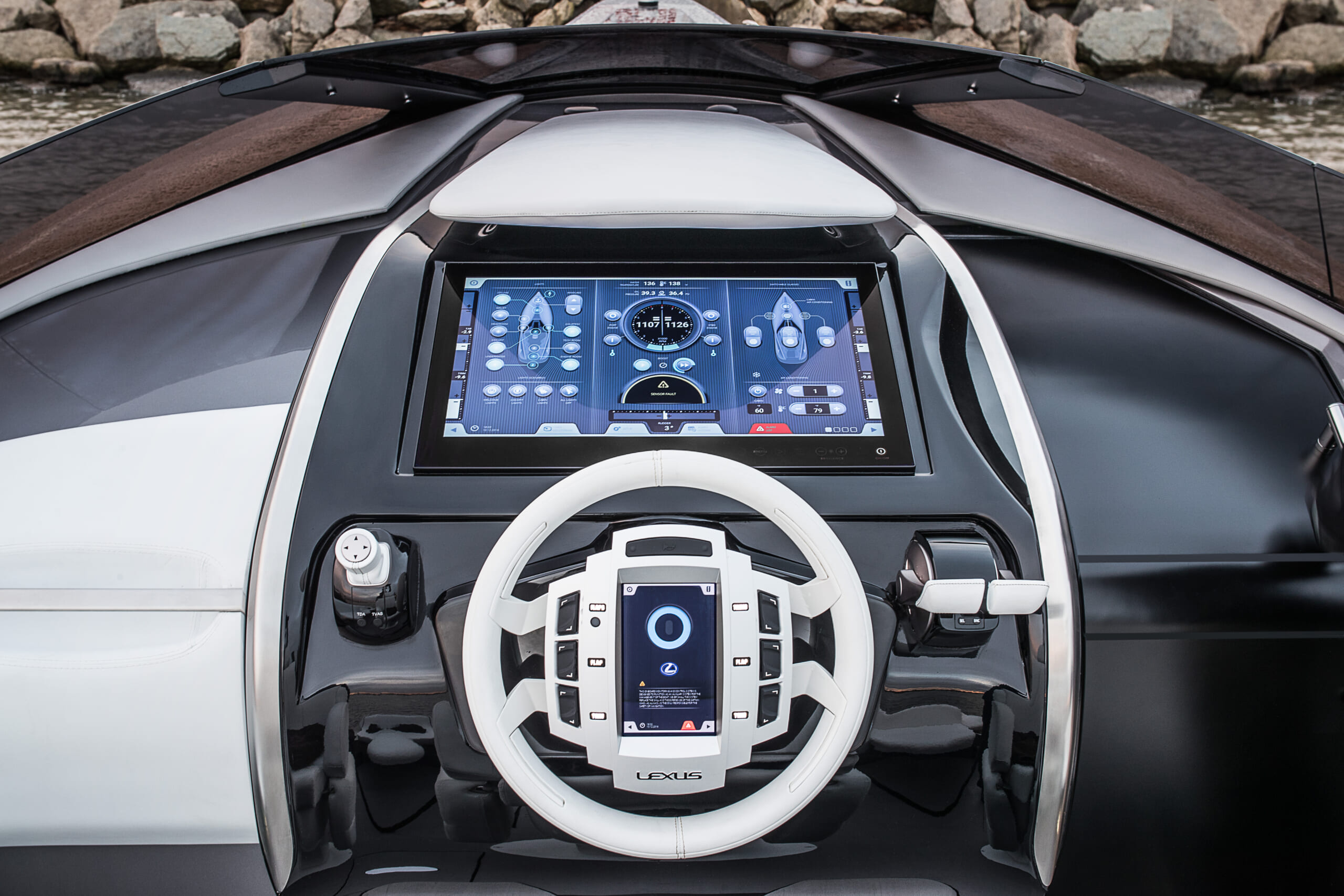 This is a Lexus, so of course the captain's seat is power adjustable. And this is a yacht for a wealthy playboy, so of course the armrests fold out to become jump seats on each side for very special guests.

The forward passenger cabin is outfitted in luxurious Lexus leather with wood and glass details. A standing height ceiling, sofa seating for six with a table, and air conditioning create a comfortable environment for intimate entertaining with those very special guests.