This Is the Fastest Street-Legal Lotus Ever Made, And Hot Damn She's a Beauty
The ultra-lightweight Evora GT430 is good for 190 mph.
Lotus specializes on a formula of making the most from the least, and so the new limited-production Evora GT430 extends the family of the Evora 400 and Evora Sport 410 with the lightest and fastest street-legal Lotus ever. Fastest-ever honors still go to the track-only Lotus 3-Eleven.
Yes, that's still basically the same Toyota Camry 3.5-liter V6 engine beneath the Lotus-installed supercharger and intercooler, but it is tweaked to produce an extra 20 horsepower for a new total of 430.
Along with still more carbon fiber substitution that whittles away 57 more pounds of mass to result in a 2,768 lb. dry weight, that added oomph produces 0-60 mph acceleration of 3.7 seconds and a 190 mph top speed.
The real advances in the GT430 come in the realm of aerodynamics, where the car produces up to 550 lbs. of downforce at top speed to help stick the wider Michelin Pilot Sport Cup 2 tires to the road with even more grip.
The ingredients contributing to this include larger front air intakes, a new carbon fiber splitter, air blades and louvers positioned on top of each front wheel arch at the front.
At the rear, there are ducts behind each wheel to reduce pressure in the wheel arch, a large rear diffuser and a profiled carbon fiber wing.
"The Evora GT430 is a landmark car for Lotus," crowed Jean-Marc Gales, CEO, Group Lotus plc. "Lightweight engineering and class-leading handling, paired with Lotus' aerodynamic expertise, define the Evora GT430 as a legendary Lotus." 
"It's a truly beautiful car, meticulously finished in hand-crafted carbon, and employing the latest aerodynamics and lightweight materials," he added. "We expect the lucky owners to be blown away by its pure presence and staggering performance."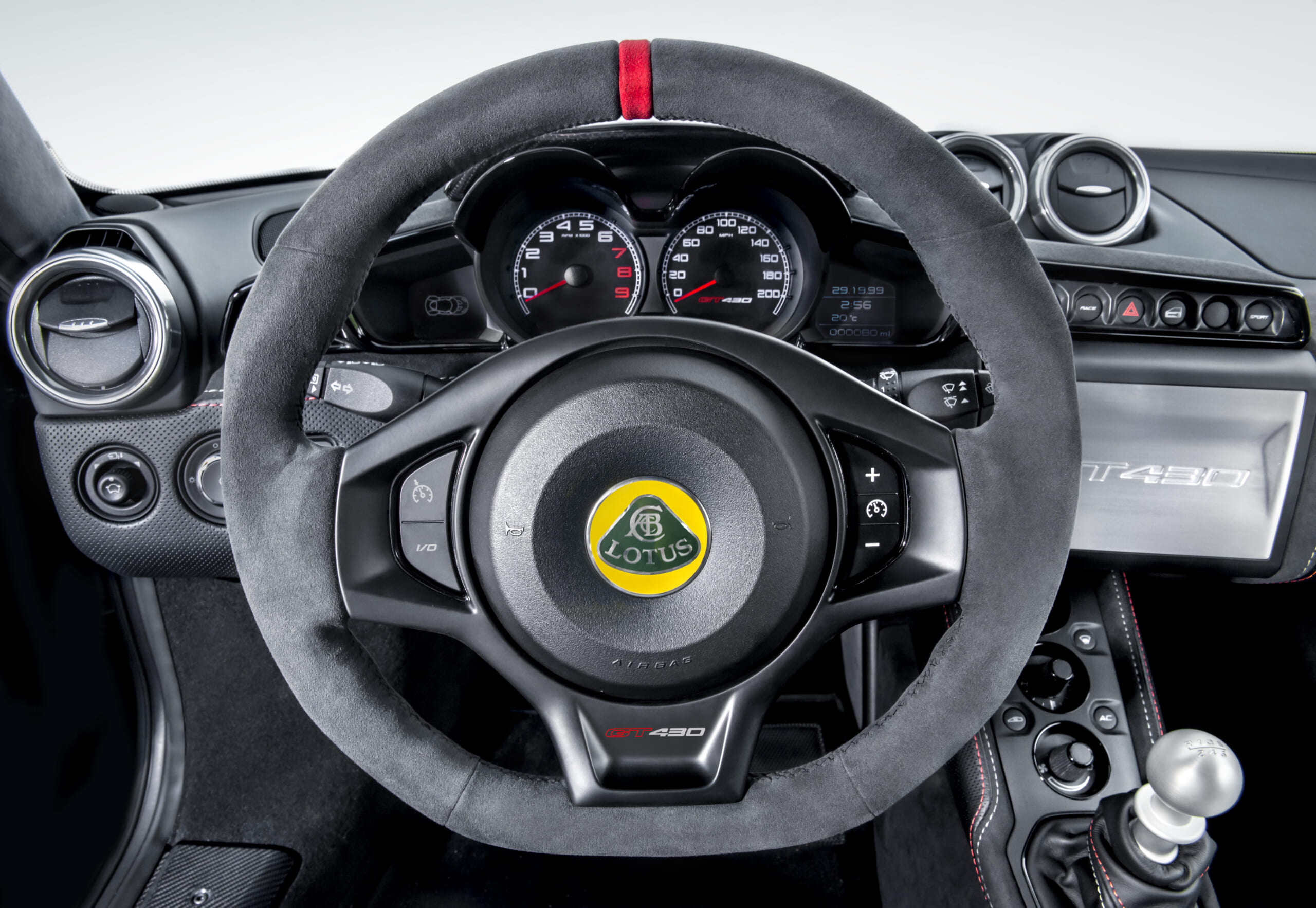 Sports car purists frustrated by the decline of tradition H-pattern manual transmissions will be thrilled to know that the GT430 comes with a six-speed manual gearbox to keep the driver actively involved in extracting speed from this machine.
And yep, those are Sparco, carbon fiber-backed racing style bucket seats that hint to the optional availability of proper four-point racing belts for GT430 drivers intended to do some track days with their lovely new toy.
Lotus will build only 60 of the Evora GT430, with U.S. availability scheduled for spring of 2018.