Take Flight With The World's Most Elite Helicopters
Meet the ultra-luxe choppers coveted by wealthy VIPs.
Bell
Owning one of the world's coolest and most luxurious helicopters, which can easily cost several million dollars, is reserved for the world's elite. Whether it's a necessity or an indulgence, a high-end heli is a piece of exquisite machinery far beyond the realm of even the most exalted hypercar. 
While there are workaday versions that can move you efficiently from point A to point B, as well as businesslike birds designed to simply get the job done, executive and VIP choppers remain objects of envy for all but the relatively few for whom they are the ultimate privilege. 
In the world of VIP helicopters a few names fly well above the rest, such as Sikorsky, a Lockheed Martin company; Bell; and Airbus Helicopters, which was rebranded from Eurocopter in 2014. Sikorsky may sound like an exotic name but the brand is based in Connecticut and is the maker of the aircraft bearing the famed Marine One call sign, flown by the U.S. Marines to transport the President of the United States, as well as the famed Black Hawk (and, with Boeing, its much-anticipated potential replacement, the 287-mph SB>1 Defiant), among others. 
It was founded in 1923 by Russo-Ukrainian immigrant and engineer Igor Sikorsky, widely credited with building the world's first practical helicopter in 1939—though he worked on a prototype rotor system as early as 1909. 
At about $17.6 million, the VIP version of the Sikorsky S-76D is one of the most expensive and well-appointed helicopters in the world. "For more than four decades, corporate executives and heads of state have recognized the Sikorsky S-76 helicopter as the standard of excellence for personal transportation," says Audrey Brady, Sikorsky's VP of Commercial Systems and Services. 
The company states that at least 10 countries rely on the S-76 series to ferry their heads of state in suitable style. 
"The spacious, comfortable cabin has been refined to meet the exacting needs of the Fortune 500 business traveler," Brady tells us, and it can be customized using the finest materials, fabrics and finishes, including wood and leather, with seating configurations ranging from five to eight passengers. "Years of evolution and refinement" have resulted in what Brady calls "the safest, most reliable, most efficient helicopter in its class [for] clients who demand nothing less." 
Bell Textron Inc., founded as the Bell Aircraft Corporation in 1935, has long been an industry leader as well; the Airwolf helicopter from the famed 1980s TV series was a Bell 222, and a Bell 47J Ranger was featured in the classic James Bond film Thunderball. 
The company, based in Fort Worth, Texas, is at the vanguard of military helicopter design and engineering, with cutting-edge technology that is expected to eventually revolutionize the business aviation sector as well. 
The company describes the new Bell 360 Invictus, "designed to provide attack, reconnaissance, and intelligence to shape the tactical environment and deliver operational overmatch in highly complex multi-domain operations," as: "Versatile. Lethal. Sustainable." Change "lethal" to "luxurious" and it could easily give the S-76D a run for its money.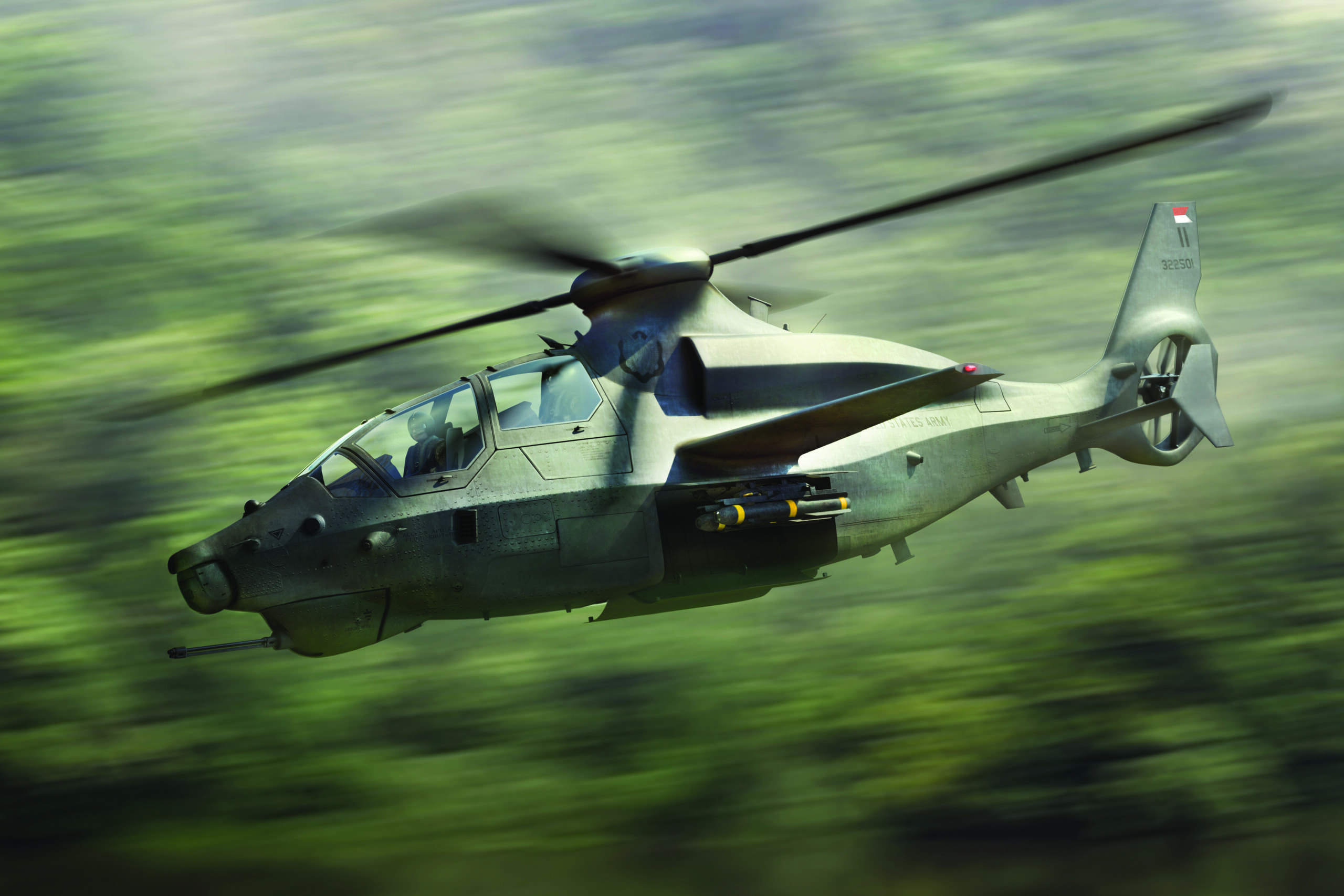 The new Bell V-280 Valor meanwhile is a tiltrotor, or vertical takeoff and landing (VTOL), aircraft that can convert from vertical to horizontal flight, and is capable of an eye-popping speed of more than 345 mph, with an equally astounding range of up to 800 nautical miles in its initial design. 
With these impressive numbers, tiltrotors could be where the future of business helicopters is headed. While the 360 Invictus and V-280 Valor are strictly military-focused at this point in time, a Bell rep tells us that the the V-280 might someday be available in a commercial version, which would make it the most badass business whirlybird in the world. Bell says the V-280's capabilities range from air assault, rapid combat and special ops to medevac missions, which could translate to a host of corporate applications as well. 
Meanwhile the Bell 525 Relentless—Bell really does have the most Bond-worthy aircraft names—is already a top contender for the spot, having been in development for the past several years. Even with a reported price tag of $15 million, we expect Bell's order book will fill up even in advance of FAA certification. 
The 525 Relentless boasts an 88-square-foot cabin giving it enough space for up to 16 passengers, though with VIP seating that figure could obviously decrease, as well as a 184-mph top speed. The London Daily Mail has reported that Bell is after the head of state trade as well, so Sikorsky had better watch its tail rotor. Bell has touted its fly-by-wire system featuring side-stick controls and a fully integrated touchscreen Garmin flight deck.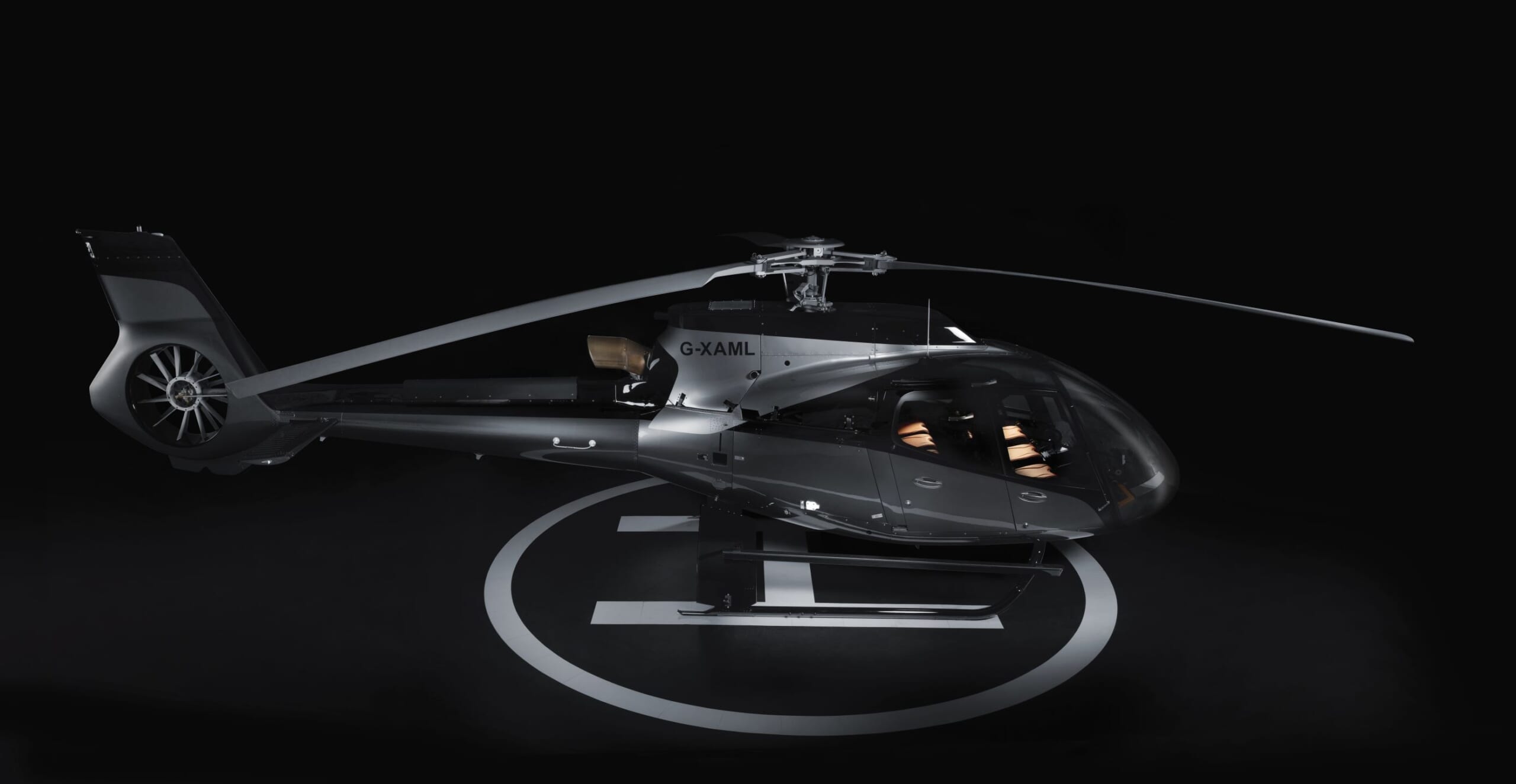 Though legendary French fashion and luxury goods house Hermès once collaborated on a luxe chopper with Eurocopter, designer editions are not as common as they are in the world of private jets. However in December, Aston Martin and Airbus announced a joint venture to produce a customized version of Airbus's ACH130.
It's one of the coolest corporate helicopters on the market, and one of the best-priced at about $3.5 million. But expect to pay a significant premium for the limited edition Aston Martin version, dubbed the ACH130 Aston Martin Edition, but for the extra cost, you get the design expertise of Aston's all-star team in the UK, as well as supercar-style finishes and flourishes.
Designers for both brands worked on the project for more than a full year, merging the very best of both automotive and aeronautical expertise and refinement. "We have our own set of automotive design principles but in recent years we have been learning how to apply our principles to other areas of design, such as architecture, motorcycles and now helicopters," comments Aston Martin Lagonda's Executive Vice President and Chief Creative Officer Marek Reichman. 
"This first application of our design practices to a helicopter posed a number of interesting challenges, but we have enjoyed working through them. Beauty is of vital importance to Aston Martin and to our customers and we think the ACH130 Aston Martin Edition is an inherently beautiful machine. It provided a wonderful canvas for our team to work on." 
Frédéric Lemos, Head of Airbus Corporate Helicopters, says the chopper will appeal to owners who also enjoy flying their own aircraft. "The ACH130 Aston Martin Edition is optimally positioned in the market for hands-on owners who draw satisfaction from personally piloting their aircraft and it generates strong brand loyalty," he notes. "In the same way, Aston Martin's products are cars for drivers who relish being at the wheel, and they inspire a comparable attachment to the brand."
It will initially be available in four external liveries with complementary interiors. A Stirling Green-themed design scheme, shown on the very first example of the aircraft unveiled in the French Alps, features a "painted gradient, which fades down into Jet Black on the underside of the helicopter with Skyfall Silver around the cowlings," Aston reports. Other exterior paint job offerings include Xenon Grey, Arizona Bronze or Ultramarine Black. 
Inside, the automotive-inspired cabin is trimmed in Pure Black Ultrasuede with contrasting leather available in Oxford Tan, Pure Black, Cormorant and Ivory. The rear of the front seats displays the same brogue detailing found in the Aston Martin DB11 while the doors are also leather-trimmed to "provide passengers with comfortable touch points during their flight." 
Aston Martin's winged logo is embossed on leather surfaces as well, while each example will come with a plaque on the instrument panel engraved with the partnership logos, the edition number and the owner's name. "James Bond" would look perfectly fine.