This Gorgeous Italian Motorbike Blends Retro Style With Modern Performance
The Magni MV Agusta 750S Tributo pays homage to a coveted café racer.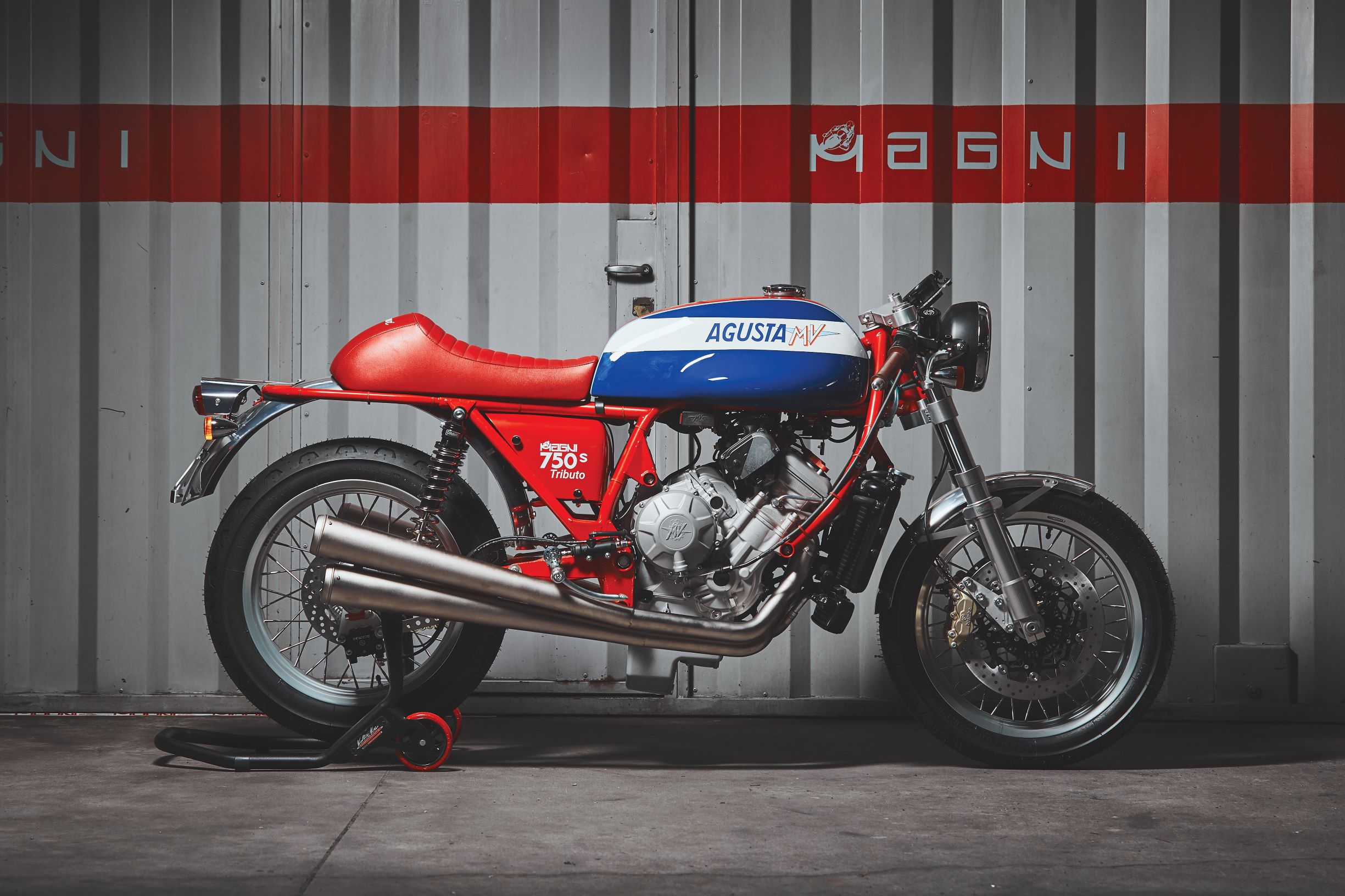 It just may be the most beautiful modern café racer on the market today. And although many a café racer has an impressive story, the Magni MV Agusta 750S Tributo probably takes the cake. Handcrafted in Italy by a family with MotoGP in their DNA going back decades. 
Meccanica Verghera Agusta, aka MV Agusta, was born in 1945 in the village of Verghera, Italy, as an offshoot of an aeronautics company founded by Count Giovanni Agusta in 1907. In 1970 they began producing what many petrolheads would say is the most beautiful Italian production bike ever made, the 750S. 
With its distinctive red, white, and blue livery it is still as eye-catching today as it was then. Unfortunately, by the end of 1976 MV Agusta was falling into decline and its race team was shuttered. The company sold its last bike in 1980 and did not reemerge, phoenix-like, from the ashes until Claudio Castiglioni acquired the trademarks in 1991.
https://www.instagram.com/p/BhzPfUlHDDn
But this story is really about the MV Agusta racing department (Reparto Corse) formed in the late 1940s to campaign in motorcycle Grand Prix. And the man who was at its head from 1950 to 1976, Arturo Magni. He won an astonishing 3,000 podiums from 1952 to 1976, and 270 World Grand Prix titles. With legendary riders such as Phil Read, John Surtees, Mike Hailwood and Giacomo Agostini under his tutelage, the MV Agusta Reparto Corse team was simply unstoppable.  
It may not quite have been Hesketh Racing under the patronage of Lord Hesketh. But Magni won. And won again. And won again. The MV Agusta Reparto Corse simply dominated the 1950s, '60s and '70's GP race scene. History shows they took a clean sweep of world titles across all four categories for three seasons from 1958 to 1960, and 16 straight wins in the 500cc class from 1958 to 1974. Until Honda came onto the MotoGP scene they simply had no equal. 
https://www.instagram.com/p/B5zwSxKjLeI
After Arturo Magni left MV Agusta in 1976, the first thing he did was to take production 750cc MV Agustas and retrofit them for customers to full GP race specification. Forty years later, life has now come full circle as his sons build the reimagined MV Agusta 750S. Handcrafted afresh today and entirely made in Italy by the company Arturo Magni started with his sons in 1977. 
Featuring bespoke in-house frames, modern 800cc 3-cylinder engines from the MV Agusta Brutale, Brembo 4-pot 320mm floating disc brakes, bespoke 43mm ORAM front forks with adjustable extension, compression and preload, bespoke ORAM adjustable rear shocks, JoNich wheels specially crafted for tubeless tires, and just about every detail you could imagine at the highest specification, this is a wolf in sheep's clothing. The 750S Tributo has the looks of a 1970's Sophia Loren, with the heart and soul of a modern street brawler. 
We certainly want one. And we know you do too.