Maserati GranTurismo Reborn As 750-HP EV
The 2024 Maserati GranTurismo range includes the all-electric Folgore, as well as Modena and Trofeo variants powered by the brand's "Nettuno" twin-turbo V6.
Maserati has officially brought back the GranTurismo for the first time since 2019, and the Italian marque clearly made the most of the break.
The GT arrives on its own modular platform, which is perhaps most noticeably a conduit for its first ever EV. The GranTurismo "Folgore"—Italian for "lightning"—features one electric motor on the front axle and two on the rear. The trio generates a total of 750 horsepower, which Maserati says will be good for a zero-to-60 mph of 2.7 seconds and a top speed of 199 mph.
According to Car and Driver, the Folgore employs an 800-volt electric architecture, including a proprietary T-shaped battery pack with a usable capacity of 83 kWh and fast-charging speeds of up to 270 kW. Range is estimated to be around 210 miles.
The GranTurismo was designed with the all-electric Folgore in mind, but it's just one of two powerplants across three variants. The entry-level Modena and performance-focused Trofeo both use the "Nettuno" 3.0-liter twin-turbo V6 that debuted in the MC20 supercar.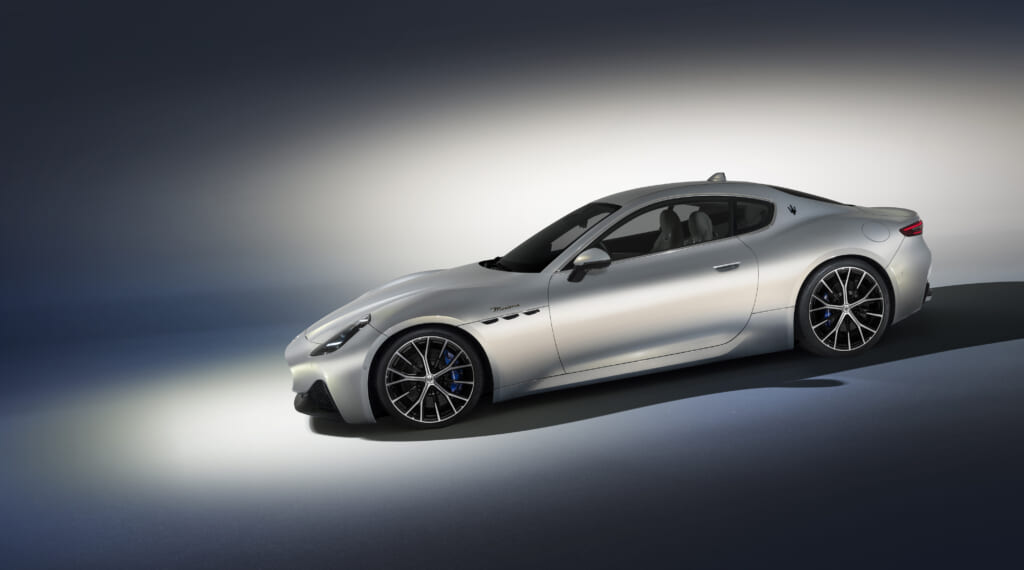 The Maserati-made engine has been recalibrated for a GT application, achieving 483 hp and a 3.9-second zero-to-60 mph time in the Modena, compared to 542 hp and a 3.5-second zero-to-60 mph time in the Trofeo. Top speeds are almost equal at 198 and 199 mph.
All three models feature a curvy design that adds sex appeal without forgetting the previous generation. Classic proportions have been maintained with a long hood, a central body intersected by the four fenders, and a roof line that drops dramatically to accentuate its flowy lines.
The interior has yet to be shown, but Maserati promises tech including the Maserati Intelligent Assistant (MIA) Multimedia system, the latest infotainment, a comfort display controlled via integrated touchscreen interface, a digital clock, a Sonus Faber sound system, and an optional heads up Heads-up Display.
Prices for the GranTurismo range haven't been revealed, but C& D anticipates a starting price just under $200,000 for the Modena when the first vehicles hit dealers later this year.