This Compact Speedboat Is the Perfect 20-Footer
Don't judge it by its size.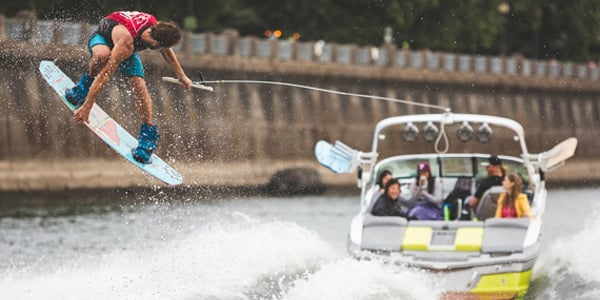 We like big, fancy yachts as much as the next guy. We also know nothing beats a full day of zipping around on the water. With that in mind, we've got our eyes on the compact, powerful and versatile MasterCraft XT20.

Sure, at just 20 feet long, it's almost two feet shorter than your average Maserati hearse. But then again, this Ilmor V8-powered ride features a pickle fork bow and roomy aft lounge which can comfortably accommodate 11 aquatic adventurers. Let's see your fancy Italian hearse do that!
Sitting at the helm in the ergonomic, well-appointed captain's seat, you'll notice the XT20's updated instrument panel, aluminum accents and touchscreen controls. From its smooth throttle to the tons of included under-seat storage for all your various gear, everything's within arm's reach.
Plus, it's got plenty of power for jetting around on its own or cruising with skiers, surfers, tubers or boarders in tow. But it also boasts finesse at low speeds, able to maneuver deftly in tight spaces, thanks to an optional proprietary rudder system that makes docking in reverse a cinch. 
An optional ZFT4 Tower with hydraulic assistance means even your grandma can raise it (to carry an assortment of boards and other gear) and lower it when you're just speeding along or hanging out. Which also happens to be an excellent time to take advantage of the optional built-in Cordova cooler.

This little wonder boat can do it all.
h/t: Uncrate