McLaren's Lightning-Quick Journey to the Top of the Hypercar Heap Culminates With the Incredible 720S
Ferrari and Lamborghini, you're officially on notice.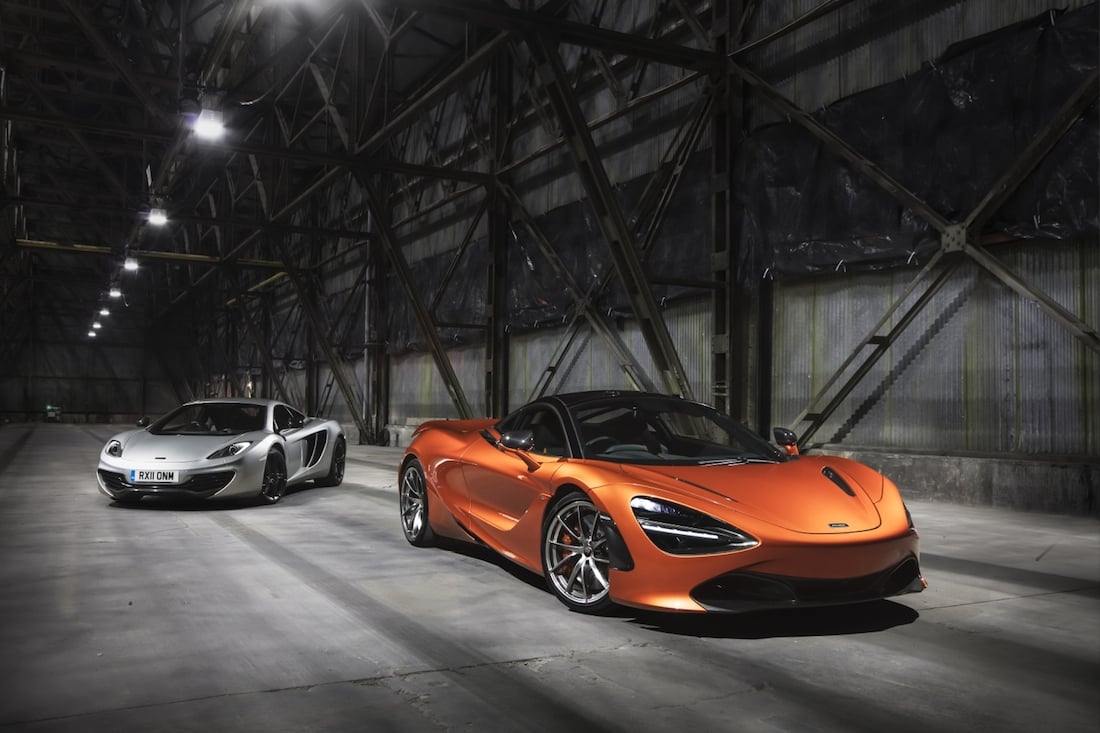 As it started to rain at the 1988 Japanese Grand Prix, virtually all Formula 1 racers on the track slowed their cars to tiptoe around Suzuka circuit. But not Brazilian driver Ayrton Senna, who had earned pole position but stalled at the beginning of
the race. He was now working his way back to the front. Senna, who had deft driving skills in wet conditions, delivered an otherworldly performance and won the race, earning his first of three world championships—an astonishing performance not only for him but also his new team, then called McLaren-Honda.
McLaren started life as an English engineering company, and its founder, Bruce McLaren, had a savage talent behind the wheel, winning his first Grand Prix in 1959 at the ripe age of 22. Bruce McLaren started his own Formula 1 team in '65 and was winning races by his second year. Unfortunately, he wouldn't get to watch his company blossom. In 1970, he lost control of his car at England's Goodwood circuit, crashed into a wall, and died. The company struggled for the next decade and found a new identity only when determined Formula 1 manager Ron Dennis came onboard as chairman to realize McLaren's ambitions. McLaren began by building fast, capable racecars that got the attention of talented up-and-coming drivers like Senna; under Dennis, it reestablished itself as a dominant force in automotive racing.
In 2010, 40 years after its founder's untimely death, the company launched McLaren Automotive. In just seven short years McLaren Automotive has become one of the most evocative car companies there is, cementing its place among elite supercar manufacturers with the recent release of its 710-horsepower, 212-mph 720S, one of the most capable and enjoyable high-performance vehicles we've ever driven. But it didn't happen without some teething issues.
McLaren once wowed the world with its roadgoing F1, a 240.1-mph monster that still holds the title of fastest naturally aspirated production car. But that small-batch supercar came and went in the '90s, and McLaren hadn't built a street-legal car since. McLaren had long wanted to leverage its extensive racing knowledge to build street cars, and once it finally had the wherewithal to do so, it released the MP4-12C, a carbon-fiber coupe that quickly caught the attention of Ferrari and Lamborghini. What the MP4-12C lacked in curb appeal it made up for with extraordinary engineering; no other car on the market had anything like the MP4-12C's über-advanced hydraulic suspension system.
Observers were stunned when, only two years after the MP4-12C debuted, McLaren Automotive unveiled its hybrid P1 hypercar. The P1
soon found itself in a thrilling three-way war with a pair of equally ludicrous hybrid hypercars: Ferrari's LaFerrari and Porsche's 918 Spyder. Variants and redesigned McLaren models followed, and with the 2015 debut of the 570S sports car, McLaren Automotive established a three-tier hierarchy for all future models. On one end sits the more accessible Sport Series, in which the 570S lives; on the other end is the outrageous Ultimate Series that the P1 hypercar belongs to; and smack in the middle is the Super Series.
Earlier this year McLaren Automotive debuted its latest Super Series car, the 720S. The car challenges conventional manufacturing and design processes. The hollowed-out areas behind its headlights increase airflow; complex body sculpting uses intricate door designs to improve aerodynamics; and all-new algorithms make McLaren's hydraulic suspension system even more impressive.
"That we can produce something like the 720S less than 10 years from the brand's launch, and be profitable for the last few years, really shows how far we have come as a company," says Mike Flewitt, McLaren Automotive CEO. "In terms of the market, the 720S is really the new benchmark. There are several competitor cars, but none come close to the 720S' usability on road or track, and it has already attracted a lot of new buyers to the brand, with a waiting list already spanning into next year."
There are McLarens in the garages of rich and famous automotive fanatics like Jay Leno, Ralph Lauren, and The Weeknd, and over the next five years the company is poised to pique the interest of more big-name buyers as it invests more than a billion dollars to launch 15 cars, beginning with the 720S; it is evaluating the potential for an all-electric vehicle for the Ultimate Series. No doubt McLaren Automotive's success is due in part to the company's newfound appreciation for edgy, striking design.
"Walk around a McLaren and, visually, you can see the way it works, just due to the way it's designed," says McLaren Automotive's design director, Rob Melville. "The profiles we use, the shapes we use…we don't follow trends, we just follow what works. We follow what makes the car beautiful and functional at the same time, and I think that's what really separates us from everyone else. McLaren is about beautiful yet functional, clever engineering. It brings something exotic but usable to the customer."
If that customer is somehow dissatisfied with the standard McLaren treatment, McLaren Automotive offers factory-backed customization through its budding McLaren Special Operations (MSO) program. Flewitt quips that if a customer can dream it, MSO can build it. Melville adds, "MSO is a really fascinating part of our business, because a customer can specify a paint color or new wheel, or they can go all the way and commission a completely new car. MSO gives people what they want. It's not about making the world happy; it's about making the individual happy." 
MSO is currently working on what may prove to be the "most powerful and most aerodynamic road-going McLaren ever," he says, referring to a three-passenger hybrid grand tourer that will live in the Ultimate Series. All 106 examples of the super-exclusive GT, code-named BP23, have already been sold and should be delivered in 2019.
McLaren can only maintain a program like MSO because of the company's relatively small size; in 2017, McLaren will produce some 4,000 cars. What happens if it continues to grow? "We actually don't want to gain much more market share," Flewitt says. "We have no intention of selling more than 5,000 cars a year, for perpetuity. It is a number our shareholders are happy with, and more importantly our customers are happy as well."
McLaren Automotive has an overwhelming air of confidence, considering how young it is, but it's understandable if you consider what the car company has already accomplished. "Everyone tells me how surprised they are at the amount of progress we have made in such a short time," Flewitt says. "It's a story unparalleled in the luxury automotive world. We had the technical knowledge, the carbon-fiber chassis manufacturing experience, and a brief history with the F1 road car. We never set out to compete with Ferrari or Lamborghini, and that we are now mentioned in the same sentence with such esteemed and long-established brands can only be taken as a compliment."
Ask any executive at McLaren Automotive why she or he thinks the company has so quickly found its stride and the answer is unanimous: its dedicated employees. One of McLaren's unspoken employment prerequisites is having a deep love and respect for automobiles. "Our headquarters is literally buzzing with enthusiastic, motivated, and passionate employees who live for what they do," Flewitt says.
Melville, for one, had a poster of the McLaren F1 on his bedroom wall when he was a boy. He says all of McLaren's departments, from aerodynamics and design to engineering and marketing, have intimate knowledge of the brand and an insatiable drive to make the most entertaining and engaging cars out there. "I think everyone—everyone—is an absolute car fan."
Check out Maxim's September issue, on sale August 22, and subscribe here.