McLaren Unveils Stunning $2.2 Million Hypercar
The bendable-bodied, 1,000-horsepower McLaren Speedtail is coming in 2020.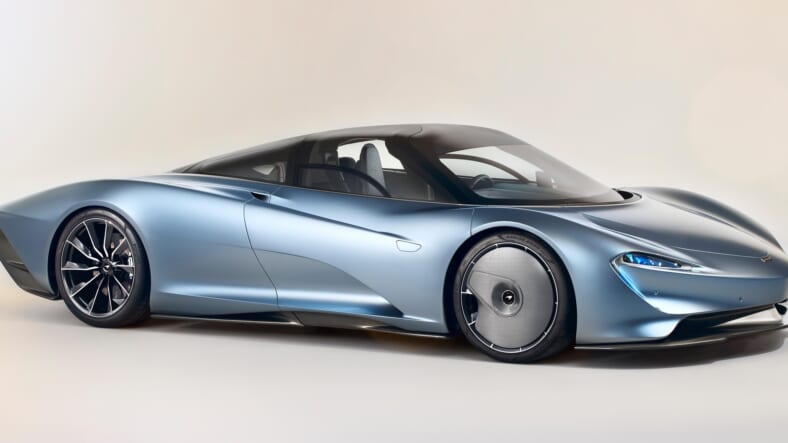 Credit: McLaren
McLaren has unveiled the latest addition to their supercar lineup. The British carmaker's first ever Hyper-GT, the McLaren Speedtail, is coming early in 2020, and it brings with it new technology and innovation the likes of which the automotive world has never seen before. 
When McLaren announces something new, it's hard not to take notice. When that new car is limited to a run of 106 and carries a price tag of £1.75 million (around $2.24 million) there's no choice but to pay attention and let the jaw-dropping hypercar's stats do donuts in your daydreams.
Those stats for the Speedtail are damn impressive, too. With a top end of 250 mph, 0-186 mph in 12.8 seconds and 1035 horses coming from its hybrid powertrain. McLaren has been uncharacteristically mum on details of the Speedtail's engine but those finer points should be along shortly.
Engine aside, it's impossible not to swoon over the Speedtail's looks. A silver streak of gorgeous curves and dangerous edging, McLaren is pioneering new methods of employing carbon fiber all over the Speedtail, making the famously stiff material flex in entirely new ways to enable the two rear ailerons to curve up when the aerodynamics of the car call for it. In McLaren's own words, the Speedtail's body "can quite literally bend."
Finishing off the design with a three-seater interior where the driver is centrally located and flanked by recessed passenger seats on either side. A heaping of tech like retractable bullet cameras instead of side-view mirrors and big-screen cockpit controls are perfectly placed throughout the car. 
An instantly recognizable glass and carbon dome roof give the Speedtail a unique style while maintaining elements of McLaren's signature looks.
Coming in at 17 feet long (!) the teardop bodystyle and impressive performance stats will make any McLaren fan or speed freak want to keep track of the progress of the Speedtail as more details should be forthcoming in the next few months.