Meet The Builder Of The World's Greatest Restomod Land Rover Defenders
Osprey Custom Cars builds the ultimate retro rides for discerning clients like Lindsey Vonn.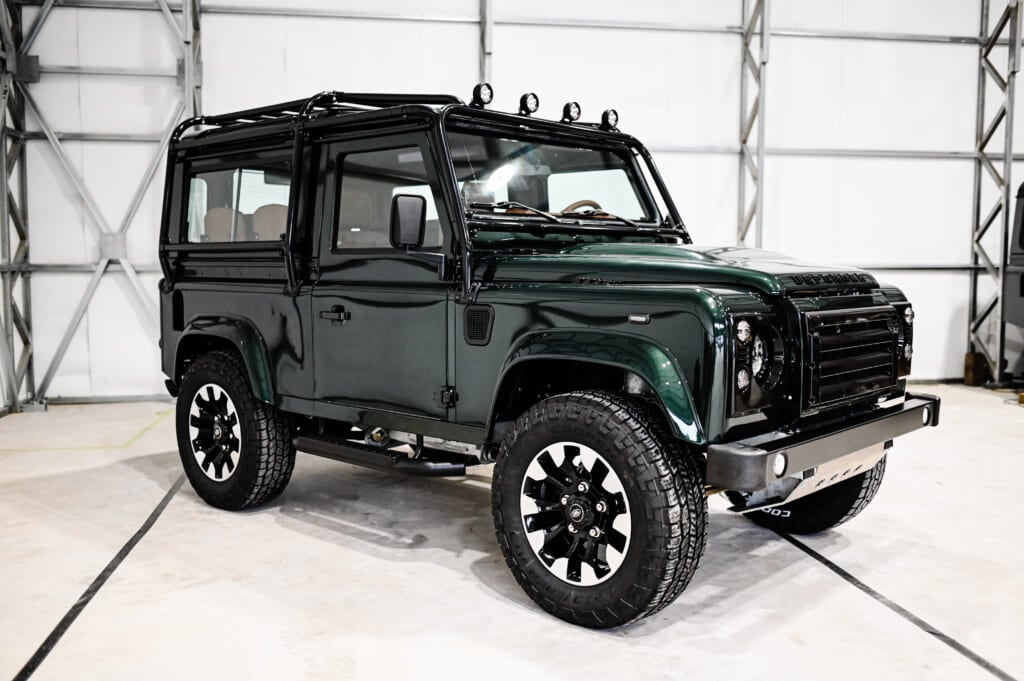 It's fair to say that any man who appreciates automotive icons and classic style has, at one time or another, lusted after a classic Land Rover Defender. Not least because Land Rover stopped selling the iconic truck in the U.S. when production of the North America Spec (NAS) Defender abruptly ceased in 1997. Very few examples of that last USA-street-legal series of NAS Defenders were ever made—and it is in fact illegal here to own a Defender built since, though the original continued to be made in the UK until 2016.
U.S. Customs will actually seize and crush any smuggled-in post-1997 Defender that it finds out about—and many vehicles have met this heartbreaking fate. Hence the rise of the restomod—basically brand new, road-legal Defenders created out of pre-1997 chassis, that have the inimitable style and utility of the NAS cars, but with all mod cons. Like the very last of the rare NAS Defenders, they are left-hand drive (most others are RHD) and feature automatic transmissions, making them much more user friendly than the older models.
With their brand new engines, transmissions, suspension, and basically everything else, restomod (restoration and modified) Defenders are reliable daily drivers, unlike most of the older cars. And while the original Defender was never meant to be a luxury SUV, with a restomod you can add as many luxurious finishes as you want, from heated seats and fine leather upholstery to exotic wood trim and touchscreen entertainment systems. Be prepared to shell out a considerable sum for the privilege, however.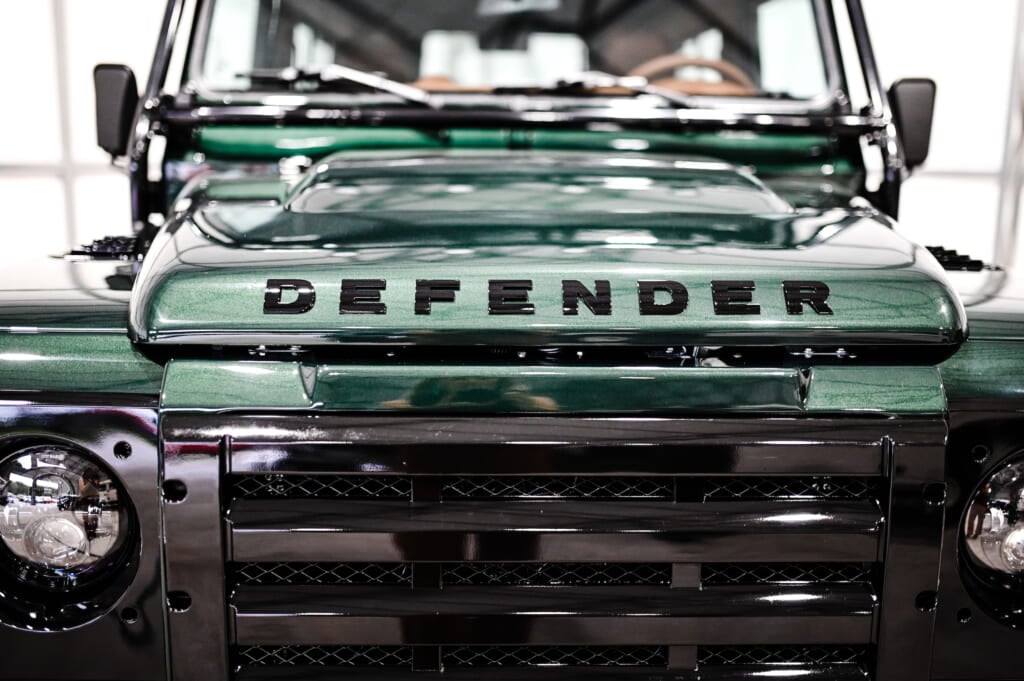 Prices for some of the most-hyped restomod Defenders now run to a quarter of a million dollars or more, meaning they are way out of the range of many of their most ardent enthusiasts. But one of the most low-key and longest-operating resto shops—Osprey Custom Cars, based in Wilmington, North Carolina—is quietly hand-crafting extremely beautiful examples starting at $140,000 for a "basic" soft-top, shorter-wheelbase Defender 90; which in these days of over-inflated automotive everything is nothing short of a miracle. It's even less expensive, starting at $90,000, if you supply your own donor car (i.e. a pre-'97 Defender).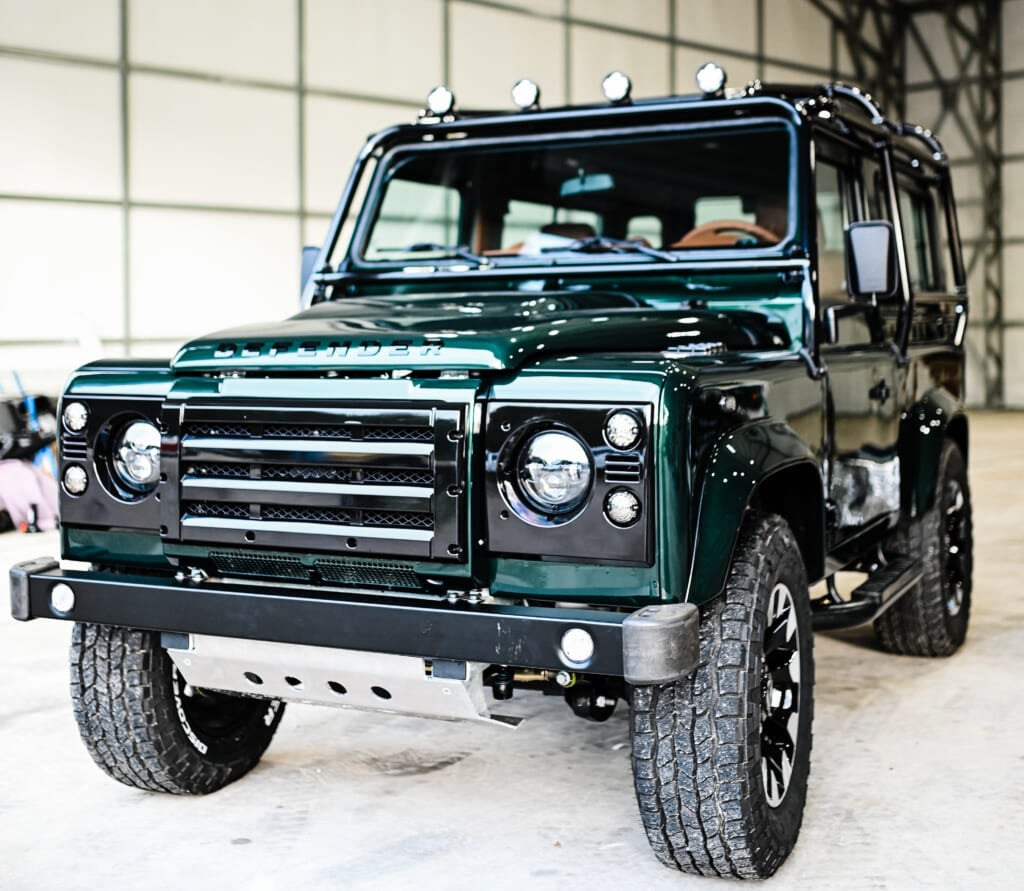 Osprey was started by Aaron Richardet, a chiropractor from Missouri, in 2008 after he moved to Wilmington to be near the beach and start a family. A lifelong car guy, he'd been a fan of the Defender since seeing his first NAS model in 1993 right after high school, and in 2003 was finally able to afford one of his own. He began working on and upgrading his car, and got so many compliments on it he started tinkering with them for other people. Pretty soon his hobby had turned into a business.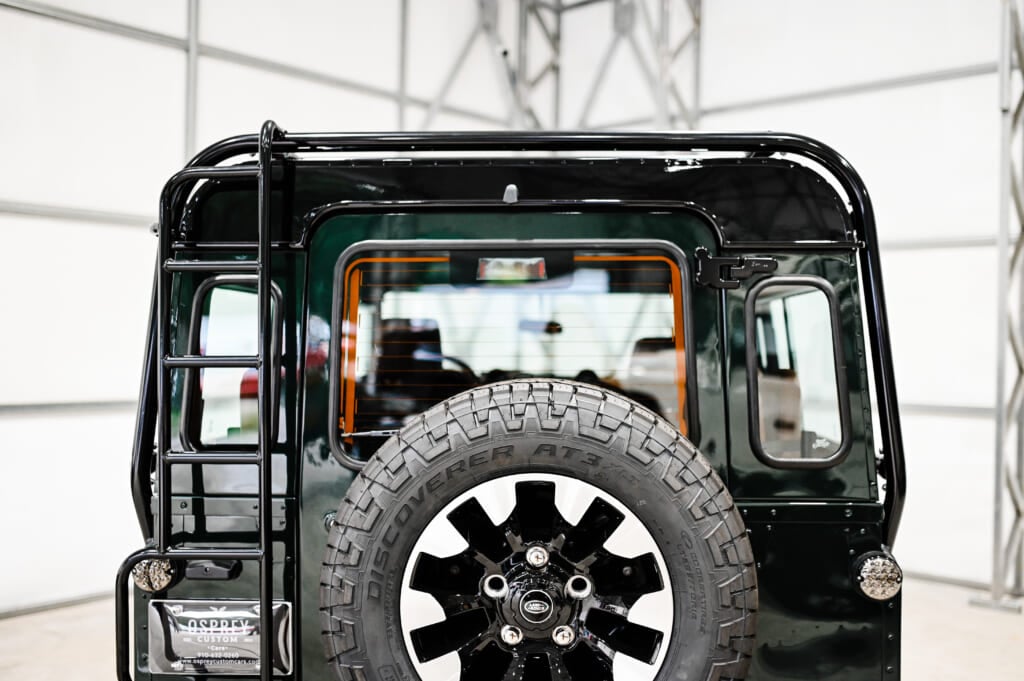 He now hand-builds Defender 90s, 110s and the occasional 130 (pickups) from the ground up, using original pre-1997 donor cars, at his 22,000-square-foot workshop, where he has 17 employees. Osprey has built more than 500 custom Defenders (just 35 per year on average) so far, and Richardet usually has around six of them in various stages of completion at any given time. They're a mix of custom commissions and spec builds that he creates using different combos of exterior paint and interior leather, many paying homage to classic Land Rover color schemes.
Though Richardet is tightlipped regarding his clientele, World Cup skier Lindsey Vonn is known to have an Osprey Defender, as are a number of other sports stars, supermodels and CEOs, both here and abroad. All of Richardet's standard builds are equipped with brand new Corvette LS3 6.2L V8 engines, putting out 435 hp and 445-lb.-ft. of torque, a massive upgrade from the NAS powerplant, mated to a smooth-shifting 6-speed automatic transmission controlled by a push-button gear selector with LED display.
Obviously, the more bells and whistles you select, the higher the final price will be. But since Osprey is much more competitively priced to begin with, it can still seem like a relative bargain. Richardet credits "good relations with vendors, and keeping my marketing and advertising budget down," plus spending a little as possible on overhead—he does not have a showroom, per se—with enabling him to build trucks people can actually afford. While other, newer companies have imitated Osprey's builds, they charge much more for a sometimes inferior and less authentic product.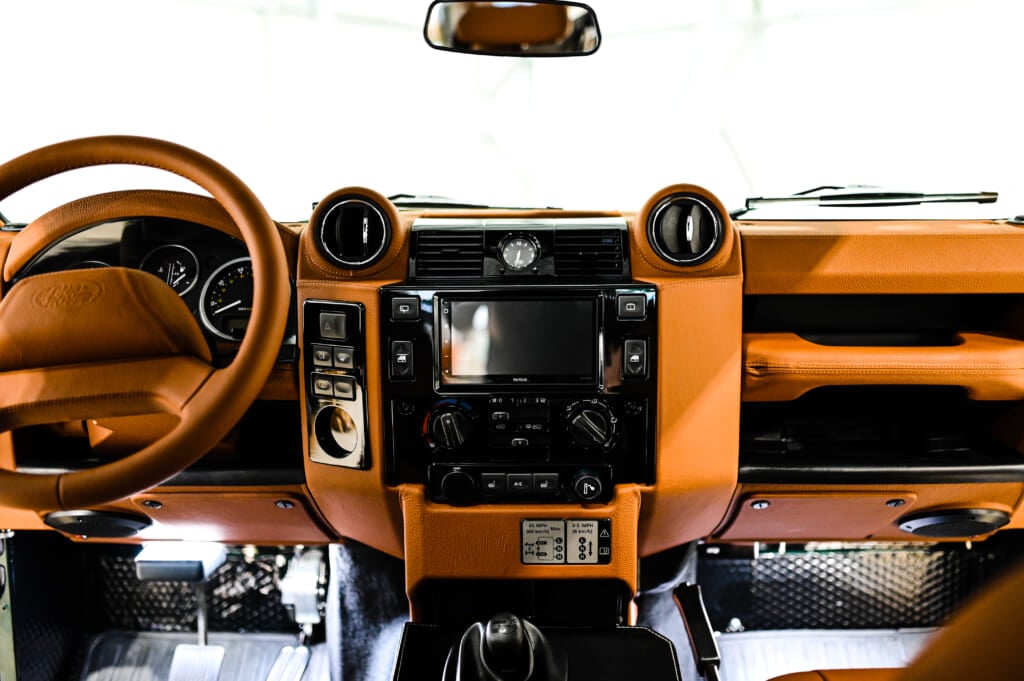 What's more, Richardet usually has at least one or two new builds in his shop that are available for immediate purchase (though they don't last long), while he's able to complete custom commissions in about six months' time, unless the client wants something extra complex (and is willing to pay for it). He has one such project underway right now, for a client who basically wants a brand new Supercharged Range Rover Sport—with an insane 650 hp engine—under the skin of a NAS Defender.
Aside from exterior paint and wheels, and black or aluminum trim, you can select from various leather patterns, stitching, and finishes, leather or wood steering wheels, various seating configurations, and even a built-in biometric gun safe, or a Negroni bar if you so desire.
On our recent visit to the Osprey atelier, we looked through numerous combos before deciding that dark green—Richardet's preferred shade is Epsom Green—over saddle brown leather is our all-time favorite. Richardet had one in the shop that a client wanted built to match his dark green Aston Martin. He gets the most requests for black soft-top 90s and NAS-style white 110s however.
No matter what you get, excepting perhaps a 650-hp beast, Richardet ensures that every Osprey is easy enough to to drive that it only requires "two fingers" on the wheel, at least until you take it off road. And every build is fully capable when the asphalt ends, with a state-of-the-art four-wheel drive system operated in low range via a dedicated shifter in the cockpit. They're also made to run for at least 200,000 miles with proper care and maintenance, making them future collectibles.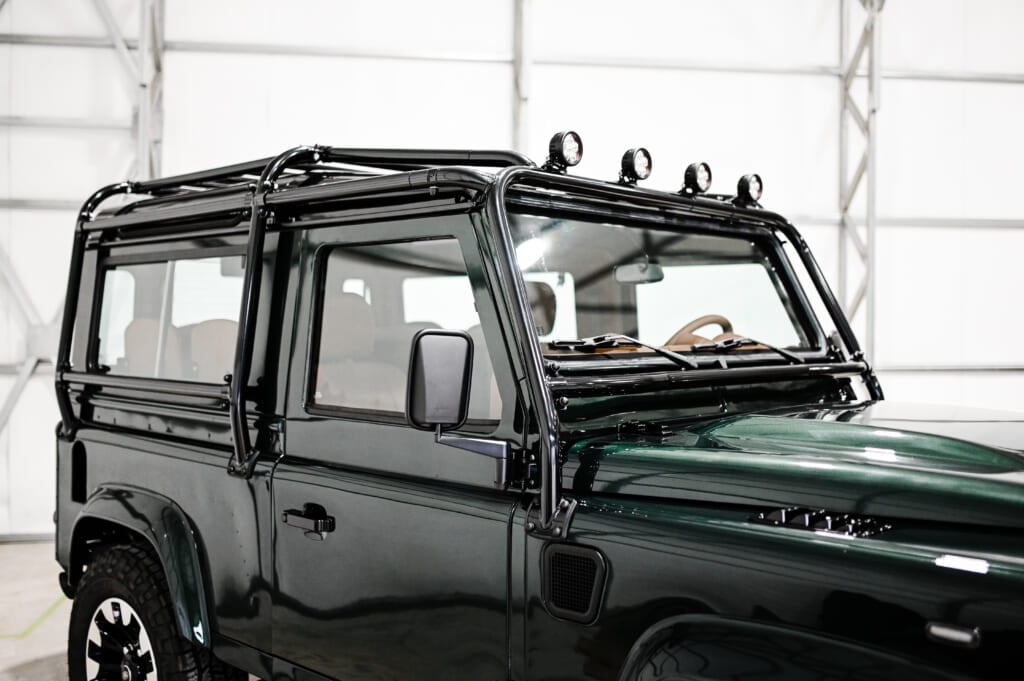 While he rarely turns down any customization requests, Richardet does give guidance. "I try to steer things in the right direction, so that at the end of the day, I'm a thousand-percent proud of it," he tells us. "Most customers know what they want. But at some point they'll ask, 'Well, what do you think?' And my response is, 'Well, what are you going to use it for? Let's talk about practicality and use. Is it just going to sit on Nantucket? Then you don't need a 575 horsepower motor. That's just ridiculous."
"You really don't even need 400 horsepower," he continues, "but that's what we offer. Are you going to be camping in it every weekend and off-roading in the mountains? Ot is it going to be at your beach house, and you're going to be throwing beach chairs in and taking it out in the sand? Really you have to build a vehicle and then custom-tailor it at the end for the client's specific uses," and, he laughs, "try to keep them from making bad decisions."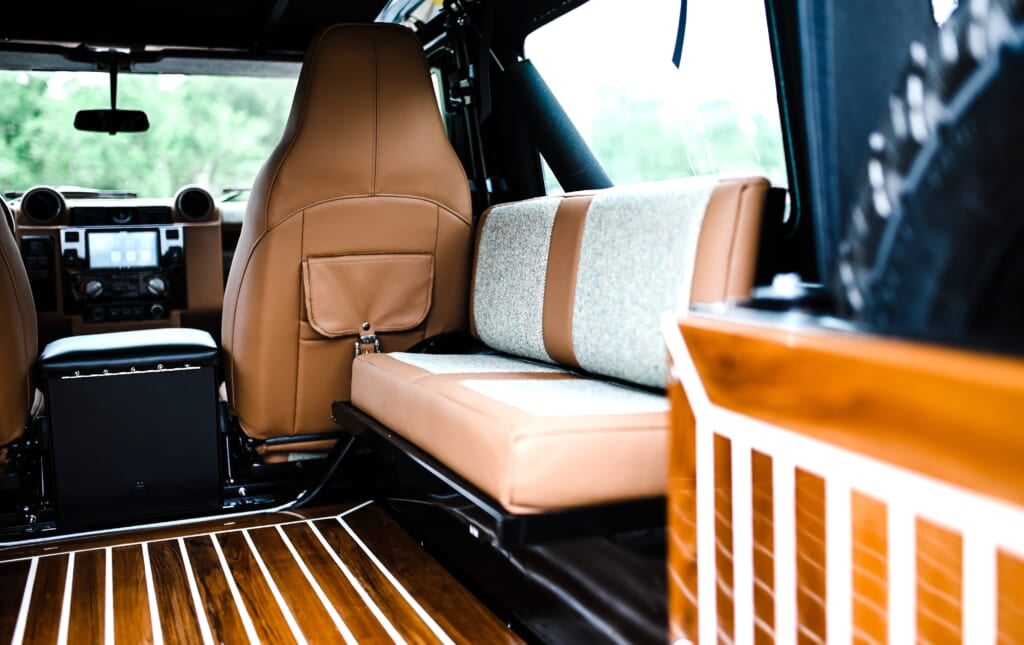 Business, of course, is booming, not least because Osprey's ûber-cool restomods are less expensive than many ultra-high-end new luxury SUVs these days. "You can go out and get a G-Wagen, but they're getting 50, 60 grand over sticker right now," Richardet says of the iconic German SUV which technically starts at $133,000 for a base model—if you can find one.
The Defender and G-Wagen have a similar silhouette, and both embody old-school style, but a classic Defender is just that much rarer and more special. "Nobody ever says, 'Oh, couldn't get the G-Wagen, so you got the Defender?,'" Richardet points out. They're just like, Oh, that's cool.'"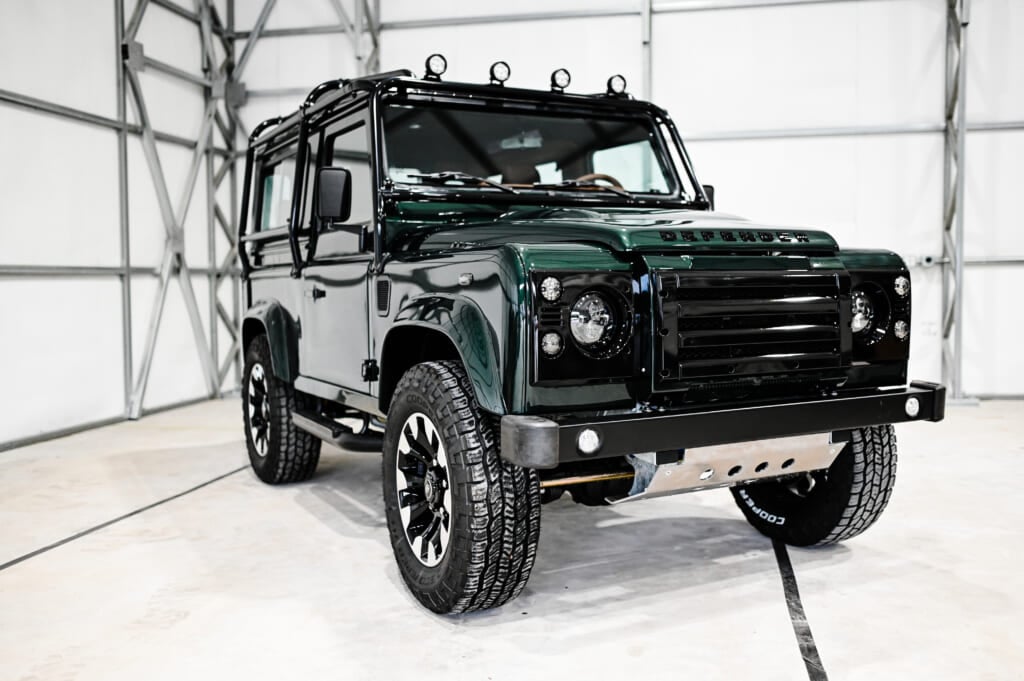 Without advertising, Richardet relies on word of mouth and repeat business to keep his order book full. "Some people have bought six different trucks from me," he reveals. "They have them at their various houses, all around the country or even the world, and each one's a little bit different depending on where it's kept and what they use it for." Richardet, a very down-to-earth and affable guy, always deals with his clients personally, and delivers their trucks to them himself anywhere in the USA.
"What I've figured out over all these years in the business is a lot of it's all about connections and friendships," he says. "And people want to see you succeed and want to help you if they like you. If they don't like you, you know they could do the exact opposite. So it's better if they like you." Amen.
Stay tuned for our next feature, when we get the keys to a custom Osprey Defender and hit the road….