Mercedes Targets Starter AMG Owners With Still-Way-Too-Fast AMG43 Models
Is 396 horsepower enough for you?
Mercedes-Benz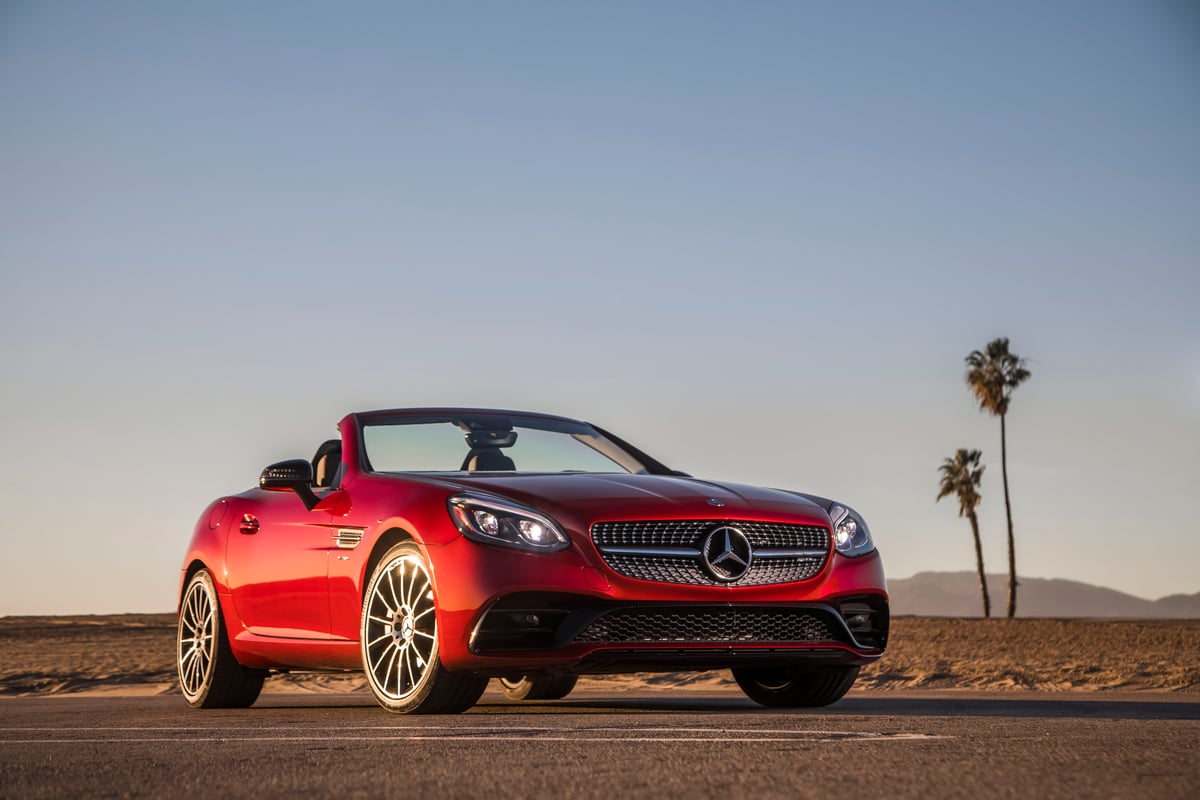 You may not realize it, but legendary powerhouse muscle cars like the Pontiac GTO didn't necessarily come equipped with the mack-daddy engines commonly associated with them. That's why you could buy a '70 GTO with a plenty-hot 400 cubic-inch big block rather than the 455.
And you could get a '69 Plymouth Road Runner with a 383 in place of the famous 426 Hemi. That 383 in my high school neighbor's Road Runner was still more than fast enough to have killed up both.
The presence of these less powerful versions of such classic cars has done nothing to dilute their status as performance icons because even the lower-level powerplants were more than respectable in their muscle, and offering them let manufacturers sell even more of the popular go-fast models.
This is the thinking behind the new "43" series of models that Mercedes-AMG is offering. These cars recognize that not every buyer who appreciates the style, handling and performance of an AMG car has to have all of the horsepower to be thrilled by the car. Most of the horsepower will do.
AMG's 43s are twin-turbocharged "bi-turbos" in Mercedes-speak, but they are V6 engines rather than the 603-horsepower "63" V8s or 621-horsepower "65" V12s. These V6 engines are still hand-assembled, with the builder's signature right there on the identification plate atop the engine.
The "43" engines are bolted in most of the various models in the AMG line, including the C-Class, E-Class, SLC, GLC and GLE. Naturally, they incorporate the usual AMG-grade brakes, wheels, tires, and suspension parts, along with gingerbread inside and out to set the cars apart visually. A small bit of that gingerbread is eye-catching red seatbelts that are unique among the AMG cars to the 43 models.
Will traditionalists decry the deployment of V6 engines in AMG models for lacking the requisite oomph. Maybe. But if so, they need to consider that the 3.0-liter twin turbo V6 engine produces 362 horsepower and 384 lb.-ft. of torque.
The E55 AMG of 2000, with its 5.0-liter V8 engine was a key contributor to the stellar reputation AMG enjoys today. At the time, Motor Trend pronounced it "the greatest sport sedan ever to ride the face of the earth-a musclebound testament to the tuning acumen of AMG."
That car's engine was rated at 349 horsepower, and 391 lb.-ft. of torque, which puts today's 43 models solidly in line with that car's performance. It happens that the E43 has a newer version of the V6 that is rated at 396 horsepower and 384 lb.-ft., and the other models seem sure to follow when they are refreshed. 
Because not everyone needs all of the horsepower, but a few more are surely appreciated. My friend's '69 Road Runner 383 managed to get us in plenty of trouble with a horsepower rating of 335.