Check Out the 500-HP Mercedes-AMG That's a V8-Powered Beast in a Compact Crossover's Body
It makes no sense, but we love it.
Mercedes-AMG
Coupe-style SUVs — you know, the ones with a fastback profile — are the bane of many an automotive journalist's existence. What's the point? Why would you make a utility vehicle less… utile?! Some car writers become so apoplectic, you have to wipe the spittle from their branded polo shirts.
But that's because, like in so many things, the purists are morons. Sure you sacrifice some valuable cargo area and rear headroom, but when the results are sleek crossovers that don't look like clunky, glorified grocery-fetchers, who cares? For some folks aesthetics matter, and they're willing to sacrifice a little space to drive a vehicle they can pull right up to the valet without a speck of shame. Or spittle.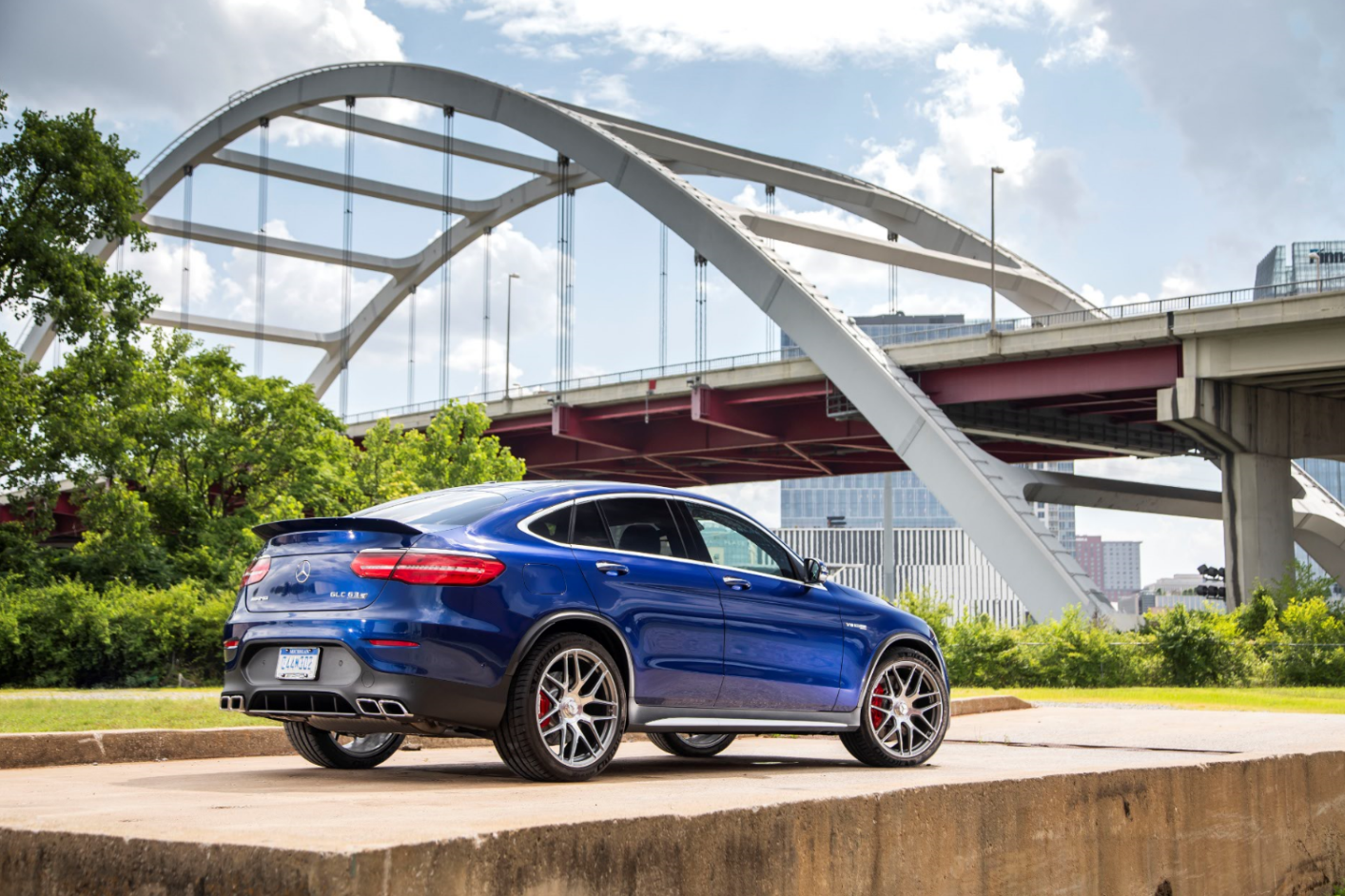 When you take it one step further — swapping out base four-cylinder engines with high-performance variants and bracing them with racing suspensions and composite brakes — you create kitted out SUVs that drive like redline-hugging supercars. What's there not to like about that?
Such is the case with Mercedes-AMG's brand new GLC63 S Coupé, undoubtedly the most absurd SUV this side of the Alfa Romeo Stelvio Quadrifoglio. AMG had already fitted a V6 into their GLC43 model, but have now gone Full Kanye by shoehorning their glorious twin-turbocharged 4-liter V8 under the hood.
What AMG have created in the GLC63 S Coupé is a sleek, tautly sculpted German bareknuckle boxer bristling with 503 horsepower and 516 lb-ft of torque. That's 141-hp and 132-lb-ft more than the already potent V6-powered GLC43, making it the only V8-powered crossover in its class. (The price for this outrageous power is $94,195, the cost of the fully loaded vehicle we tested.)
This setup provides almost endless waves of power available at your whimsy. Driving through the one-lane roads that stitch together the various valleys of Kentucky's famed horse country, the GLC63 S performed like a supercar clod in padded shoulders. Drop the throttle and the super-SUV swallowed traffic like peanut M&Ms. Pickups, Camrys, tractors and farm equipment, all passed with nary a thought. Even horse trailers — leading long trains of stooges unable to safely pass the boat-long road blocks — could be eviscerated with a single straight and a bit of testicular fortitude.
This kind of lunacy is nothing new for AMG, of course. The madmen from Affalterbach have never been known for their constraint. This is a company, after all, that first made waves worldwide in 1987 when they transplanted a Merc E-Class's 2.3-liter four-banger with a 5.5-liter V8 from the much larger S-class, subtly dubbing it The Hammer. The Results? How about a 0-60 mph clip of just 5.0 seconds, with a 178-mph top speed — both metrics eclipsing a Ferrari Testarossa, the era's top dog.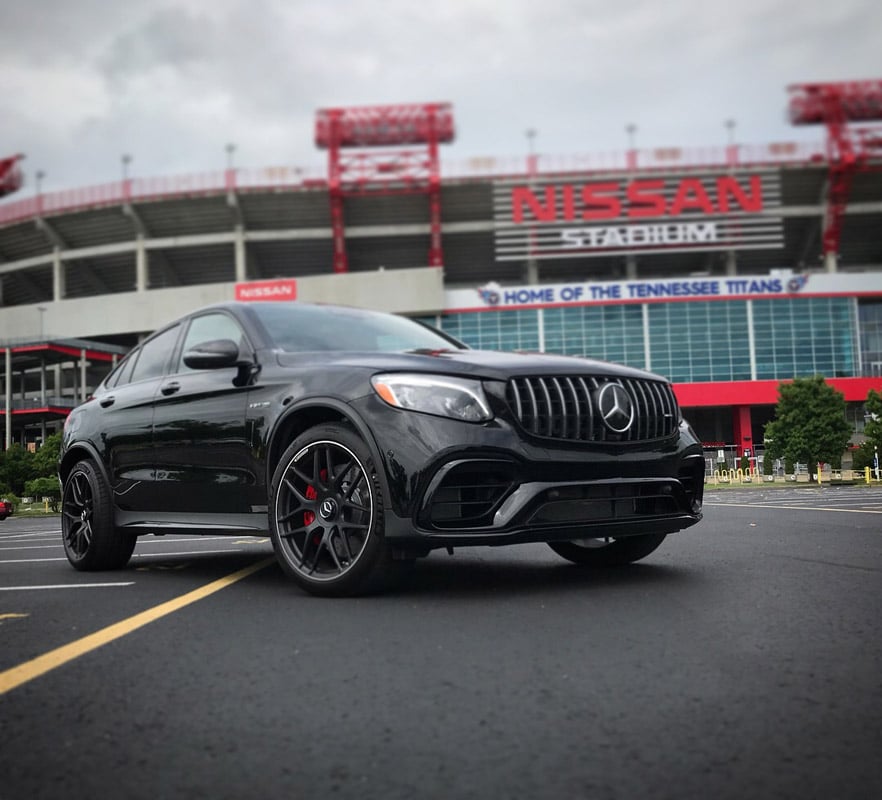 Sadly we didn't get a chance to take any GLC63 out on the track, but we were given time behind the wheel of the same engine placed in their E63S sedan and, Lordy, was that a blast. On the NCM Motorsports Park outside Bowling Green the 63S engine delivered delirious bursts of power upon exiting corners. Tons and tons and tons of torque, making us wonder at the time what it would be like in this much smaller GLC body.
Another thing the S variant boasts over the 63 is an electronic rear differential in place of a mechanical diff. The latter is great in itself, and the difference between the two might be difficult to discern for the average hockey dad. But driving both back-to-back on the racetrack, the electronic diff reacted with such immediacy that it made you feel like Ayrton Senna on the corners. 
The GLC63 S's brain has a brilliant ability to instantaneously and nearly unperceptively meter when its nannies decide to intrude — you don't even feel the traction control kicking in, yet you know it's doing its magic. There's just no way I'm this good at drifting, I tell myself as I squeal around a corner so devilish they call it the Sinkhole. This is world-class tech.
Add in AMG's sports suspension developed from Mercedes' Air Body Control system (now standard across the AMG line), five driving modes (Comfort, Sport, Sport+, Individual and Race), and a glorious wailing sport exhaust (on Sport+ and Race), and the GLC63 S bucks and runs and huffs and grunts like what you'd expect with any V8-powered AMG. 
Except this time it's in a compact crossover. Let the fits begin.