The Fire-Breathing, 198-MPH Mercedes AMG GT R Is A Street-Legal Beast
Go like green hell with Mercedes' latest AMG beauty.
The AMG high-performance division of Mercedes-Benz arose as a racing team in the German Touring Car series, and that heritage is evident in the new 2017 Mercedes-AMG GT R. 
The company's flagship two-seater is so inspired by racing at Germany's most famous race track, the Nurburgring, that the new model's signature color is "AMG Green Hell Magno." Formula One great Jackie Stewart nicknamed the track "the Green Hell" for its difficulty. F1 stopped racing there following Niki Lauda's fiery crash depicted in the Ron Howard film, Rush.
The car reaches a top speed on the track (or autobahn) of 198 mph and accelerates to 60 mph in just 3.5 seconds. This speed comes from the usual sources: more muscle and less fat.
In the case of the GT R, that means an added 74 hp of muscle, for a total of 577. The revisions to the hand-built 4.0-liter twin-turbo V8 include new turbochargers, increased turbo boost (from 17.4 psi peak to 19.6 psi), higher compression and tweaked exhaust ports. Engineers also whittled 1.5 lbs. of mass from the engine's flywheel, giving it a quicker-revving nature that contributes to a feeling of agility for the car.
The seven-speed dual-clutch transmission has new ratios, with a taller first gear and shorter seventh gear produce a narrower spread of ratios that are better suited to track use.
Thanks to a chassis constructed of aluminum die castings and extrusions and aluminum bodywork, there wasn't a lot of fat to trim from the AMG GT, but the substitution of wider carbon fiber front fenders and carbon fiber driveshaft tunnel brace make the car lighter and stronger. 
Meanwhile, carbon fiber replaces aluminum for the car's torque tube connecting the front-mounted engine with the rear-mounted transmission.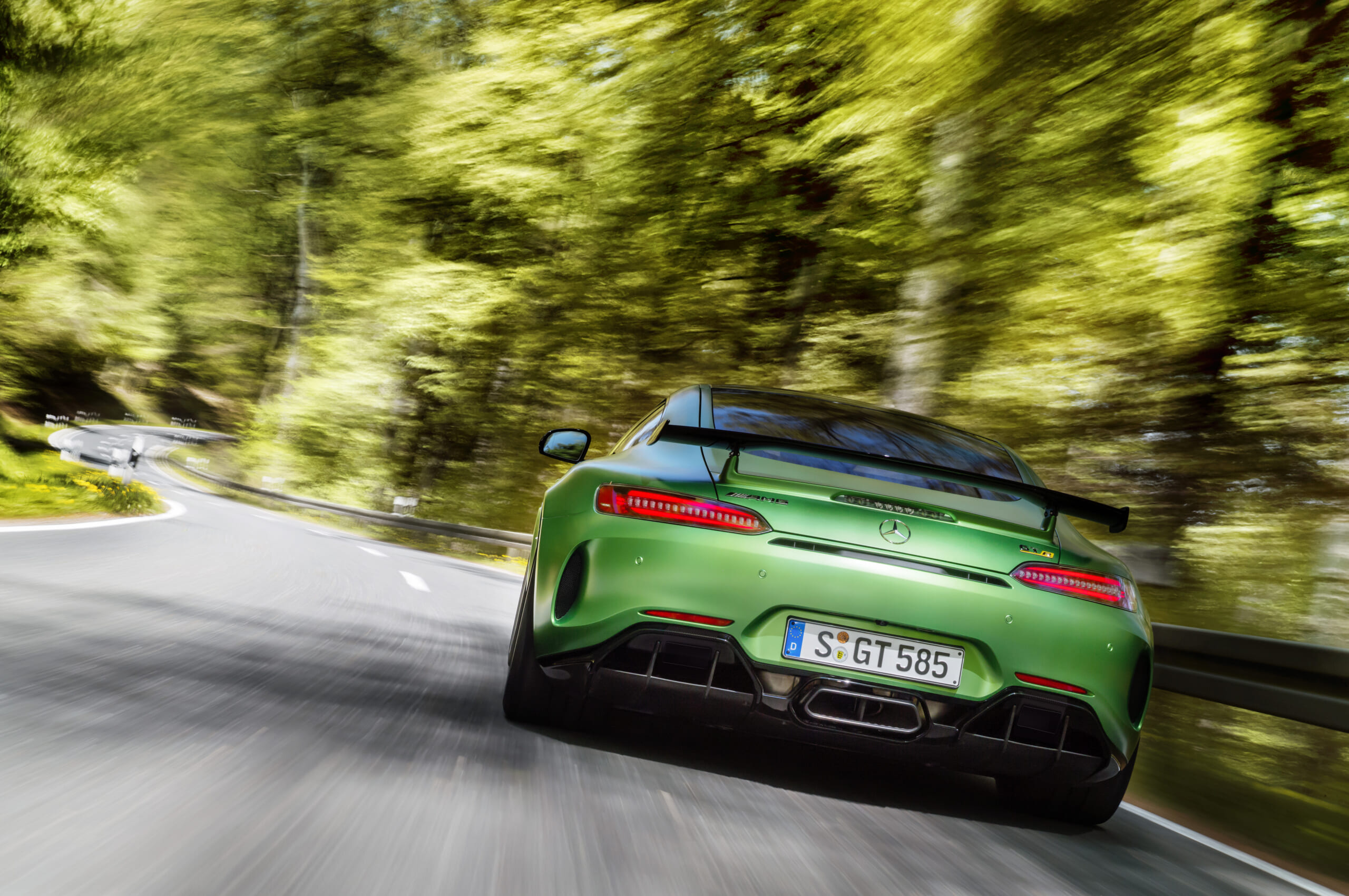 The GT R's suspension is now made of stronger, lighter, forged aluminum components, and the lower wishbones on the rear suspension mount with racing-style spherical bearings to eliminate the mushy compression of the usual rubber bushings for increased precision.
A carbon fiber front splitter and track-spec rear wing ensure increased downforce for high speed stability. The wing's angle is even adjustable to suit conditions and driver preference. 
These high-performance staples are aided by active aerodynamics for grille shutters and an underbody panel that deploys at speeds above 50 mph to reduce front-end lift at 155 mph by 88.2 lbs. Overall, the GT R's downforce at top speed presses the car to the road with an additional 342 lbs. of force.
It is impossible to read comments on the car by Tobias Moers, CEO of Mercedes-AMG, without involuntarily hearing his remarks in a German accent. 
"Those with gasoline in their veins will be thrilled by the radical longitudinal and lateral acceleration, the precise turn-in and the sensational grip," Moers informs us in the GT R's press release. "We have modified all performance-relevant components and linked them together intelligently for maximum driving dynamics."