This Monster Mercedes-Benz G63 AMG 6×6 Can Now Be Yours
The rare off-roader is headed to auction.
Ahmed Qadri/RM Auctions
We've seen custom 6×6 takes on Mercedes-Benz 4x4s recently, most notably Carlex Design's "Monster X," which is based on the short-lived X-Class pickup.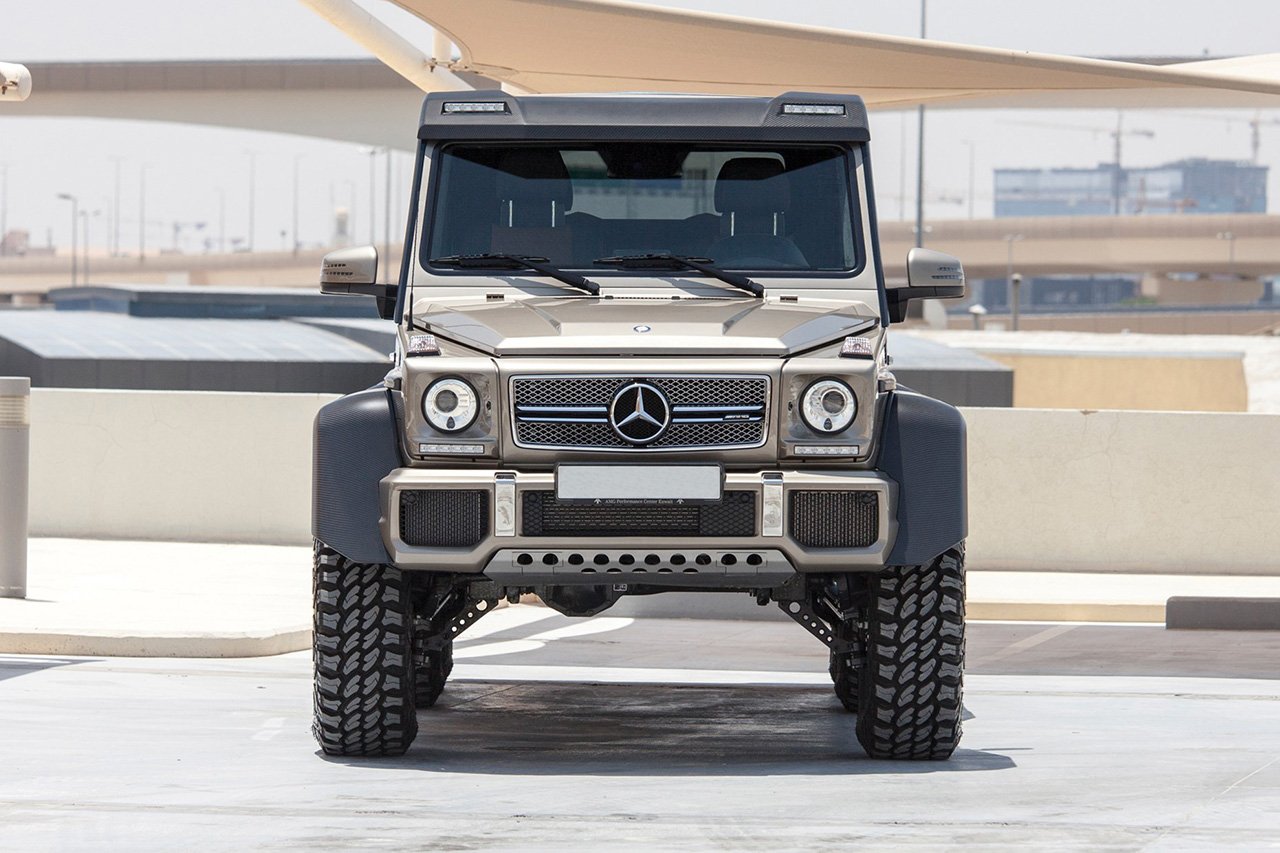 But from 2012 to 2015, the German luxury automaker's AMG performance division produced its own three-axled off-roader fittingly dubbed the Mercedes-Benz G63 AMG 6×6—and one pristine example is headed to auction through RM Sotheby's. 
Originally billed as "the most spectacular cross-country vehicle of all time," the gray-and-black G-Wagen boasts six-driven wheels, five lockable differentials, and three rigid axles that are fed some 536 horses by a 5.5-liter, twin-turbocharged V-8. 
Measuring 7.5 feet tall, nearly 7 feet wide, and nearly 20 feet long, it dwarfs the standard four-wheel G63. Despite a 8,320-pound curb weight, it'll hit 60 mph in an impressive 7.8 seconds before topping out at 100 mph. 
Where the G63 is meant to shine is off the pavement. Over 18 inches of ground clearance, monstrous 37-inch wheels and chunky tires that can be remotely inflated and deflated by the driver at high speed with an innovative pressure system, this thing can tear up dirt, gravel or mud with ease. 
Being a Benz, the cabin is also packed with luxurious features of the day. The listing promises quilted, two-tone Designo leather seats, all of which are electronically adjustable, heated, and ventilated. Provided art also shows a touchscreen, metal trim and wood-paneled bed with a spare tire. 
Best of all, the 2015 Mercedes-Benz G63 AMG 6×6 has just 140 miles on the odometer and is in "as-new condition." If you have to have it, get yourself to Sotheby's November 30 auction in Abu Dhabi to place a bid.