Behind the Wheel of The New Bentley Flying Spur, the World's Fastest Four-Door Luxury Sedan
Bentley's latest triumph is a 207-mph marvel of British engineering and bespoke luxury.
"Bond's Bentley Mk. II Continental went like a bird and a bomb and he loved her more than all the women at present in his life rolled, if that were feasible, together," Ian Fleming wrote in 1961's Thunderball. 007's affinity for Aston Martins only began when he stepped on to the silver screen; in the original books, he was a Bentley man through and through. 
And though Bond's car was a two-door coupe, in 1958 coachbuilder H.J. Mulliner—who customized 007's car—created a four-door version dubbed the Continental Flying Spur which quickly became the pinnacle of ultra-luxury grand touring, capable of crossing the continent at 100 mph.
In 2005 Bentley Motors revived the Flying Spur badge for a four-door version of its new Continental GT, and this year, as part of its 100th anniversary initiatives—the marque was founded in 1919—it recently introduced an all-new Flying Spur. 
It's nothing less than the fastest four-door luxury sedan in the world, thanks to an eye-popping top speed of 207 mph along with a 0-60 mph sprint of just 3.7 seconds. Its 6.0-liter W12 power plant, described as the most advanced 12-cylinder engine in the world, is good for 635 horsepower. And Mulliner, which is now owned by Bentley, is still customizing Flying Spurs for clients who want to go full secret agent.
We got our first look at the new Flying Spur on a visit to the Bentley factory in Crewe, England, where the Bentley Mark VI was first produced in 1946, earlier this year. At the time Bentley's chief executive Adrian Hallmark called it "a ground-up development that pushes the boundaries of both technology and craftsmanship to deliver segment-defining levels of performance and refinement." 
CEO-speak for "fast, sleek and expensive." The new Flying Spur starts at $214,600, but the price of a Bentley has always been beside the point; one never has to ask "is it worth it?"
More recently we traveled to the tiny principality of Monaco, a very Bentley-esque locale, to try out the Flying Spur firsthand. Home base was the legendary Hotel de Paris, opened in 1863 under the auspices of Prince Charles III of Monaco and home to the iconic Monte Carlo Casino.
Appropriately enough scenes were filmed there for the Bond flicks Never Say Never Again and GoldenEye. There are few places in the world where a whole fleet of brand new Bentleys would look right at home, and this is one of them.
In its natural habitat, the beauty of the well-bred super-sedan was even more apparent. The first thing to catch the eye is a new gloss-black radiator grille with bright chrome vertical vanes, presided over by an updated Flying B mascot, a throwback to the 1950s when it last appeared on the iconic model.
The new version is fully retractable, while a chrome bonnet strip, cut-crystal effect LED matrix headlamps and new wraparound rear lamps incorporating 'B' motifs are further visual cues to its heady blend of luxury and performance.
Climbing inside the cabin reveals even more sybaritic flourishes, including newly-designed fluted leather seats, which feature diamond quilting for the Mulliner Driving Specification. Three-dimensional diamond-quilted leather doors inserts, a world-first inspired by Bentley's Speed 6 concept car, reinforce the notion that this is a design tour de force as much as a marvel of engineering. 
Diamond knurled detailing abounds, and the impeccably-executed Bentley Rotating Display instrument panel that we first admired on the new Continental GT is right at home here, offering a choice of a 12.3-inch digital touchscreen, an analog dial cluster, or a serene wood veneer at the touch of a button.
We would not have foregone the pleasure of being behind the wheel of the Flying Spur along the curvy roads around Monaco, including the gorgeous coast-hugging corniche, as the locals call it. 
To have that much power in complete command backed up by that much hand-built craftsmanship and that much natural beauty as a backdrop is one of the world's great driving experiences. However, the Flying Spur is designed to be just as pleasurable when riding in the rear seat with a chauffeur doing the honors.
The first thing that you notice is a very 007 detachable Touch Screen Remote Control, which looks like a smartphone and smoothly deploys from its docking station in the rear of the center console. 
The touchscreen device can operate all the vehicle's major functions, including the rear blinds, climate control, rear-seat massage settings, the multi-configuration mood lighting system, the audio system (options include a 16-speaker Bang & Olufsen unit and a 2,200W Naim system) and even retract the Flying B mascot.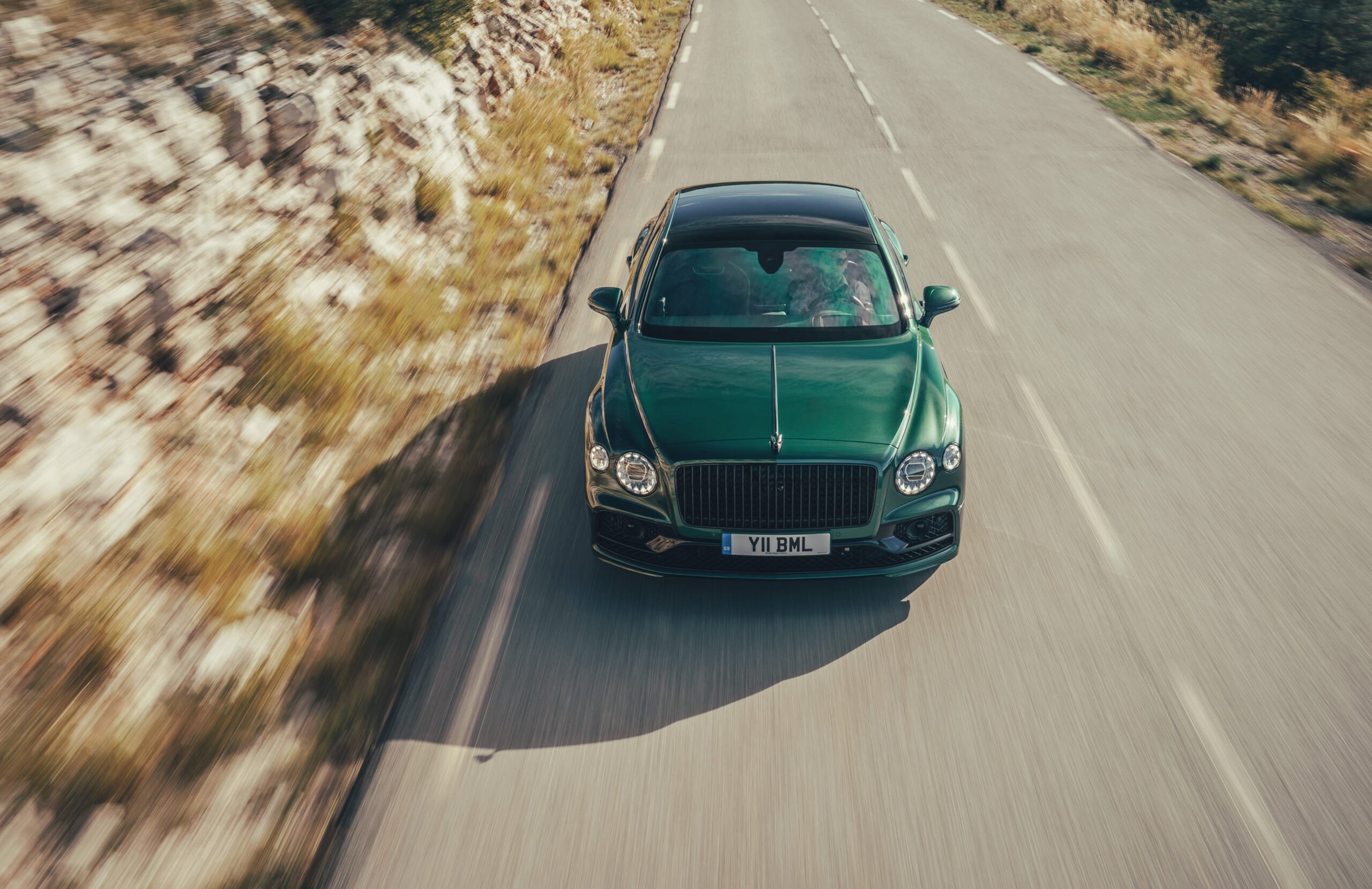 While utterly new and undeniably cutting edge, the Flying Spur manages to evoke the heritage of the Bentley marque, especially notable at our lunch stop at a stately French chateau where an original 1950s Flying Spur was on display offering a clear link between new and old. 
It's all down to what J.P. Gregory, Bentley's Head of Exterior Design, described to us as an "uncompromising vision that allows us to achieve the highest levels of bespoke luxury, and a clear, instantly recognizable bloodline running through all our cars."
Returning to Monte Carlo and the Hotel de Paris at the wheel of a Flying Spur painted a shade of dark green dubbed Midnight Emerald with camel-colored leather upholstery, we passed by the manned checkpoint where the Monegasque police give everyone desiring to enter the minuscule, and very rich, country the once-over. 
The usually steely glint in the ranking officer's eyes softened perceptibly as we pulled up in nearly 18 feet of bespoke British luxury, and his hand made an involuntary movement as if to salute as we purred past.