The New Mustang 'California Special' Is the Ultimate Topless Pony Car
It's a retro-inspired beaut.
Ford dipped into its portfolio of historic special edition badges for the Mustang and pulled out the California Special for the 2019 model year.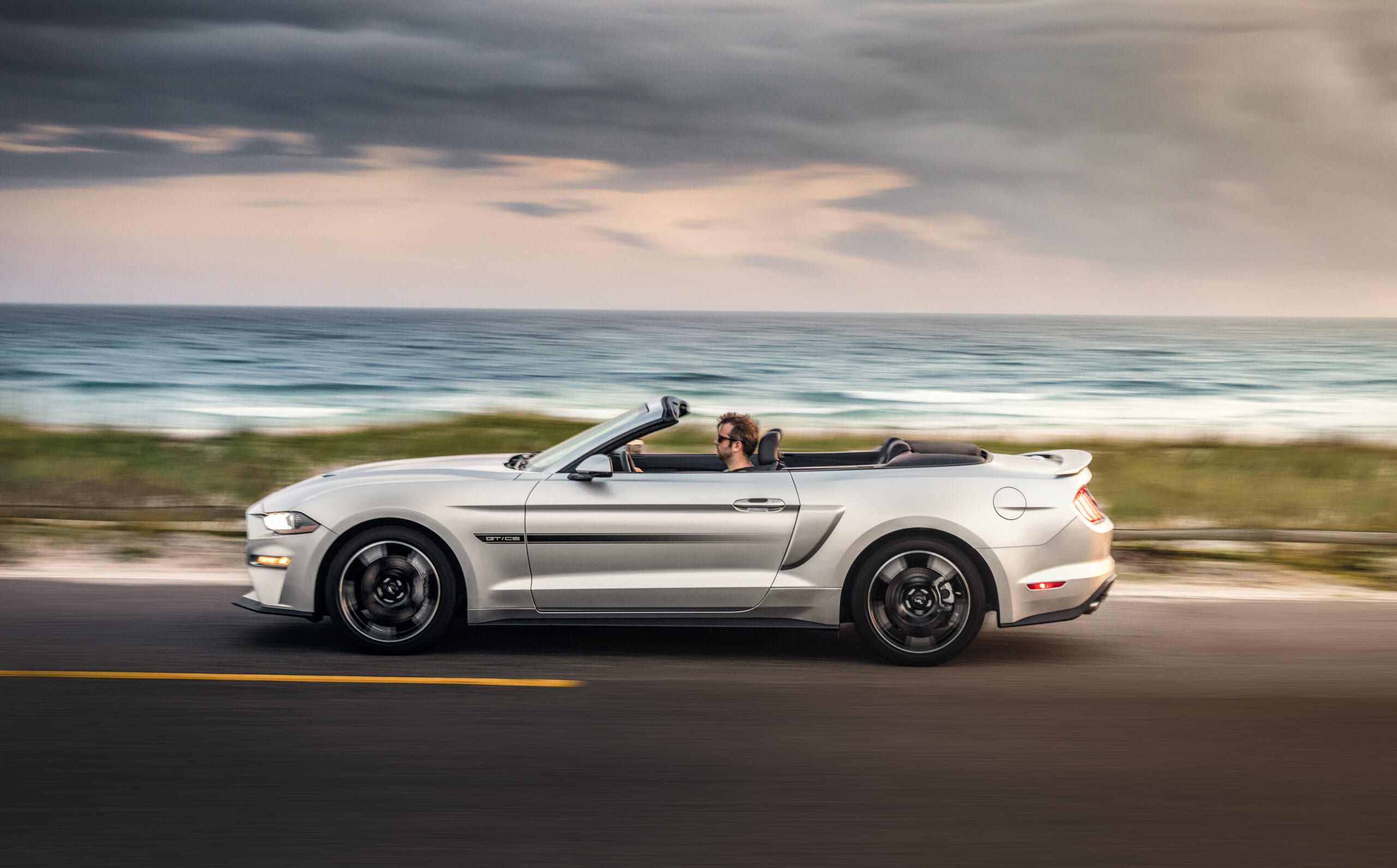 The original 1968 California Special was a limited production run of 4,118 1968 Mustangs ordered  by Golden State dealers exclusively for their customers.
To commemorate that classic ride, Ford's 2019 Mustang GT California special features a fading stripe tracing from the 5.0 engine badge to the rear fender scoop. There's an Ebony Black and Race Red script California Special badge on the trunk lid, while up front, the car has the classic car's blacked-out open grille.
That vintage look is updated with the front splitter from the contemporary Mustang Performance Pack 1 splitter and unique five-spoke painted machined wheels.
The cabin is dressed in black Miko suede-trimmed seats with embossed GT/CS insignia and contrast red accent stitching and custom embroidered GT/CS floor mats. 
"Few things are more satisfying than dropping the top on a California Special and taking a drive down the majestic Pacific Coast Highway," said Mark Conforzi, Ford designer. "This signature design takes its cues from the original California Special, while enhancing the personality of today's Mustang."
The original '68 California Special was differentiated from regular Mustangs by the absence of the "pony" in the grille and the addition of fog lights at the front. At the rear, it borrowed a spoiler from the Shelby Mustang and full-width taillights from the Mercury Cougar to provide a distinctive look.
The 2019 Mustang GT's retuned 5.0-liter V8 engine packs 460 horsepower and 420 lb.-ft. of torque and tops out at 155 mph. Advanced rev-matching helps smooth out shifts by predicting shifts and then quickly matching engine rpm, so that on downshifts, the engine rpm instantly kicks up to smooth out the transition between gears.
The California Special isn't Mustang's only tribute for 2019; Ford is also adding some vintage-inspired colors including Velocity Blue, Need for Green and the iconic Bullitt model's exclusive Dark Highland Green.
"These intense new colors trace back to Mustang's classic colors of the late 1960s and early 1970s," said Holter. "While colors like Shadow Black and Magnetic Gray will still be popular for those who prefer to go stealth, these new colors pack a brighter, more vibrant punch for 2019."
Look for the 2019 Mustang California Special to reach dealers this summer.