This 1,000-HP Electric Big Rig Is Totally Real, and Totally Awesome
It's truly revolutionary.
"The electric light did not come from continuous improvement of candles." This quote from author Oren Harari sums up the breakthrough nature of the Nikola One fuel cell electric highway tractor, according to Nikola Motor Co. founder and CEO Trevor Milton.
https://www.youtube.com/watch?v=3no3tF2kqEE
The would-be Tesla for heavy trucking teased us last summer with computer renders of a promised truck, along with impossible-sounding capabilities and benefits for customers. Now, Nikola (the name was scientist Tesla's first name) has delivered an actual truck to a stage and insisted that while guests could look inside, that the controls were roped off because the truck is functional and could be accidentally driven off the stage.
Some of those impossible-sounding claims? How about 1,000 horsepower and 2,000 lb.-ft of torque? That's enough power to haul loads up a 6 percent grade at 65 mph, rather than the 35 mph achieved by today's diesels, said Milton.
Claimed driving range tops 1,200 miles on a full load of hydrogen fuel, which Nikola will furnish without charge for the truck's first million miles. Nikola is rolling out a network of 364 fueling stations nationwide to keep the Nikola One rolling.
They say the truck will get the equivalent of 15 miles per gallon, when you calculate the fuel cell's 70 percent efficiency and the relative energy density of a gallon of diesel fuel compared to a kilogram of liquid hydrogen.
And the Nikola One is packed with unorthodox technologies, just like a Tesla Model S. There's the 21-inch computer display that helps route the truck and plan cargo pickups. There's the minivan-style sliding side door that enters in the middle of the cab to make climbing into the truck easier than the rappel up to today's driver's seats.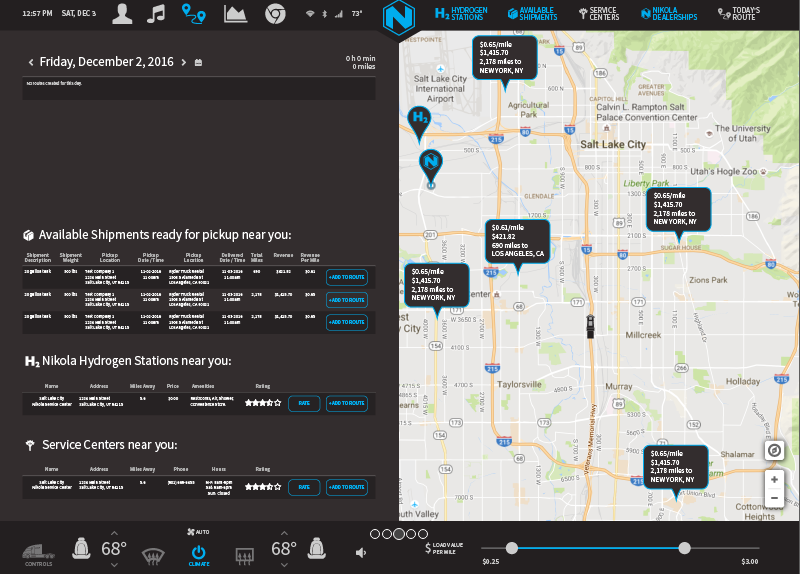 It is the same story underneath, where the Nikola One has fully independent suspension at all wheels for a smoother, less-fatiguing ride. And it has four-wheel drive with torque vectoring for improved traction and stability. Plus, the mammoth battery pack is mounted low in the truck's frame, lowering its center of gravity by between two and three feet, according to Milton, reducing the likelihood of tipping over.
Nikola will lease its trucks, including a million miles of free fuel, for between $5,000 and $7,000 a month, which is less than drivers typically spend on fuel, making the use of a new truck effectively free. They say they will deliver production trucks by 2020.
All of this sounds too good to be true, especially in light of the change since last summer's announcement from natural gas turbine power to hydrogen fuel cells.
But Nikola rounded up some industry titans, whose credibility supports their claims. Ryder System will provide sales and service for the trucks at its nationwide network of 800 shops, while U.S. Xpress has committed to buy the trucks for its shipping fleet.
Of course, there isn't even a factory yet, so how will Nikola start delivering trucks in 2020? They have pragmatically signed a deal for truck-maker Fitzgerald to build the first 5,000 trucks under contract, while Nikola's factory is prepared.