This 720-HP Special-Edition Nissan GT-R Celebrates 50 Years of the Iconic Japanese Supercar
It's the greatest version of Godzilla yet.
Both the Nissan GT-R and Italdesign are turning 50, and they're celebrating together with a beastly special edition of the iconic Japanese supercar. 
The first-ever collaboration between the Asian automaker and the custom builders that created the Lamborghini Huracan Zerouno is fittingly billed as a "no-limits reimagining" of Nissan's flagship performance vehicle.  
Beginning with a 2018 Nissan GT-R NISMO model, Italdesign accentuated the vehicle's already-distinctive features by giving the hood a more pronounced bulge, beefing up the wheel flairs and lowering the roofline. 
Energetic Sigma Gold accents have been tastefully added throughout, most notably to the GT-R's "samurai-blade" cooling outlets and door inlays. The glistening cherry on top is an embedded golden element that stretches across the body's rear. 
Carbon fiber finishes and features accented with MORE gold constitute the interior's center console, instrument panel and door linings, while top-notch black Italian leather covers the seats.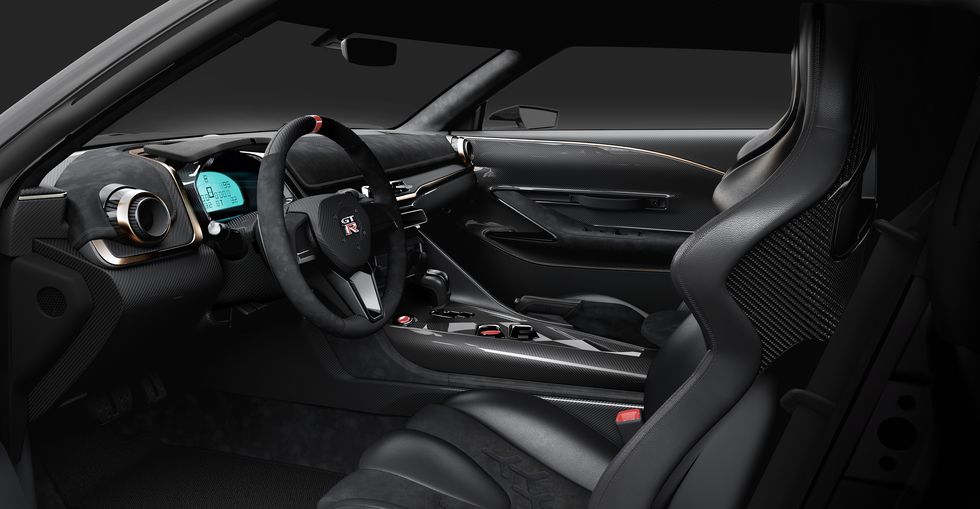 Finally, there's the engine. Nissan's in-house NISMO performance division used their F1 pedigree and fine-tuned a handmade 3.8-liter V6 engine to produce a monstrous 720 horses. 
The official press release has further details on other modifications: 
Changes to the power plant include optimized twin high-flow, large-diameter GT3 competition-spec turbochargers and larger intercoolers; heavy-duty crankshaft, pistons, connecting rods and bearings; high-flow piston oil jets; revised camshaft profiles; higher-flow fuel injectors; and optimized ignition, intake and exhaust systems.

A reinforced dual-clutch sequential six-speed rear transaxle and stronger differentials and drive shafts direct the power to the wheels.
The end result is one of the baddest GT-Rs ever built. Take a closer look in the gallery above. 
h/t: Road and Track