Off-Roading In The Toyota Tacoma TRD Pro
The bright orange Tacoma turned heads after tackling rugged terrain in South Carolina's Francis Marion National Forest.
(Stinson Carter)
The truck idled on a one-lane road with doubletrack dirt lines barely visible, steep ditches on both sides, and forest beyond that. My wife stood by the pond-sized puddle in front of us with a sapling in her hand and poked the water for depth. I saw visions of the leech scene from Stand by Me, where the boys take two steps and then fall in up to their necks. The sapling test seemed promising, so she waved me on, and I slowly approached a point of no return.
I looked at the mud ruts left behind by other off-roaders and picked what looked like the safest line through—just as the front end dipped, I felt contact with the front skid plate and stopped, staring down the scooped hood at the water below. I had two choices: to go forward in a place with no cell service, with no recovery tools, and two kids strapped into the back seat on their first off-roading adventure.
Or I could reverse my way back down the one-lane road I'd just traversed. This would also involve a potential round-two of a battle with a wild turkey mother whose babies I'd come to close to (The bright orange paint job, called Solar Octane, must have blown their turkey minds.) One thing was certain: Because of the ditches on either side, a three-point-turn was not an option.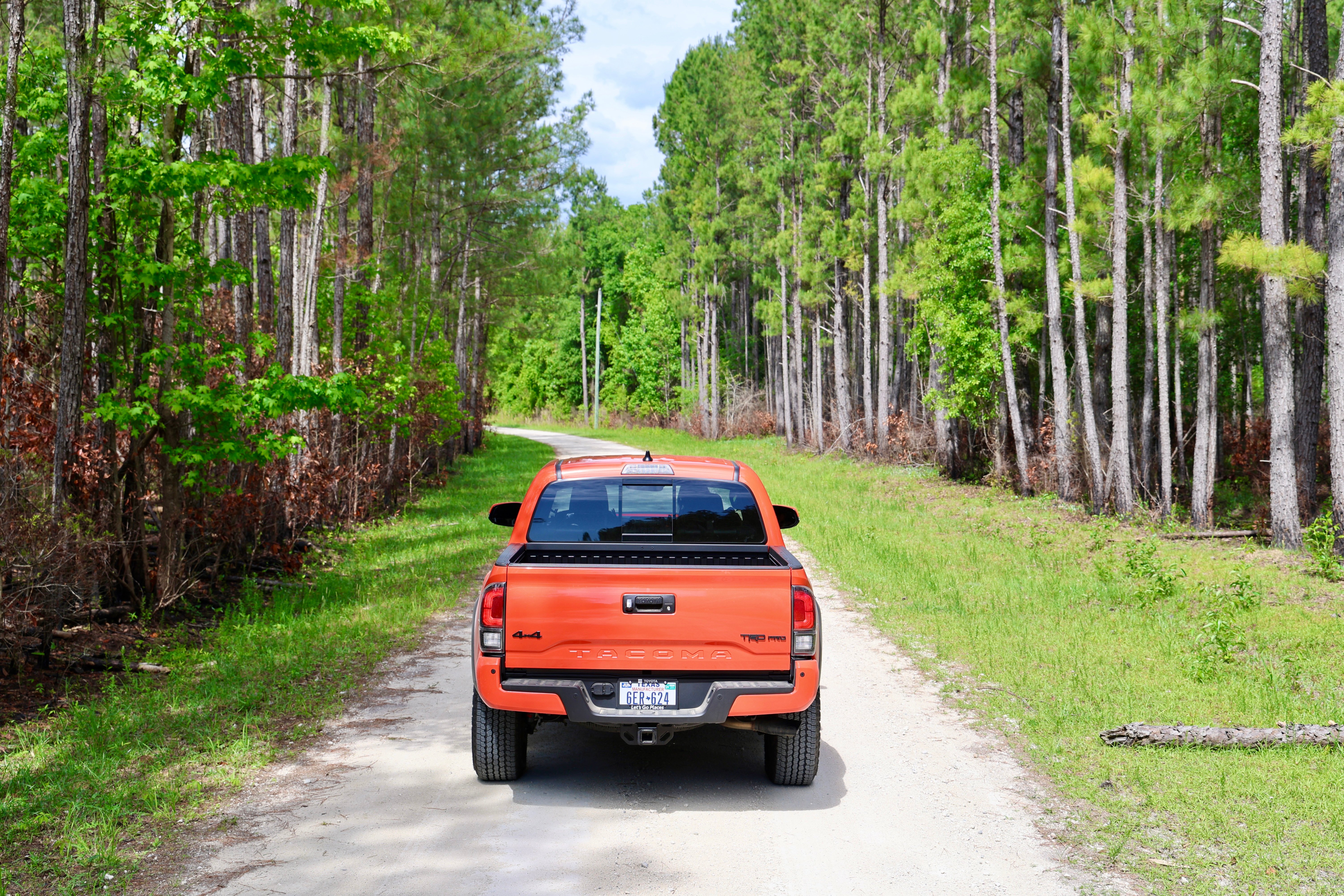 "If only this wasn't a press vehicle," I said to my wife, as I shifted into reverse, and she hopped back in. With my arm against the back of the passenger seat, staring through the rear window of the truck at the two faint lines of dirt and mud stretching back through the forest, I thought of the Ann Richards' quote, "Ginger Rogers did everything that Fred Astaire did, only backwards and in high heels." This was the Toyota Tacoma TRD Pro's Ginger Rogers moment, minus the heels.
I had been waiting for the right vehicle to take to the Francis Marion National Forest for years. Where I live in Charleston, SC, everyone with a badass SUV takes it there as a proving ground. The night before, I built a route with the OnX Offroad app, so I would have a map of all the unpaved roads through the forest even while I was offline away from cell towers. I personally see sticking to the right roads as a matter of survival in a country where wrong turns can be fatal. Even on the right roads, I still encountered a sign that read "Trespassers Will Be Shot, Survivors Will Be Shot Again."
When the Tacoma TRD Pro showed up for a weeklong test drive, I knew that to use it only on pavement would be like flyfishing in my bathtub. And the moment we turned off of the highway and got onto a dirt road, I knew I'd made the right choice. On pavement in a city, the Tacoma TRD Pro feels like a bigger truck than it actually is, almost like a full-size truck—an attribute with both pros and cons.
It feels weighty in a good way, but it's not the easiest to maneuver when parallel parking. Then you get it off road and the TRD-tuned FOX suspension makes driving an absolute dream. It just dominates the unpaved road, and we had a landscape to explore that ranged from otherworldly burned-out forests to shaded swampland and dry dirt trails between towering pines.
2023 is the last year of the Tacoma with a V6 as an engine option. There's a major physical redesign coming next year oriented around a turbo inline four, as well as a hybrid powertrain option. For some this may seem like a reason to skip this model year, but if you want the classic truck-like handling and a tried-and-true V6 that may require less and simpler maintenance, this is your last year to get this one.
The automatic transmission model I drove with the 3.5-liter V6 produces 278 horsepower and 265 pound-feet of torque and can haul up to 6,400 pounds. Fuel economy is 18mpg city and 22mpg highway for 20mpg combined. Fuel economy will likely improve in next year's four-cylinder and will certainly improve in the hybrid, but it is what it is: a great and dependable V6 powering a vehicle made to clock more miles off the road than on. Safety-wise, the package includes a suite of features like dynamic radar cruise control, lane departure alert, and a pre-collision system with pedestrian detection.
The interior is nothing new. The screen seems small by today's standards, and visibility isn't helped by the matte finish. I assume the interior will get a significant facelift next year, but the utilitarian styling of this model will still hold up as the final incarnation of a classic. If you like analog buttons more than touch screens, or if you don't like the look of a screen-dominated dash on an off-road ruck, then this interior is for you.
On the exterior, the TRD Pro is a stunner of a truck with its scooped hood and TRD branding on all sides. The knobby all-terrain tires on the 16-inch black alloy wheels are beefy and beautiful. And the branding in the LED headlights (with an automatic on/off function for high beams) is a nice touch. There are also fog lights and a cool front fascia unique to the TRD Pro.
With destination charges, the Tacoma TRD Pro costs a hair over $52,000, which makes it an expensive mid-sized truck. But with the resale value of a Tacoma, it's more about parking your money. If you can get your hands on one, you could probably drive it for a couple years and sell it for slightly less than what you bought it for.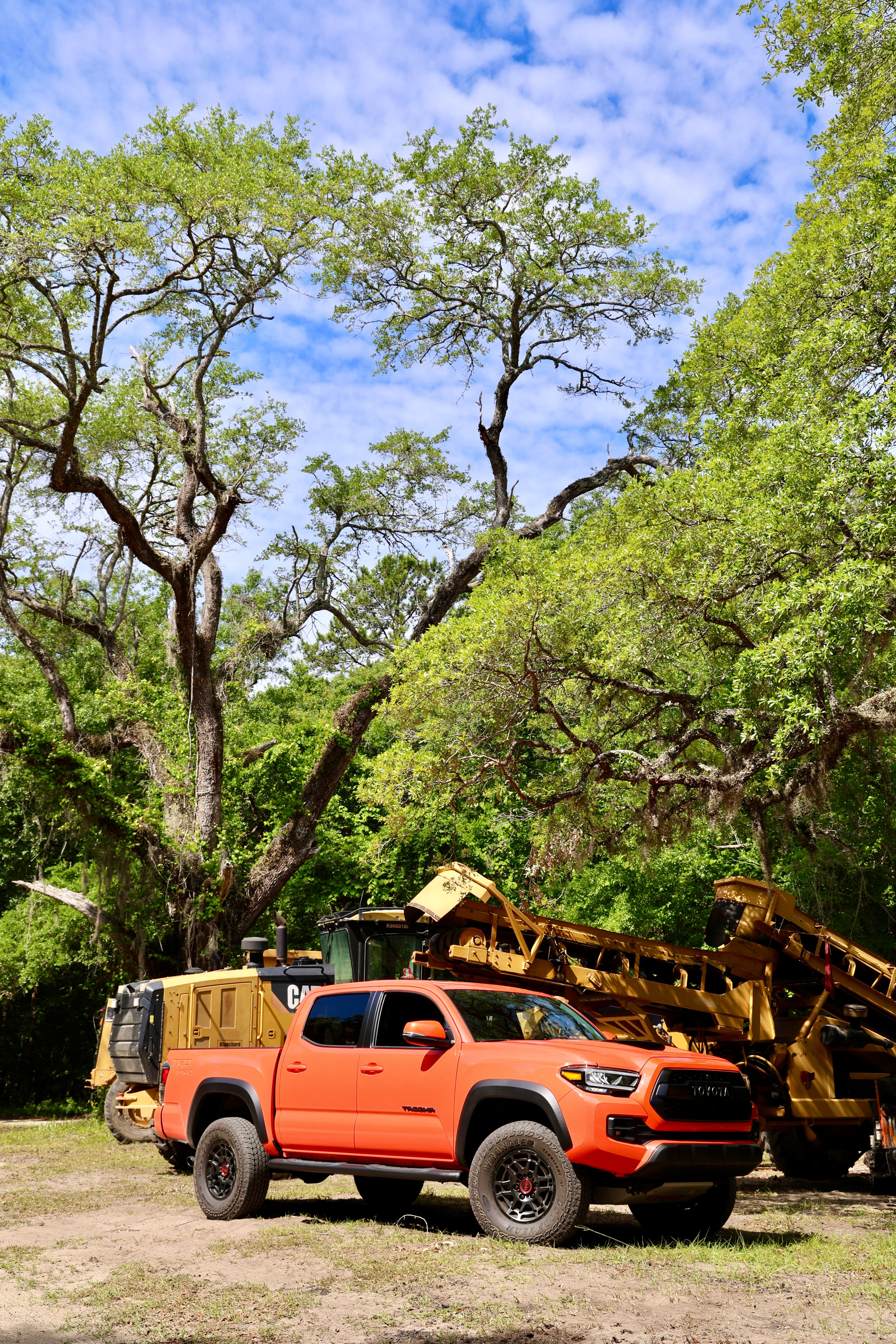 On the way back to Charleston, we stopped at the Sewee Outpost, an adventurer's paradise for travelers, off-roaders, fishermen, and bikers that sells everything from fishing crickets to Buck knives, cast iron skillets and tomato pie.
Everyone stepping out of the front door paused to ogle the brightly colored, mud-splattered truck that is clearly not your typical Tacoma. It had found its audience. And standing there with a chance to see it through their eyes, I realized something about a vehicle that up until then, I'd seen as a weekend lark and nothing more. I realized that I could get used to this.