This Tire-Shredding, 810-HP Custom Wraith Is the Baddest Rolls-Royce on Earth
Tell your chauffeur to take a hike.
Stately. Elegant. Refined. We are all familiar with the attributes that draw wealthy drivers to Rolls-Royce cars. Except for skier Jon Olsson, whose crazy Lamborghini we coveted last year, who decided the world needed the most outrageous Roller since John Lennon's psychedelic 1965 Phantom.
As much as he likes the Lambo, Olsson decided he could use a four-seater, for something a little more practical, as one does when choosing a Rolls-Royce. Olsson turned to his friends at Denmark's Absolut Motors to create an 810-horsepower tire-killing beast of a customized Rolls-Royce Wraith coupe that he has named "George."
"As you know I have always loved to build custom things, most of the time its been super cars but with the trend becoming bigger and bigger in that segment I wanted to build something different!" he explained.
There are other high-performance four-seaters, but Olsson says it had to be a Rolls-Royce. "Ever since I first sat in one I was blown away by its presence and how big and crazy it looks!"
George is wrapped in a snow camouflage scheme similar to that of the Lamborghini, but in this execution it ends up looking more like a cow pattern from a Chick-fil-A commercial telling us to "Eat Mor Chikin."
As a skier, a winter theme was the obvious way to go, but a summer delivery of the customized Wraith resulted in a more rally-influenced style, with an array of extra lights and a roof cage.
"So in the end it ended up being a mix between the initial idea and a summer car! I am however super mega stoked that it turned out this way as I love the car," said Olsson. "I am pretty sure I will not be invited to a Rolls club anytime soon with how insane this looks, but to have such a unique Rolls just feels great to a person who loves to do what other don't!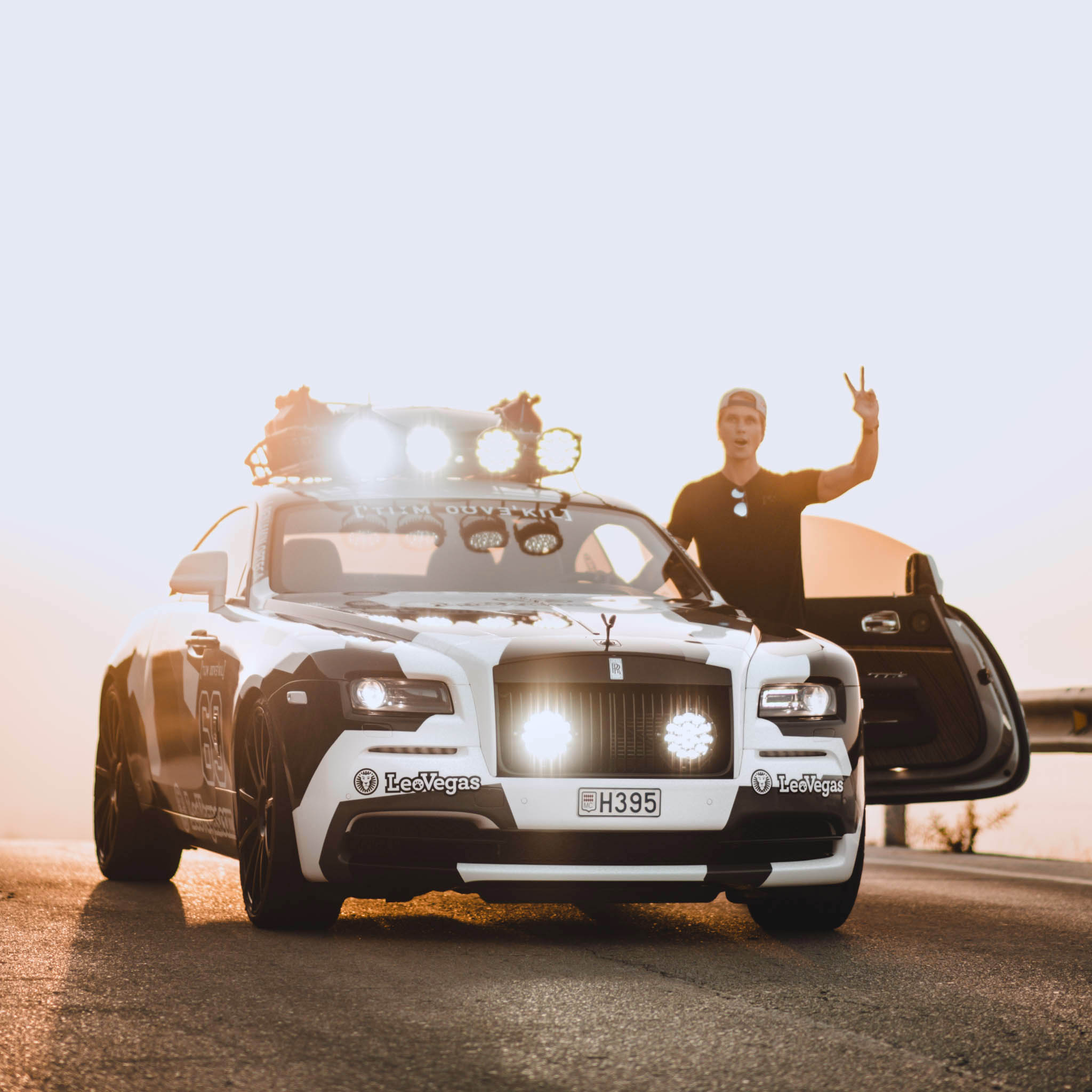 The Rolls purists will be pleased to hear that at least he did not drill any holes in the roof to mount the equipment rack, because Olsson says he was able to find magnets for that installation instead.
Of course, as we all know, winter is coming, so look for George 2.0 to debut later in the year with full snow-weather equipment.