One Of The Most Iconic Ferraris Ever Made Can Be Yours This August
This quintessential Prancing Horse poster car was the last devised under Enzo Ferrari's leadership.
Car collectors with exceedingly deep pockets and an understanding of Ferrari's elite road car lineage will jump at the opportunity to score this pristine 1992 Ferrari F40 at the upcoming RM Sotheby's Monterey auction this August.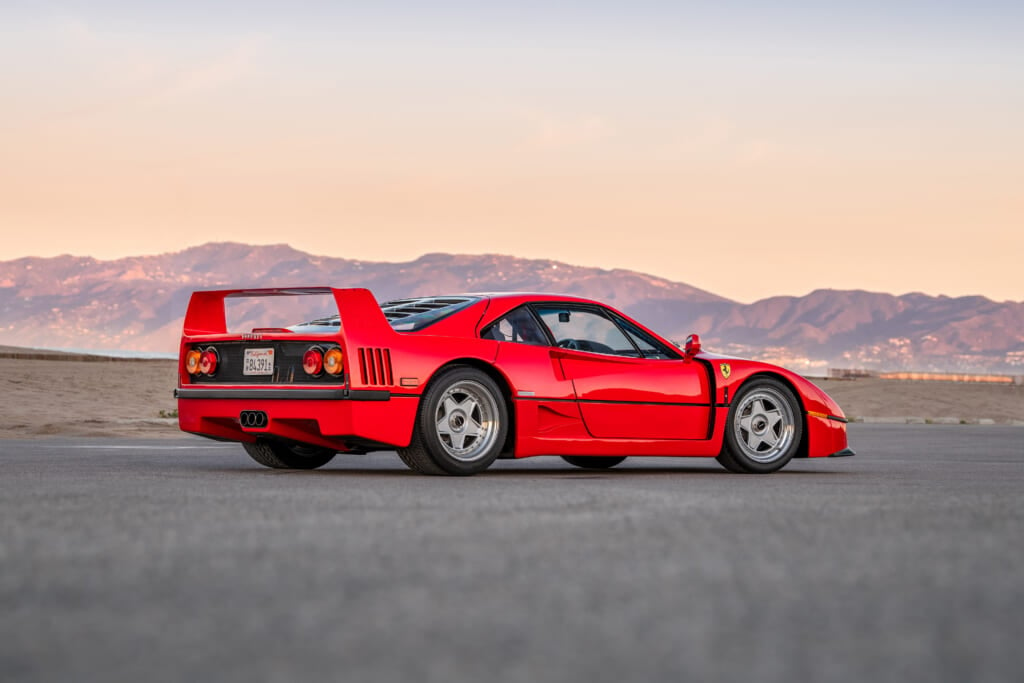 One of the OG Prancing Horse poster cars, the F40 was originally developed from the 288 GTO to take on the Porsche 959 and other GTs and FIA's Group B. When the dangerous race class was canceled, Maranello's esteemed marque elected to use the F40 as a basis for an exclusive 40th anniversary tribute to its first vehicle, the 125 S.
The somewhat tumultuous origin story turned out be a blessing that spawned one of the most iconic supercars of all time and the last devised under Enzo Ferrari's leadership.
The 288 GTO's twin-turbocharged V-8 was bored to displace 2.9 liters and married to a five-speed transaxle actuated by very cool, retro gated shifter. Original output was billed at 478 horsepower and 425 pound-feet of torque, enough to propel the F40 to 60 mph in just 3.8 seconds before reaching a 201-mph top end (thereby eclipsing the Porsche 959 and Lamborghini Countach all-out.)
The F40's competition roots are evident in other features, such as the race-developed steel tube-frame chassis with four-wheel double-wishbone independent suspension, coil-over Koni shock absorbers, and four-caliper ventilated disc brakes.
Leonardo Fioravanti's Kevlar and carbon fiber coachwork design is not only gorgeous dressed in Rossa Corsa red, but lightweight, rigid and aerodynamically efficient, thanks to trials in Pininfarina's wind tunnel.
While 1,315 F40s were produced in total, this one is one of the 213 total of the more refined versions delivered to the U.S. with standard AC and catalytic converters. RM Sotheby's has further details on provenance:
One of just 60 examples delivered to the United States in 1992, chassis number 91907 completed assembly in September 1991, finished in Rosso Corsa and trimmed with Stoffa Vigogna (vicuña cloth) seat upholstery. According to a copy of an original window sticker on file, the car was shipped for import to Newark, New Jersey, and an entry in the F40's warranty booklet demonstrates the car was distributed for retail to Monterey Ferrari in Seaside, California, just north of Pebble Beach.

Officially sold in October 1991, the Ferrari was delivered in January 1992 to the first owner, Putra Masagung of Hillsborough, California. The impressive supercar passed through one other California-based ownership over the following 13 years before being acquired circa late 2005 by another enthusiast in California. Throughout this period, the F40 enjoyed steady maintenance and gradually accrued occasional miles before being sold to the consignor more recently.
In February 2020 the F40 was issued certification from Ferrari Classiche, including a Certificate of Authenticity and a Red Book that clarifies the car desirably retains its major original mechanical equipment, including engine and gearbox, and is equipped to proper factory specifications. The Ferrari was also issued a Classiche Libretto Manutenzione, a Classiche-issued maintenance log that is stamped with a factory-conducted service at that time.

In preparation for the current offering, the supercar was serviced in February 2022, as reflected by an invoice on file from Ferrari Los Angeles. This attention included a belt service, a rebuild of the fuel injectors and alternator, and a re-sealing of the valve covers with new gaskets and rings. The phase sensors were replaced, the wheels were re-torqued, and a new fuel filter and spark plugs were installed.
With only 9,447 miles on the odometer, this 1992 Ferrari F40 is regarded by the auction house as "one of the finest examples to be publicly offered in recent memory." Considering condition and the upward recent trend in F40 values tracked by Hagerty, expect it to sell for north $2 million.