Here's Everything You Need To Know About The Humvee's Replacement, The Mighty Oshkosh JLTV
Things just got better for our troops.
Wisconsin's Oshkosh Corp. won the Army contract to replace the venerable Humvee with a more capable machine providing better protection to occupants in hostile situation, and now the Joint Light Tactical Vehicle is rolling off the assembly line and should start arriving in the motor pool by the end of next year.
You might have seen Oshkosh fire trucks, cement mixers or trash trucks in civilian life, but they also build massive military machines to move troops and weapons, so the company is a natural to build the Humvee's successor.
The Humvee was a great vehicle, but it lacked protection for occupants from gunfire and mines, and when it was "up-armored" to provide some protection, the incredible 13,000-lb. curb weight practically rendered the obsolete 190-horsepower Detroit Diesel V8 and four-speed automatic transmission inert.
The Oshkosh JLTV uses General Motor's impressive 6.6-liter Duramax turbodiesel V8 engine, detuned by diesel performance specialist Gale Banks Engineering to provide 400 dependable horsepower and the Allison 6-speed heavy-duty truck transmission.
This is the same drivetrain seen in heavy-duty Chevrolet Silverado and GMC Sierra pickups. 
While many of the JLTV's performance capabilities are classified, we do know that it tops the ratings of the old Humvee by a wide margin. For example, the Humvee could climb a 60 percent incline, traverse a 40 percent slope, and ford 2.5 feet of water without a snorkel, or 5 feet with a snorkel.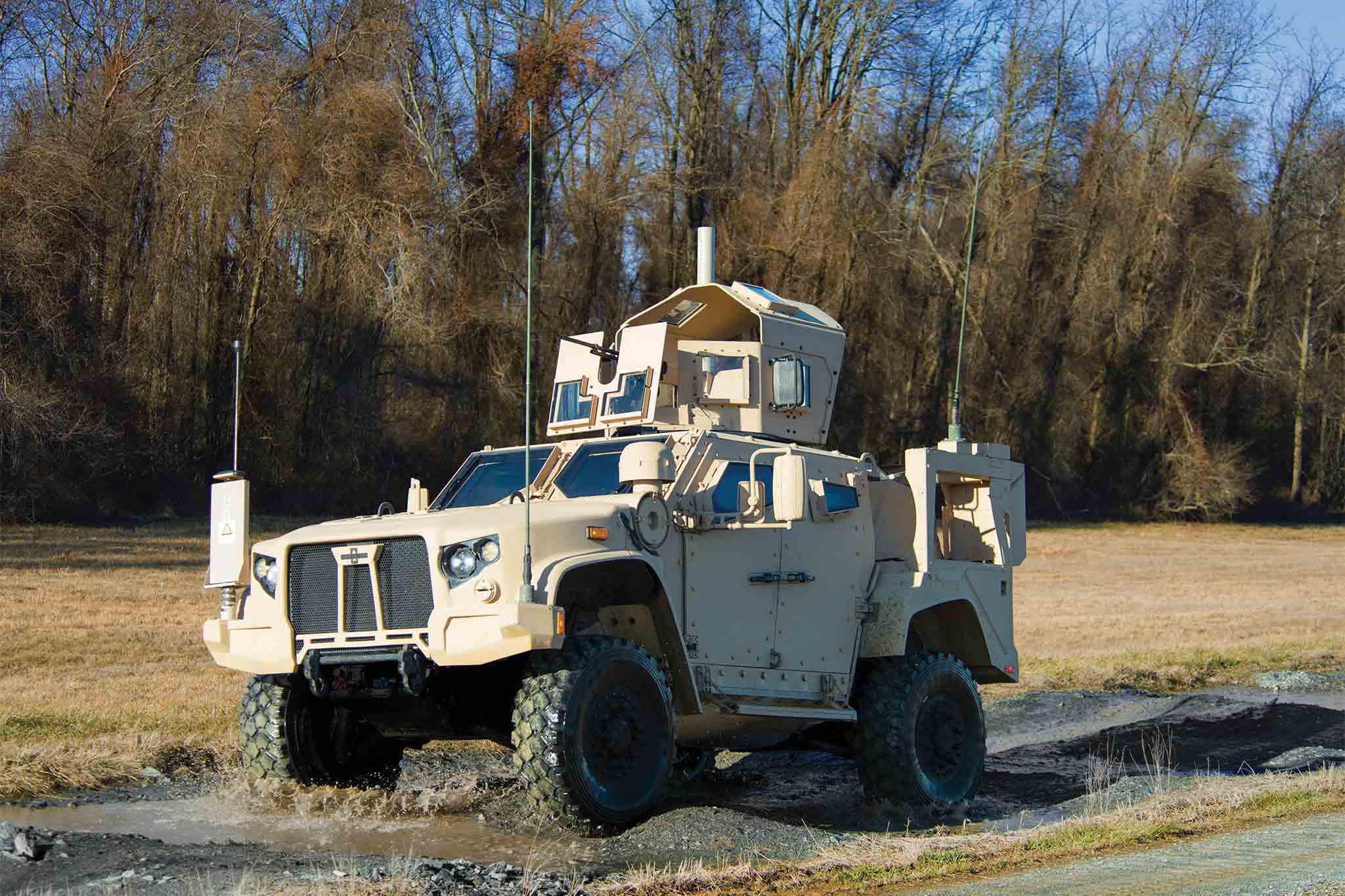 The JLTV, in comparison, can wade through five feet of water too, without even breaking out its optional snorkel. That's in part because of its fully independent double-wishbone TAK-4i suspension system with electronically adjustable high-pressure gas shocks, which gives the truck the ability to raise and lower on its suspension as needed, while providing a massive 20 inches of suspension travel over obstacles.
The JLTV also has a full-time four-wheel-drive system with low-range, locking differentials, and a Central Tire Inflation System like the one on the Humvee that lets soldiers adjust tire pressure to suit conditions from inside the vehicle.
All of these new capabilities should keep our troops safer than before as they venture afield.
Source: Motor Trend