Italian Supercar Maker Pagani Is Bringing Back An Insane Ride
Don't call it a comeback—but the exotic automaker is making an incredible custom "Zonda" model.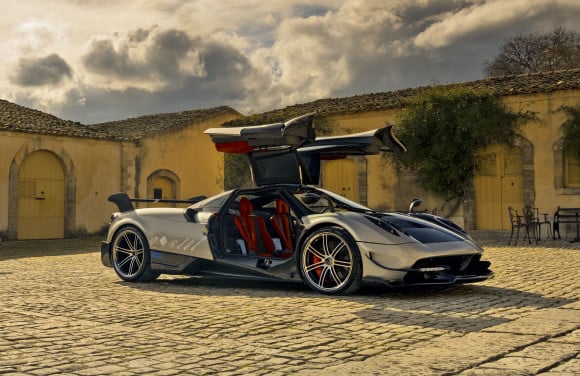 Photo: Pagani
Pagani is bringing back its amazing Zonda car for one lucky customer.
An Italian blogger going by the handle Soluz has revealed on the PrototypeZero.net site that Horacio Pagani has been persuaded to build one last Zonda, a one-off badged "Zonda MD." 
These images are marked "confidential," but Soluz says he was able to see the MD during an open house for a Pagani cars and coffee event, so the company wasn't going to pains to keep the car secret.
No, this Zonda hasn't been to medical school. MD is apparently the initials of the customer who must have paid more than the $2.45 million price tag of the Zonda Revolucion, which was the final production version of the car from 2013.
The Zonda MD is finished in blue-tinted carbon fiber and wears customized bodywork that includes vents atop the front fenders in the style of Le Mans sports prototype racers. 
Another key detail: the buyer is a true gearhead because he specified a proper H-pattern manual transmission in place of the usual automated six-speed sequential transmission.
Power, as before, is courtesy of the 800-horsepower twin-turbo Mercedes-AMG V12 seen in the Zonda Revolucion. 
The Zonda MD deletes the longitudinal rear fin along the car's spine, as well as the more aggressive front dive planes mounted on the Zonda Revolucion for a slightly cleaner appearance. 
That should reduce the car's drag, potentially boosting its top speed beyond the 219 mph that is the Revolucion's official rating.
With that kind of speed, this gorgeous rear view is the only thing other drivers are likely to see.