Here's Your Chance To Own The Perfect '70s Ford Bronco
Orange is the new crack with this completely restored throwback beauty.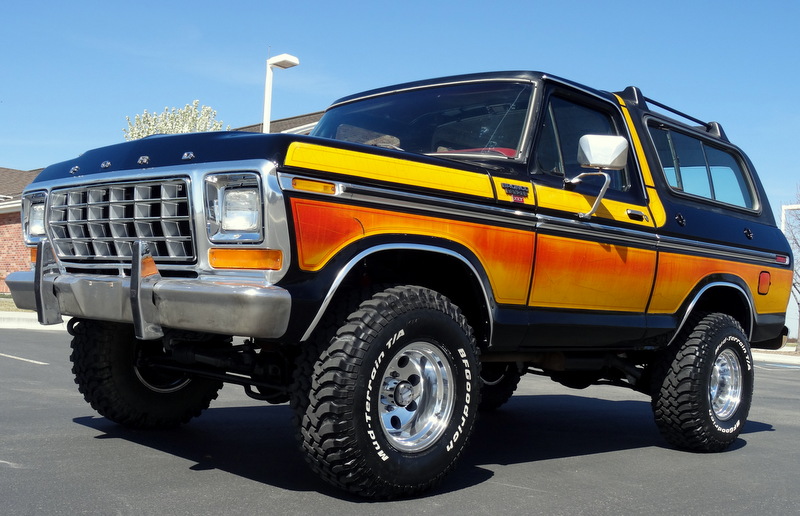 Sure, there are meticulously re-imagined first-generation Ford Broncos available from Icon and other resto-mod shops, but nothing says "1978" as clearly as this impossibly sweet '78 Ford Bronco with its original sunset orange highlights.
Inside, naturally you'll find red striped seats, because what else would you match with an orange-on-black exterior?
Idaho restoration shop All Metal Classics is auctioning this Bronco on eBay in an effort that mirrors those house-flipping shows that are so popular on TV. Just as with those ramshackle homes, this Bronco started out looking much more ragged, with plenty of rust and cracked paint. But the experts at All Metal Classics restored this buffed up Bronco to it's original glory, and the price has already topped $20,000 as of April 11, with bidding still open.
Bidding closed on this very truck on St. Patrick's day with no bids on its starting price of $500. But All Metal Classics stepped into to fix up the rusted heap, even spraying fresh black paint on the Bronco while preserving its period-correct yellow-and-orange decals.
They also dressed up the 400 cubic-inch V8 engine a new intake manifold, carburetor, headers, and cast aluminum valve covers. As an added touch, they replaced the old aftermarket air filter with a factory housing to give the Bronco a very sanitary, almost-stock underhood appearance.
As with those ubiquitous house-flipping shows, we can acknowledge that yes, it would have been possible to retrieve this truck ourselves from its previous owner in Wyoming and spend a month working on it to produce a similar result—if we had the same tools and skills as the guys at All Metal Classics—and save some money. 
But whoever ends up with this impossibly groovy '78 Bronco will have a time capsule truck they can immediately hit the road in.
h/t: Barn Finds
For the latest car news, follow @MaximRides and Dan Carney on Twitter.