This Porsche-Designed, 135-Foot Yacht Is One Beautiful Boat
It's like a luxury starship on water.
Camper & Nicholsons
The designers at Studio F.A. Porsche are indeed associated with the luxury automaker, and that's probably why the new 135-foot catamaran-style Royal Falcon One, originally created on computers in the Porsche design studio, looks more like a luxury spacecraft from the distant future than the sleek sailing vessel that it is. 
Royal Falcon One took a decade to build and was created by Singapore's Royal Falcon Fleet. Its elegant luxe styling conceals an efficient multihull cruiser and stunning luxe interior design features.
Inside the Falcon, you'll find five cabins—three for guests, a VIP suite, and a posh master suite that comes with a private patio that spans the entire upper deck. 
The Falcon One's interior design features only high-grade luxury materials—old-fashioned fine leather and skillful woodwork combining for a modern design that fully aligns with the space-age exterior.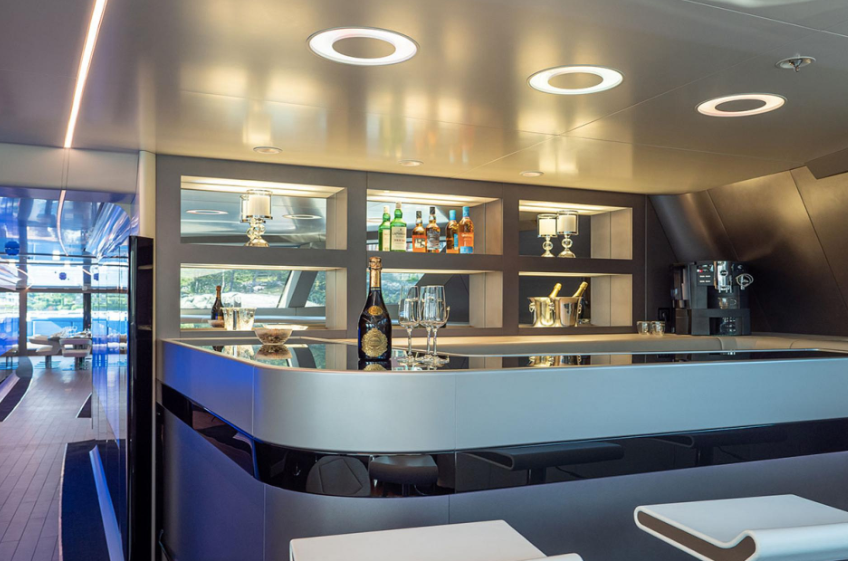 This unique luxury yacht cruises along at 15 knots but can bump it up to a maximum of 35 knots. With lightweight aluminum as one of the primary building materials, the Falcon One's smooth lines and construction both combine for maximum fuel efficiency.
On the sun deck atop the Royal Falcon One you'll find a Jacuzzi decked out with sun pads and there's also an aft exterior main deck lounging area. Crew quarters are down in the double-hulled body of the yacht, and tender can be offloaded by crane when the ship is in dock.
The Royal Falcon One, according to Camper & Nicholsons, is in "immaculate condition." It presents a buyer with an unusual opportunity to purchase a gorgeous yacht with a high-end design pedigree. 
The list price of the yacht is available only after buyers submit an application to Camper & Nicholsons.