5 Reasons the 550-HP Porsche Panamera Station Wagon Is the Ultimate Family Hauler
Fastest milk run EVER.
When Hollywood gets around to rebooting Vacation with Vin Diesel as Clark Griswold, Porsche has his station wagon ready. But in a plot twist, the 550-horsepower Porsche Panamera Turbo Sport Turismo will actually catch Christie Brinkley's successor in her Ferrari.
So let us review the reasons why the Panamera Turbo Sport Turismo is the perfect wagon for that gig.
1. Badass styling
The styling challenges the original Panamera suffered were caused by a forced effort to incorporate historic Porsche 911 cues into the design of this big sedan. It didn't work, but the second-generation Panamera moved more confidently in its own direction and the styling improved. The Sport Turismo wagon feels like the car the Panamera should have been all along, with its near-total separation from 911 styling influence and its irresistible utility.
2. Race-ready aerodynamics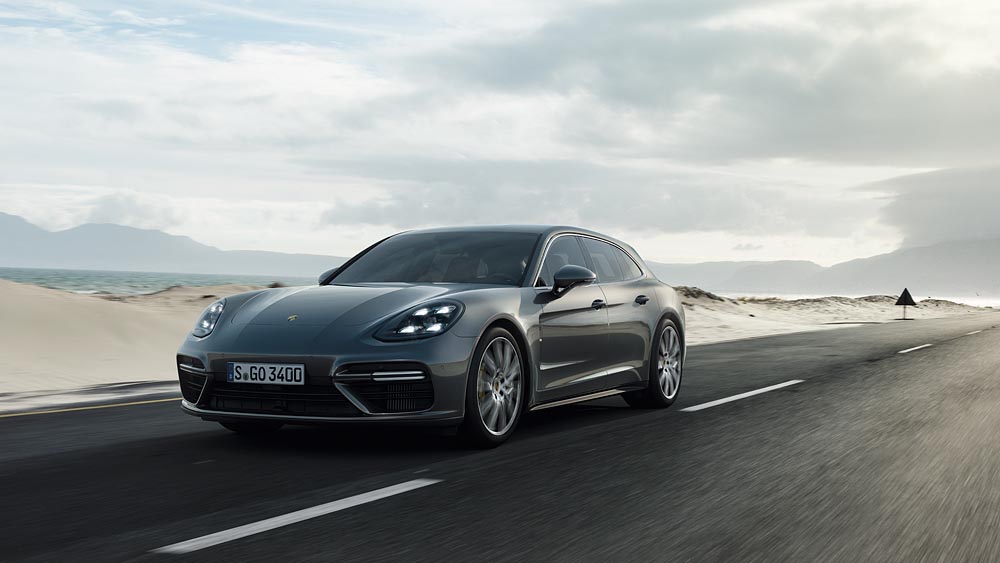 One 911-like feature the Sport Turismo maintains is the pop-up aerodynamic spoiler. Just as the 911 Turbo has an spoiler that automatically deploys at speed to improve stability, so the Panamera Turbo Sport Turismo has a roof spoiler that presses the rear tires onto the pavement with an additional 110 lbs. of force. In less-taxing conditions, the roof spoiler also cuts down on wind turbulence when the sunroof is open.
3. Two words: Porsche Turbo
Porsche made the word "turbo" synonymous with its fire-breathing 911 Turbo when that car debuted in the 1970s, and the Panamera's 4.0-liter twin-turbo V8 makes far more power than those legendary sports car engines ever did. The result is 0-60 mph acceleration of 3.4 seconds.
4. Genuine practicality
Here's the deal: she's smarter than you are. So you'll never be able to trick her into believing that some useless sports car is actually a plausible family car. Have you seen the 911's back seat?
But this Panamera Sport Turismo is a different deal. It has four genuinely comfortable seats and the ability to carry a fifth person occasionally in the rear center seat. "For Porsche, the Panamera Sport Turismo is a step forward into a new segment, but retains all of those values and attributes that are characteristic of Porsche", says Michael Mauer, Director of Style Porsche. He's right.
5. It will coddle you in luxury
This leather-wrapped cabin will ensure you are always in perfect comfort, thanks to goodies like heated massaging seats, heated steering wheel, sun shades and cushy soft-close doors that spare you slamming them shut.
The bottom line of our test car $175,170, so it certainly has the price tag of a "real Porsche." We can attest that it does everything else a real Porsche should do too.