Prepare For Takeoff With Bombardier & Gulfstream's Incredible Private Jets
Hypercar-like styling, mansion-worthy amenities and supersonic speed make these private jets seriously covetable luxury aircraft.
The apex scene of HBO's Succession season three premiere played out as the Roy family conspired by cell phone—at cruising altitude—aboard their separate private jets, wrestling for control of their vast corporate empire. As the gripping, snappy dialogue escalated, aviation nerds took to social media to question the viability of such silky smooth cellular connectivity at 50,000 feet.
The Gulfstream G800 lays such speculation to rest. We've clearly entered the next golden age in the world of private jets. The new G800 flies farther faster than any aircraft ever produced by the company, while boasting impressive, next-gen connectivity for both cockpit and cabin.
Because when it comes to Roy sibling backstabbing, nothing cuts like cunning calisthenics delivered via Voice Over Wi-Fi. For commercial flyers who've hit snags retrieving emails (even after paying for inflight Wi-Fi privileges) the landline-like velocity of such calls prove that the rich fly differently.
Designed to seat up to 19 passengers in consummate style, the G800 offers up to four living areas or three living areas with crew compartment. For tycoons accustomed to taking up all the oxygen in the room, the jet's signature Gulfstream Cabin Experience boasts 100% fresh, never recirculated air. Whisper-quiet noise levels are a game-changer for light sleepers, while 16 panoramic oval windows appeal to landmark spotters.
Gulfstream announced new models last fall before a live audience at its Savannah headquarters, along with a global virtual broadcast climaxing in a live reveal of the first G800. Sublime proportions paired with sleek fabrication appeal to the McLaren hypercar cohort; the G800 has more in common with the styling of exotic supercars the likes of Lamborghini than a commercial Boeing silhouette.
If you're more drawn to the long (range) game, Bombardier has entered the chat. The aerospace company recently unveiled itsnew flagship, a private jet that achieved supersonic speeds in a recent test flight.
Powered by highly efficient General Electric Passport engines, the plane will reach speeds of 0.94 Mach and fly 8,000 nautical miles (9,206 miles). The Global 8000's enviable range will allow owners to connect cities like Los Angeles and Singapore. Think London to Perth, with barely time to polish off a magnum of Moët before touchdown.
Onboard you'll find four distinct living areas—meeting space, dining room, cinema, and a bedroom. The entertainment suite features a sofa large enough for (ahem) three, an oversized 4K TV for the ultimate in high-altitude 'Netflix and Chill', all to the sonic delights of Bombardier's l'Opéra audio system.
The aircraft will be the fastest and longest-range purpose-built private jet on the market, one-upping the company's Global 7500, which currently stands as the world's largest and longest-range business jet.
The Global 8000's most impressive mic drop is the Principal suite—think full-size bed (this is not your granddaddy's mile-high club), spacious closet, a 32-inch high definition display, and chic Nuage seats. Adjoining the bedroom is an ensuite bath complete with wardrobe, vanity table, and standing shower worthy of a scene in Blade Runner 2049.
Talk about taking bespoke liberties and liveries to a whole new level. Once on the market, the Global 8000 will be the industry's fastest civil aircraft since the iconic Concorde. Bombardier notes the four-zone cabin jet is expected to enter service in 2025, at a list price of $78 million.
Bombardier has already started flight testing the Global 8000; this past May, one of its flight test vehicles successfully broke the speed of sound. Majority of owners will never fly this fast, instructing pilots to aim for speed ranges that conserve fuel and maximize range. Still, a rather splendid feather in the cap for Bombardier, edging out the competition when it comes to speed.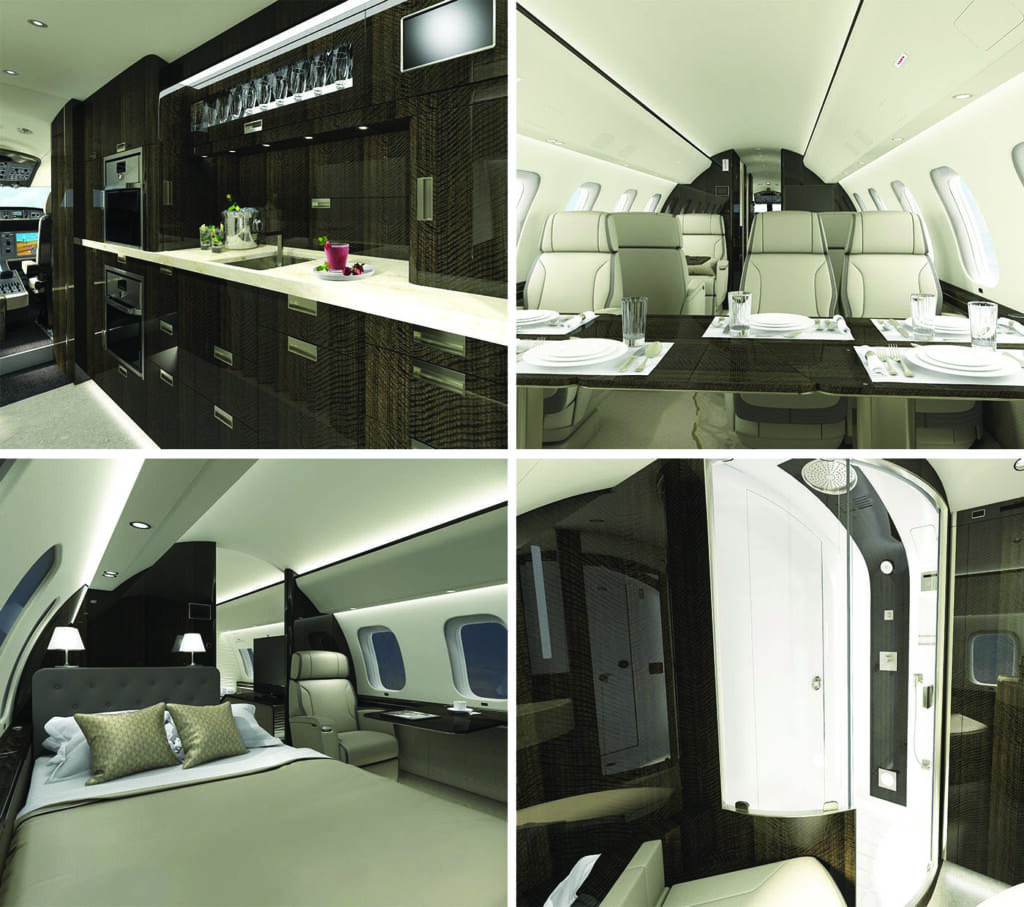 Momentum has been building around renewed, robust competition between Bombardier and Gulfstream at the top end of the performance spectrum. The real winner in this simmering headto-head rivalry? Niche clientele now have an enviable range of options and a bevy of perks to choose from. Both manufacturers build their reputations upon being favored by CEOs, celebrities, and heads of state on their way to Davos.
The G800 offers the longest range in the Gulfstream fleet with its 8,000-nautical-mile/14,816-kilometer range at Mach 0.85 and 7,000-nm/12,964-km range at Mach 0.90. Powered by high-thrust Rolls-Royce Pearl 700 engines, the Maximum Mach is 0.925; the G800 also affords enhanced fuel efficiency and more city-pair capabilities. With its Mission Impossible look and feel, we wouldn't be surprised if Tom Cruise's people already have Hollywood's most famous jet junkie on the interest list. The futuristic fuselage is distinctive and streamlined to precision. With a standard price of $72.5 million, G800 deliveries are anticipated to begin in 2023.
Buyers in the market for bragging rights tend to factor in maximum range performance, even if they rarely fly anything close to it, so this is a vital metric when it comes to comparison. Bombardier's Global 8000 takes the prize for now.
Though brand preferences run deep in this particular sector; Gulfstream loyalists likely won't defect to a Global 8000 over a G700 or G800 for a mere 500 nautical miles, which they're not likely to miss. Case in point, Elon Musk has reportedly placed an order for a new, top-of-the-line G700, replacing his current private whip, a Gulfstream G650.
Private jet ownership means you skip civilian traffic while gaining not-so-humble bragging rights flying on your own terms affords. Sure, "Tinder Swindler" type hangers-on are more apt to charter a chopper to whisk them into the Berkshire Hathaway AGM; arriving in high style aboard your private pride and joy is priceless in the era of jet membership snafus.
The future sure looks sleek for moguls jet-setting for business and pleasure, or A-Listers in long-distance relationships that are suddenly not so insurmountable with a private jet in the equation. From highway gridlock salvation to love-life saver, the pleasurable upside of private jet ownership has never felt more provocatively stylish. Until teleportation arrives, the Global 8000 will do just fine.