The Ram Rebel TRX is a Crazy 100-MPH Off-Road Monster
This 575-horsepower pickup turns dirt roads into your personal playground.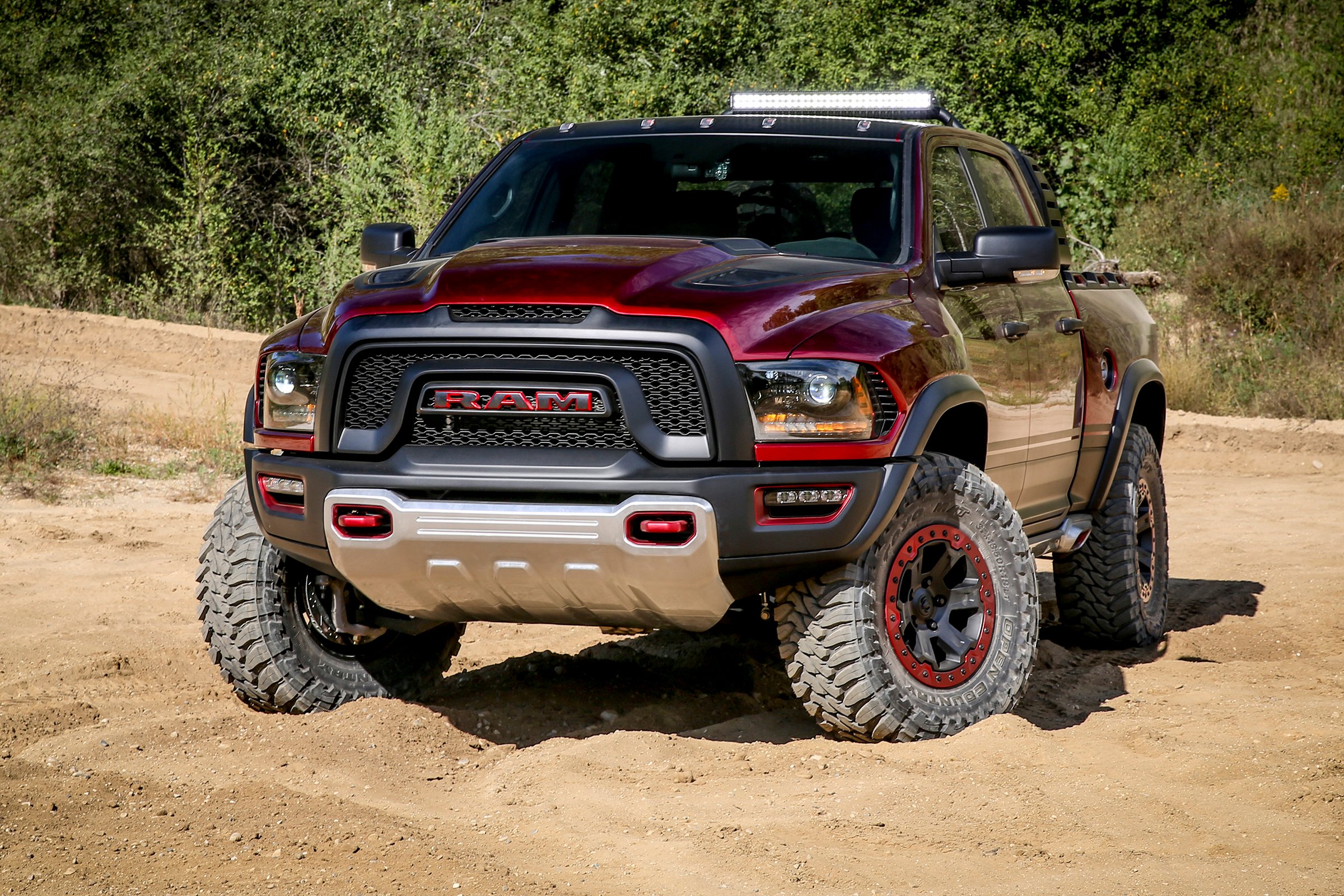 If the Ram Rebel pickup's styling was writing checks the powertrain and suspension couldn't cash, the Rebel TRX concept introduced at this week's Texas State Fair aims to address that shortcoming. This ornery off-road beast boasts a 575-horsepower supercharged 6.2-liter Hemi V8, an eight-speed automatic transmission and lifted suspension with 13 inches of travel to smooth out the bumps.
Stylistically, the Rebel TRX concept borrows parts such as the grille, hood, and tailgate from the Rebel, the Power Wagon and from the Heavy-Duty line of trucks to pump up its muscular appearance.
But the 37-inch tires rolling on the 18-inch beadlock wheels and riding on lifted suspension really change the truck's stance. The concept's axles are six inches wider, with wider wheels mounted on each end, so big flares were needed on the fenders to cover the Ram's big rolling stock.
Adjustable shock absorbers help keep ride motions under control and massive six-piston Baer racing brake calipers front and rear lend the necessary stopping power for a truck that can bushwhack at triple-digit speeds.
"With 575 supercharged horsepower and a suspension system built to withstand an all-day hammering, the Rebel TRX concept can devour the roughest terrain at more than 100 miles per hour and never look back," reported head of Ram brand Mike Manley.
Whether the Ram TRX concept will become a production model remains to be seen, but the extensive use of off-the-shelf components, the thoughtful engineering of seemingly production-ready solutions for the concept and Ram executives enthusiasm for the project seem to suggest yes.
Surely, the chance for the 575-horsepower Ram to pee in the 450-horsepower Ford Raptor's corn flakes only makes that production green light even more likely.