This Dodge Ram Pickup With a Hellcat Engine Is The Best of Both Worlds
The 707 horsepower 4X4 custom monster is the world's first Hellcat-powered Ram.
The small block Chevy V8 has been called "automotive bacon," because it makes anything you put it in even better. If that's the case, maybe 707-horsepower supercharged 6.2-liter Dodge Hellcat V8 is automotive chocolate sauce that makes anything you put it in even sweeter.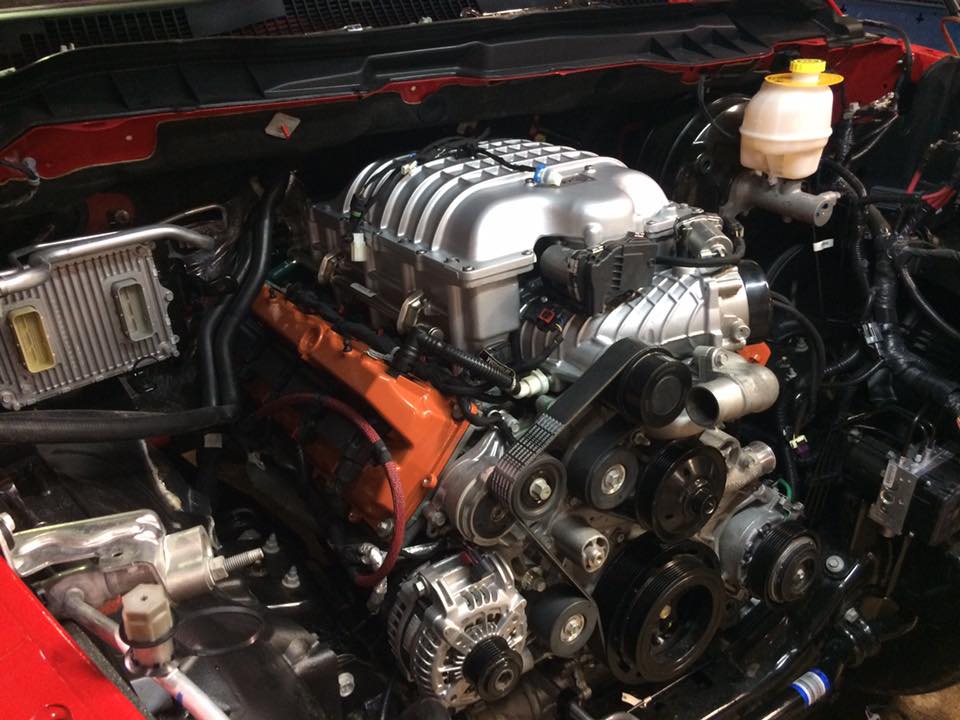 Like, for example, this 2016 Ram 4×4, which now carries a Hellcat V8 under its hood, courtesy of Ontario, Canada's Midland Chrysler and the apparently maniacal master technician there, Kev Byrnes. Prototypes have been spotted at Chrysler's proving grounds of Ram trucks propelled by Hellcat engines, but the company has dismissed the rumors so it seems like this speedy pickup isn't headed to production any time soon.
However, Midland Chrysler had a customer for whom they installed a 500-horsepower supercharged V6 in a 2015 Dodge Charger. When he saw the TorRed 2016 Ram, he asked them to build him one with a Hellcat engine installed.
Challenge accepted. According to Road and Track, Midland was able to locate a new Hellcat engine in a crate at a South Carolina dealer, and brought it home for $45,000. 
The customer's total bill for the truck is $90,000 (Canadian) after six months of work, and the dealer is hopeful that Chrysler will sell it more Hellcat engines to do conversions for other customers. We hope Chrysler cooperates, because who doesn't want more chocolate sauce?
h/t: Road and Track