The First-Ever Range Rover Hybrid Combines Old-World Luxury With Cutting-Edge Tech
The P400e is the next step in the iconic brand's evolution.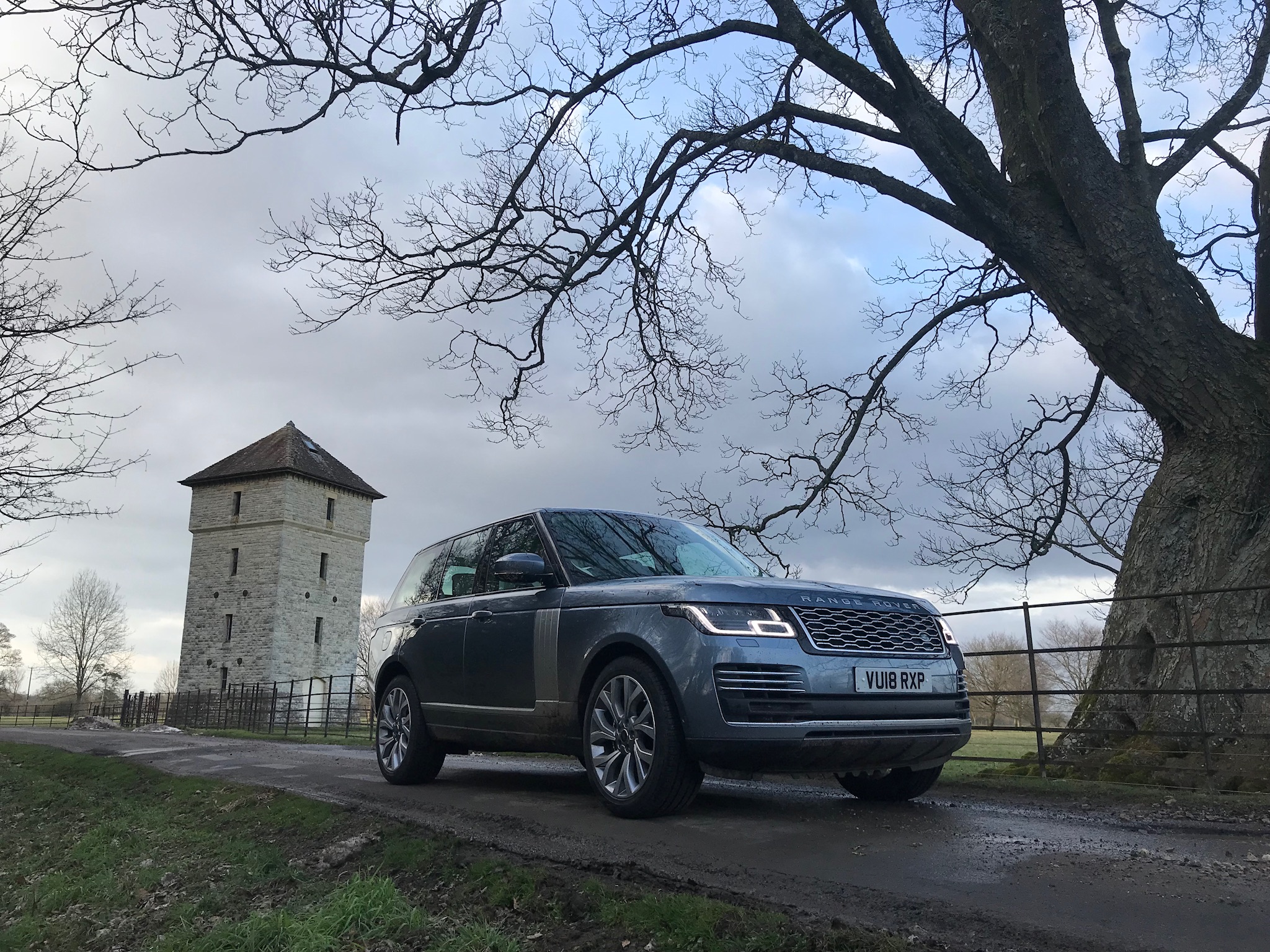 Nestled in the rolling farmlands of Woodstock, England, the stone walls of Blenheim Palace rise from the meadows like a mirage. And Blenheim literally is a palace — it's the only non-royal house in the entire nation that boasts the title. None other than Sir Winston Churchill was born and raised in these gilded halls. With towering belvederes, entryways pillared like a Roman senate and a cobblestone driveway wider than a football field, the Blenheim estate is opulent beyond description.
It is here, under the shadow of the Palace's regal façade, that a gaggle of two-tone metallic grey Range Rovers await like patient chariots. The moment feels like a turducken of old world luxury: Land Rover's gleaming flagship SUV, parked in one of the grandest palaces on Earth, about to whisk us off on a fantastical journey through the Cotswolds — the famed weekend retreat for London's one-percent.
We open the heavy doors, slide onto the perforated Windsor leather seats, push the Start button, and wait for the Range Rover's legendary full-throated 5.0-liter V8 to fire to life. Only, there is no sound of supercharged fury — only the digital gauge cluster and electronics silently beaming online. Where's all the fire and brimstone? Where's the Smaug-mimicking rumble of eight cylinders awakening from a cold sleep?
It's not there, because there is no V8 lurking under that hood. There's not even one of Range Rover's base V6's under there. No, this Range was branded with a small "P400e" badge on the tailgate, meaning it is powered by Range Rover's first hybrid powertrain — the first ever in Land Rover's illustrious 70-year history. 
The unique system combines parent company Jaguar Land Rover's 2.0-liter turbocharged Ingenium four-cylinder engine (296-hp) with a transmission-mounted electric motor (114-hp) powered by a 13.1-kWh lithium-ion battery pack stashed under the rear cargo area. With a combined 398-hp and 472 lb-ft of torque, total output is generous, and considerably more than that of either of its V6 options.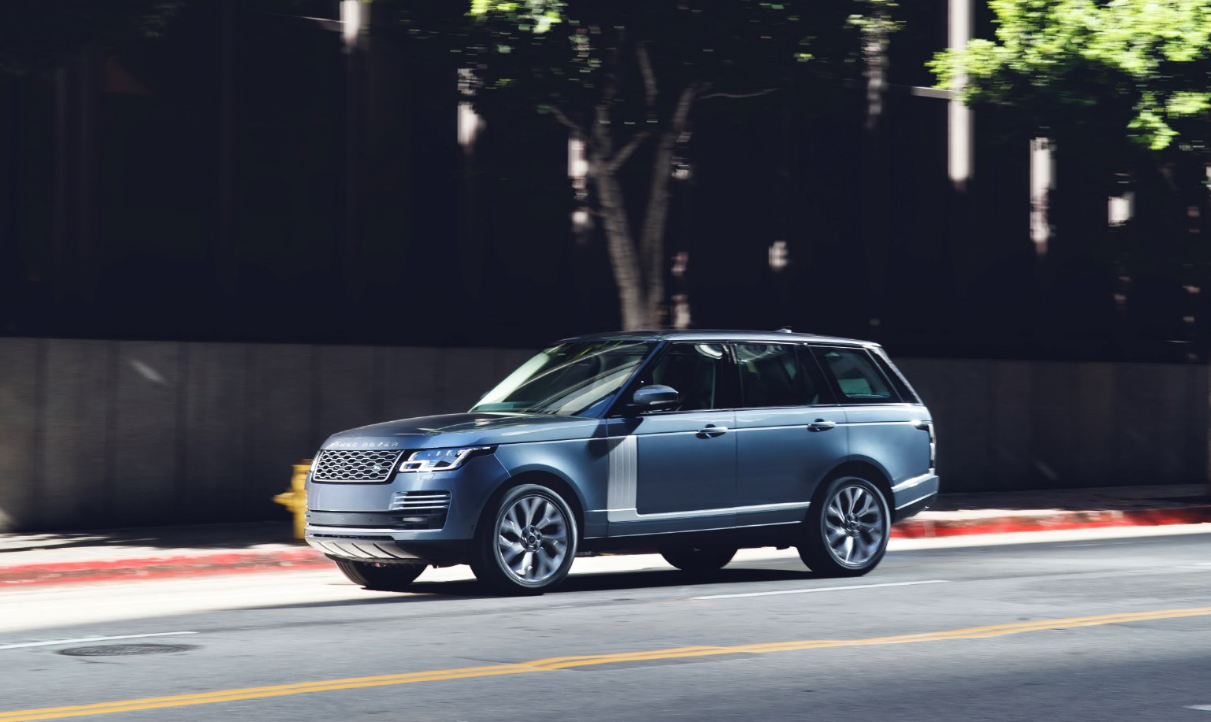 We pull out of Blenheim Palace's manicured grounds in the relative silence of the P400e's EV mode (activated via a dedicated button on the center console). The lazy roads and eye candy of the Harry Potter-like architecture of the surrounding Cotswold region begs us to drive around at a relaxed pace. This Range Rover isn't the adrenal gland squeezing SVR Sport, after all — the point is to enjoy your surroundings. We would drive the SVR the following day on a racetrack, and spiritually these two Rovers could not be more distant. The SVR is about brute force and rippling muscles; the P400e is about well-mannered driving, torque as luxury, and a tranquil sensibility.
Which is exactly what most people will want in a Range Rover. The British brand has firmly established itself as the ultimate luxury SUV, a vessel of the truest comfort and minimal intrusion, and the P400e does nothing to diminish this hard-earned legacy. While in default Parallel Hybrid mode the P400e switches seamlessly from electric to combustion propulsion; sure you can hear the pistons fire up if you really prick your ears, but casually there is barely a notice.
More pertinently you don't have to worry about the four-cylinder Ingenium ever being overwhelmed, even in this nearly 5,500-pound aluminum and steel behemoth. The electric motors do what only electric motors can, adding instant torque — over 200 lb-ft at zero rpms — to get the beast moving until the ICE's torque can take over. This "torque fill" system is the same conceptually as electrified supercars like the Acura NSX and McLaren P1 use for performance, only Land Rover utilizes it to create a luxurious, ample power curve at low revs.
What this creates driving through the Shires of the Cotswolds is a feeling of effortless power. The low speeds of country driving are where the P400e's powertrain is at its polished best. But it can still burst to 60-mph from a standstill in just 6.4-seconds should you ever need it — a blazing time for a nearly three-ton, battery-saddled behemoth.
Conversely, when we ventured into triple-digit speeds in rare highway driving time, the powertrain's weaknesses were better outlined. When the upper edges of the Ingenium's rev range are explored, you can more easily hear the four-cylinder laboring to get the job done. It's not loud, but the sound is certainly not as euphonic as the husky baritone of its legendary 8-cylinder.
Which isn't to say the P400e cannot be dynamic — it just strains at speeds you most likely would never normally attempt. It even has a Sport mode that keeps the powertrain electrified at all times, eschewing efficiency for added ion juice at all times. Combined with Range Rover's superb air suspension and taught aluminum chassis, this means some fun in winding country roads, cutting through sun-dappled landscapes while running up and down the gears of the eight-speed ZF via paddleshifters.
But while highways may highlight the P400e's weakness at high velocity, the map soon takes us to a place that underscored its true singularity as an electrified off-roader. The nav leads us to a dirt road that winds onto a pasture, soon morphing into what can only be described as "two brown lines cutting through a meadow."
It is here that the P400e not only proves it is a Land Rover through and through, but that its hybrid powertrain might actually be better for off-roading than any of its strictly fossil-chugging cousins. Land Rover engineers reworked their peerless Terrain Response system to work specifically with their new hybrid powertrain, optimizing how the electric motor's instant torque can be applied to the off-road paradigm.
Keep in mind how important smooth, low-rev torque is when getting dirty — electric motors could not be better suited for such proletarian duties. The throttle can be feathered with great finesse, and the motors respond in kind. This fine-tooth ability to meter out torque is as useful crawling over harrowing boulders as it is finding proper footing in slippery mud and snow.
For about ten minutes we are storming through English woods at speeds anxious Range Rover guides might find a tad nerve-racking — but we have a job to do, and limits to test. And unsurprisingly the P400e excels in these muddy environs, finding grip at just the right times and leaping over whoops as nimbly and capably as its V8-powered brethren. 
More than a few hoots and hollers can be heard echoing through the forest this afternoon. When we finally come upon a shallow pond, we rest easy knowing the P400e can ford through nearly three feet of water (35.4 inches), and can raise its air suspension by 3.0-inches to provide a total of 11.3-inches of ground clearance. Throw in Hill Descent Control and Low Traction Launch for added off-road cred.
Otherwise the P400e boasts everything you can expect from the Range stable. It features Range Rover's gorgeous new dual-screen Touch Pro Duo multimedia display, which debuted in the Velar. And since the P400e is only available in mid-tier HSE trim (it is available in Europe across the trim range), you can be assured plenty of luxurious offerings. Standard 20-way adjustable seats, giant sliding panoramic roof, 380-watt Meridian sound system, and heated steering wheel lace out the interior, while touches like 20″ wheels and a power gesture tailgate complete the exterior.
One of the cooler details of the P400e's hybrid system is that if you enter a destination address into the nav, the SUV's brain can calculate different factors like traffic, elevation changes, type of driving, etc. to optimize its usage of electrification for maximum fuel efficiency. Officially, the P400e boasts a combined 49 MPGe rating.
With a fully charged battery, the P400e can also offer up to 31 miles of silent, zero-emission travel, existing purely on electricity as long as you don't exceed 85 mph. These EV modes will become increasingly useful as more and more cities threaten to convert their urban centers into strictly zero-emission zones.
Not only are there no gaudy leaf or "hybrid" badges signifying the P400e's green credentials, but there are also no additional ports visible on the exterior. Instead, JLR engineers hid the charging port in the front grille, behind the Land Rover badge. Using a Level 2 32-amp charger the P400e fully charges in under 3 hours (2:45), but a standard 120-volt outlet will take considerably longer (around 14 hours).
Despite its expensive battery pack, at $96,145 (base) the P400e slots in right between the V6 petrol Range Rover HSE ($95,045) and its diesel counterpart ($97,045). Meaning you don't have to pay exorbitant premiums to let your green flag fly. Just be diligent about charging your P400e regularly, and you'll get the most efficiency and performance out of its electrified powertrain.