Review: Test-Driving Lamborghini's Ultra-Powerful Urus Performante SUV
Lambo's latest SUV turned heads and pulled Gs near Napa Valley's finest wineries.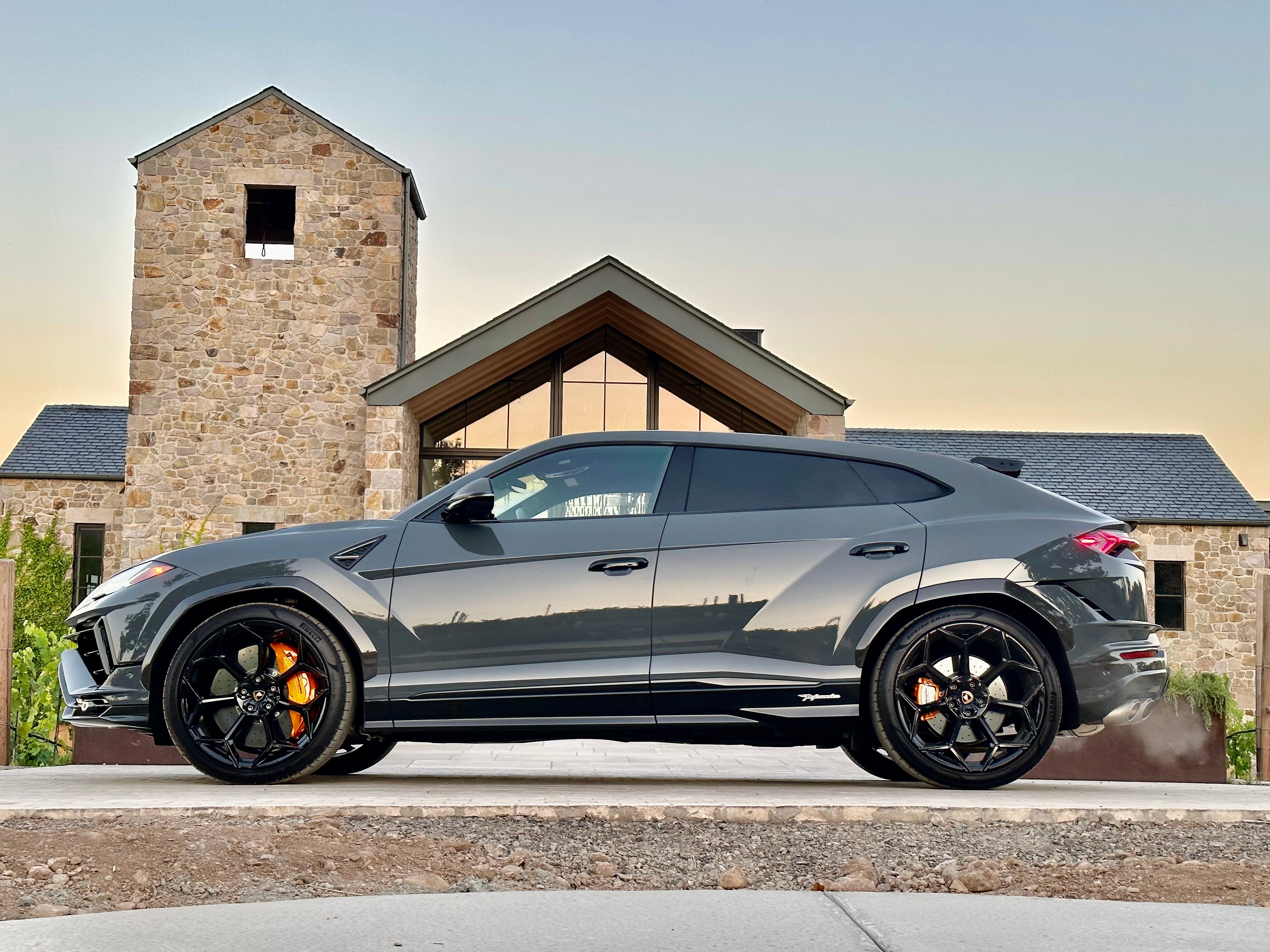 I spent five days touring the Napa Valley wine country in Lamborghini's most powerful SUV ever, the new, Urus Performante, and it was pure wish-fulfillment in automotive form.
Having grown up in the '80s, the word Lamborghini still triggers youthful desires. When I was a kid, just to sit in one at a car show was a big deal. I had a friend who sat in a Countach, and I told his story second-hand as if even just knowing someone who did that was cool.
The Countach's exaggerated spoiler was the supercar equivalent of the giant shoulder pads of the era's Armani power suits. A poster of the Countach was what you had on your wall before you discovered sexuality, and the two feelings had a fair amount of overlap.
Fast forward a few decades, and I find myself in a position to live out that boyhood fantasy as a journalist. I have to plan my trips to large cities very carefully, where press fleet cars like that are in the realm of possibility. Knowing there would be luggage, a two-seater was off the table. A trip to the Napa Valley via San Francisco dovetailed with the release of the new Urus Performante—a 657-horsepower thunderhead that not only set the production SUV record at Pike's Peak last year, but lived up to every fantasy I could project on it.
Park It Up Front
Our first impression came from the valets at a long-term lot near SFO. It was parked right up front because the valets couldn't figure out how to put it into Drive and move it. For my own dignity, professional and otherwise, I was not about to fail that test. My wife and I found the appropriate lever on the steering column and had it idling out of the spot a moment later. The valets were suitably impressed.
Our next task was escaping the tangle of San Francisco traffic and getting to the open roads of Wine Country. An hour and a half later, the Urus found its happy place in the southern hills of Napa Valley.
Entering the winery where we would stay for the next two nights, the secluded Roy Estate, we got the Urus off pavement and the full-time AWD pulled us easily up the loose gravel climb to the top of the estate.
I parked conspicuously out front at first, but I didn't want to presume to take the prime spot. When I offered to move the car, our host was quick to turn me down.
"Let's keep this right up front," he said with a smile.
Inner Beauty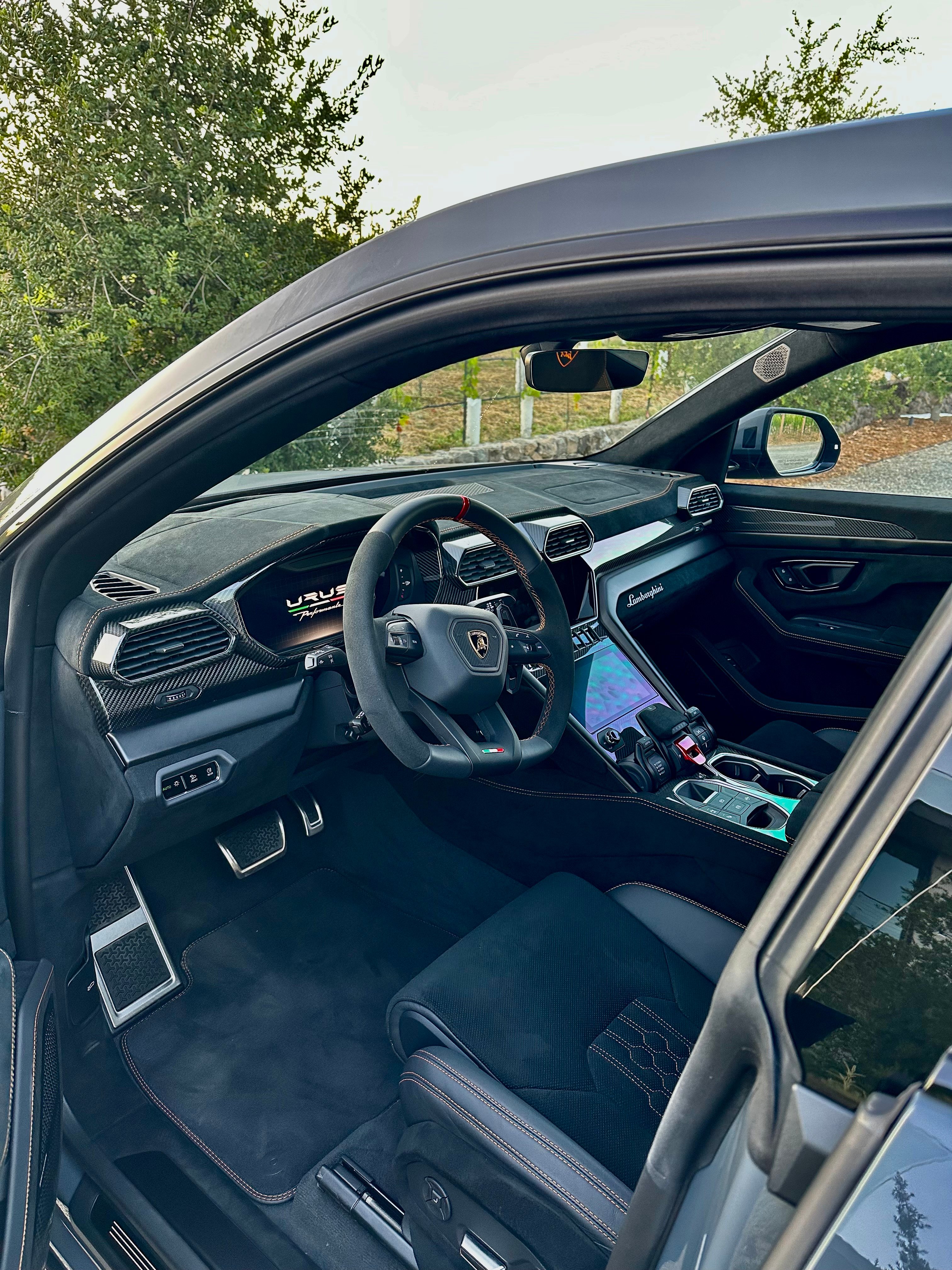 Some have said that the ride isn't particularly comfortable in the Performante, but I found it to be plenty cozy for me. I may have been sitting on a cushion of adrenaline as much as I was on the suede leather seat, but either way I liked being in the thing. The interior is dripping with carbon fiber, suede, and machined aluminum.
The centerpiece of the cockpit, for me, was a dramatic start button with a hinged door you have to flip up to turn it on, like a missile launch button with its own warning door to make sure no launches are taken lightly. Also prominent was the selector for the different drive modes, such as Strada, Sport, and Corsa.
The Performante has an exclusive Rally Mode for off-road racing, but there were too many expensive grapes around for me to fully take advantage of it. There wasn't a sunroof, so it was a little dark inside. I didn't mind, though, particularly in the beating sun of a Napa Valley summer.
The Feeling It Gives You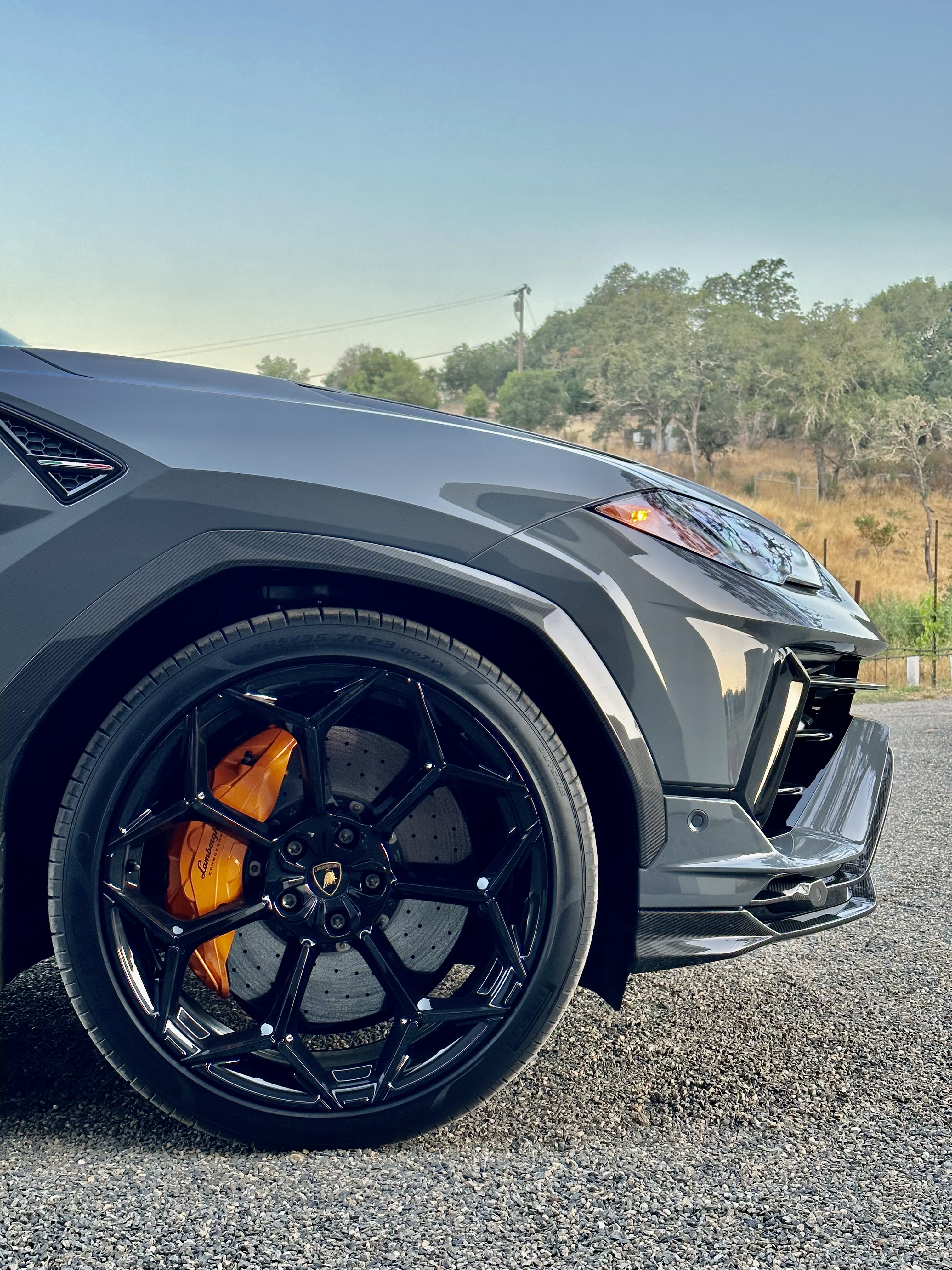 Unless you're on a track, the only time you can actually test out the speed of this wild Bolognese bull is when you're going from a dead stop onto a road with a high speed limit. Thankfully, in Napa, this happens fairly often whenever you're turning onto Silverado Trail—a 29-mile route on the Eastern edge of the valley with a speed limit of 55 mph. Here, without breaking the law, you can pull serious Gs taking it from zero to 55 (ish) mph in a matter of what feels like milliseconds.
When you're not running the 50-yard dash to feel the 627 pound-feet of torque, it delivered another experience that also makes you question your values: Any time you start the engine in a parking lot, everyone around you suddenly and simultaneously notices that the sleek SUV that a moment earlier blended into the surrounding cars is something altogether different. Men and women swoon equally. Even in the most luxe wine region in America, bystanders were universally swept up by the starting roar of the Urus.
If we'd been in South Beach, the Lambo might've been a little too on the nose. But in Napa, it was slightly subversive. People didn't gawk at it openly, but from the sides of their eyes like a guilty pleasure. As if it were only socially acceptable for them to ogle EVs, and the Urus struck them like a vegan with a sudden nose for bacon. This furtive admiration went on until the last night of the trip, when a couple from Dallas went all cowboy on it.
"Is that you driving that Lamber-gheenee?! I think I'm in looooove."
A Nice Italian Boy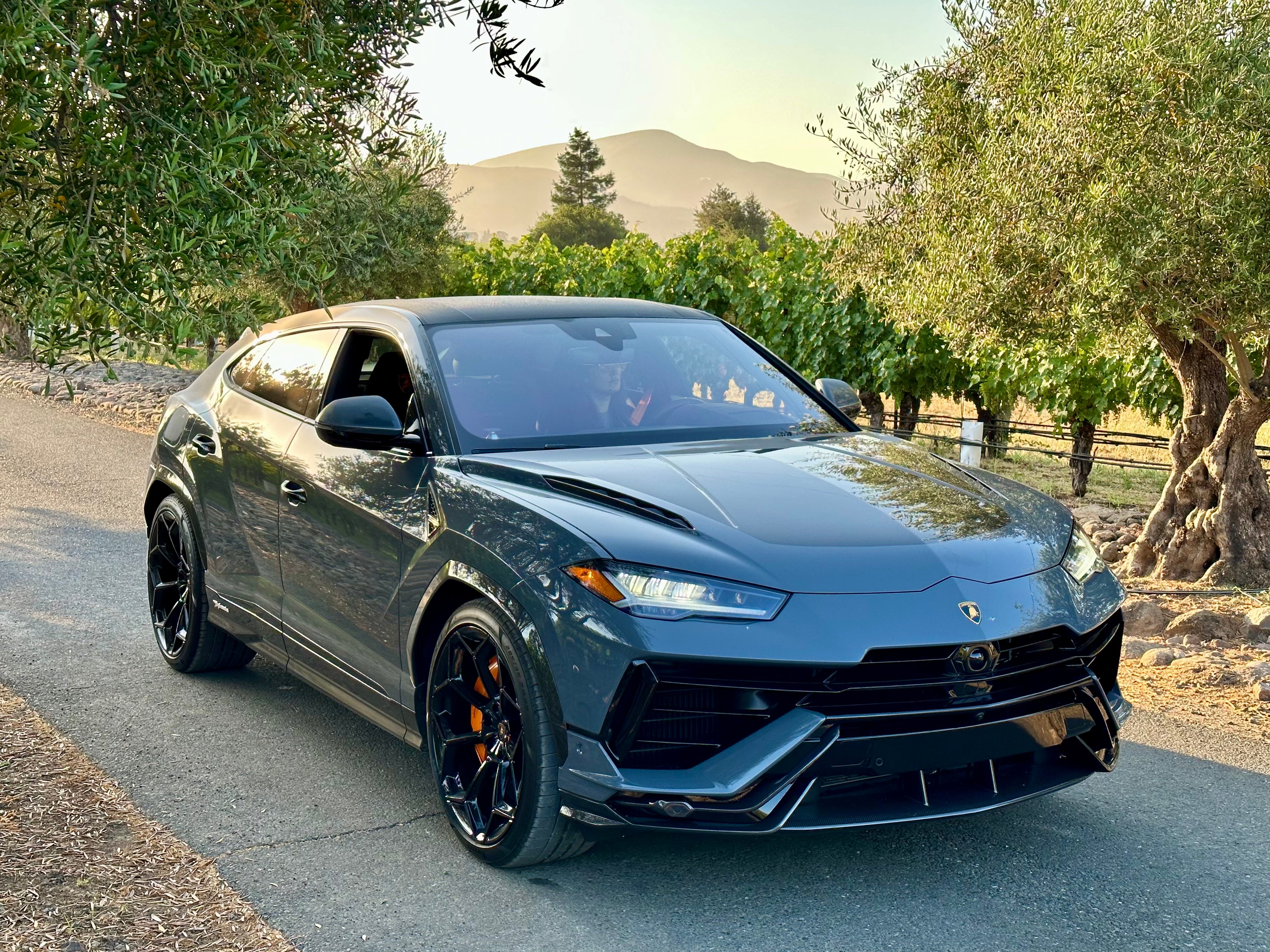 Despite the hell on wheels that it is capable of being, the Urus Performante also knew how to function as a normal vehicle. If you just need to drive around town, stop at stoplights, and go to the store, you don't want to feel like a cub scout on a Kentucky Derby horse. Visibility was good, the backup cameras were helpful, and it doesn't whine and cough at idle. It's a joy as we actually drive, not just as we dream of driving.
At this level of performance, that's often not the case; these kinds of mid-six-figure machines are sometimes so specialized that driving them in normal everyday situations can be a mixed bag—they might be brilliant on an empty road in the middle of nowhere, but a nightmare in a grocery store parking lot.
The Urus was perfectly well-mannered in Strada Mode, and if you wanted to put it in Sport, Corsa, or Rally, you can always make it as not normal as you want. I'm under no illusions that anyone buying this wants a "normal" driving experience, but sometimes you need to navigate a world that isn't operating at the pace of a racetrack or a rally course. For those times, it's nice to know you won't accidentally take out a drive-through ATM or a toll booth boom arm.
Final Thoughts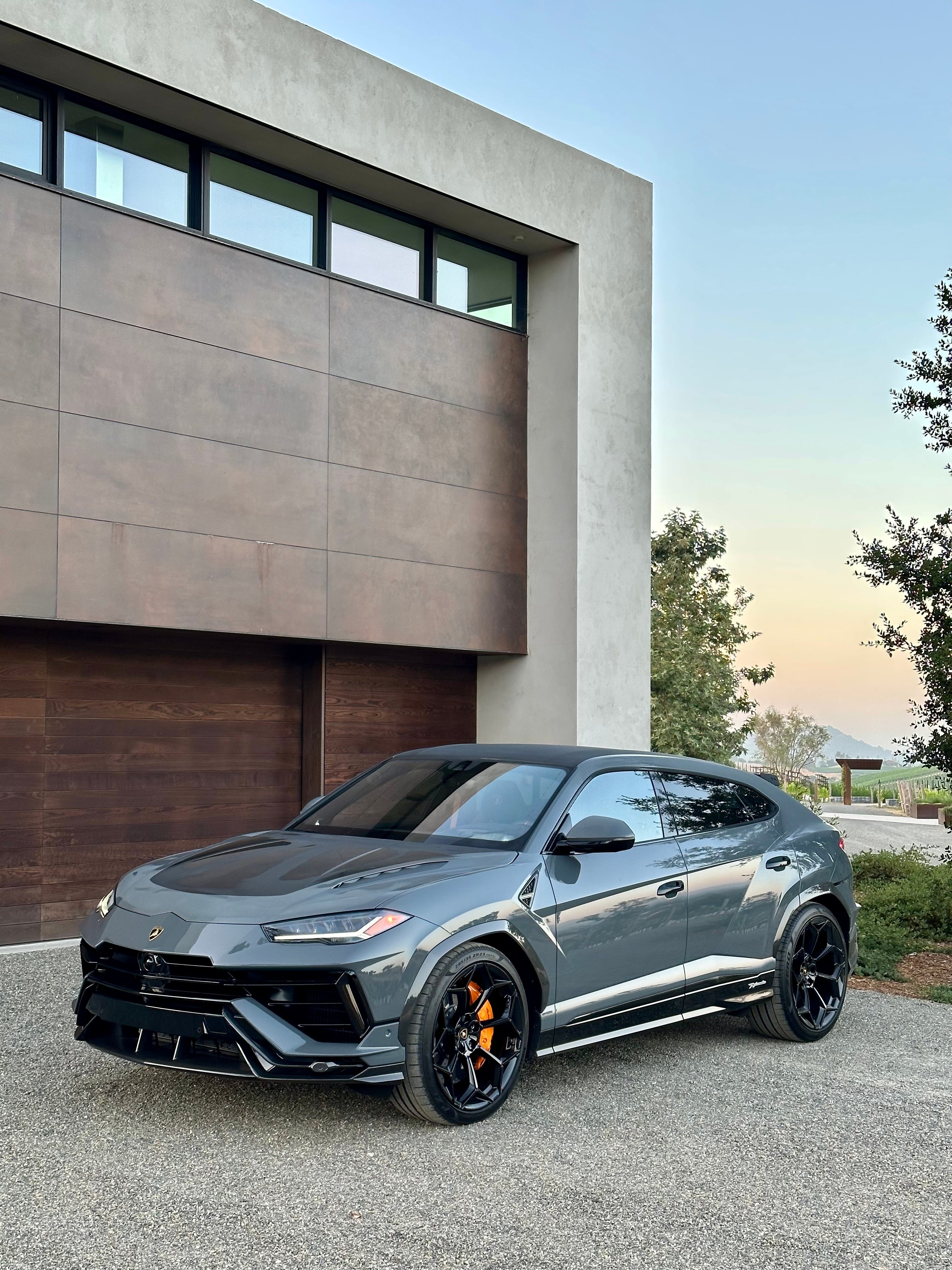 The MSRP of the Urus Performante that I took to Napa is $334,000. That includes nearly 14,000 for the Grigio Telesto (sexy inky grey) paint job, a $7,300 carbon fiber roof, and a $5,900 matching carbon hood. These are just a few of the pricey add-ons that highlight the fact that this is an SUV for people who would wouldn't flinch at the price of these line items. If you're buying a Urus Performante, you probably don't care if the paint job is $14,000. You're buying a feeling, and to itemize that would be like pricing the individual brush strokes on a painting.
To someone out there, this feeling is worth anything. As for me, it's certainly a story I'd love to write again.