Revival Cycles' Ducati Fuse Is A $500,000 Custom Cafe Racer
Over seven years and 1,000 hours of work went into building this museum-worthy custom motorcycle.
When the apex motorcycle racing series MotoGP came to Austin this spring it brought more than the fastest bikes on the planet to Texas' capital. Timed to complement the event, the Handbuilt Motorcycle Show took place highlighting some of the most beautiful, imaginative and wild custom cycles America has to offer.
Among the two-wheeled sculptures assembled one that stood out was Revival Cycles' Ducati Fuse—a sleek crimson creation built in collaboration with the man who commissioned the bike, Ed Boyd. The former Vice President of Design for Dell, Global Category Creative Director for Nike, and Technology Designer for Sony clearly has an eye for aesthetics, so it's little surprise his vision is so well defined.
"He'd designed all these electronics, but never a motorcycle," Revival Cycles founder Alan Stulberg tells us of what brought the two forces together. "So he reached out to us to teach him how to design a motorcycle." Living in Austin as well, Boyd had fallen in love with a Revival creation called the Ducati J63 and was inspired to imagine his own unique version. Originally Boyd wanted Stulberg and co. to build it out of an old Yamaha Virago, but quickly that plan turned out to be a fool's errand—so they pivoted to centering off a Ducati Monster 1100 engine.
"In my world it's beyond compare, but even people that build motorcycles I have to explain to them what it is about this bike that is so incredibly special, unique and technical," explains Stulberg, showing us a mood board/design brief that highlights the smooth, round forms of Grand Prix cars from the 1950s, an old Auto Union concept car, and of course his own earlier Ducati J63 custom build.
Founded in 2008 by Stulberg, Revival Cycles has grown into one of the Lone Star state's most influential customizers. In 2014 they launched the Handbuilt Motorcycle Show which has developed into a three-day spectacle attracting over 25,000 enthusiasts each year, all eager to see what the world's best custom builders are manifesting. As part of the show, the Fuse was unveiled and displayed at the Design Lounge sponsored by Dell Computers.
"If you look at it on the face of it, a lot of guys build custom motorcycles that aren't capable of being ridden and performing, they just look pretty," continues Stulberg. "Our goal was to make this [Fuse] very, very technical and very, very performance focused, but also look incredibly well-polished and finished. And those are just reallytwo extremely difficult things to combine."
While some rudimentary 'customizers' simply bolt on a handful of café racer parts and maybe craft a custom gas tank and call it a day, the Fuse revs on the opposite side of the spectrum. The Ducati motor and wheel hubs are the only remaining original parts—over seven years more than 1,000 hours were poured into this singular museum piece, centering on the 1,100CC motor and a stainless-steel trellis frame loaded with a custom machined swing arm, bespoke leather saddle and stunning seven-layer blood-red paint job.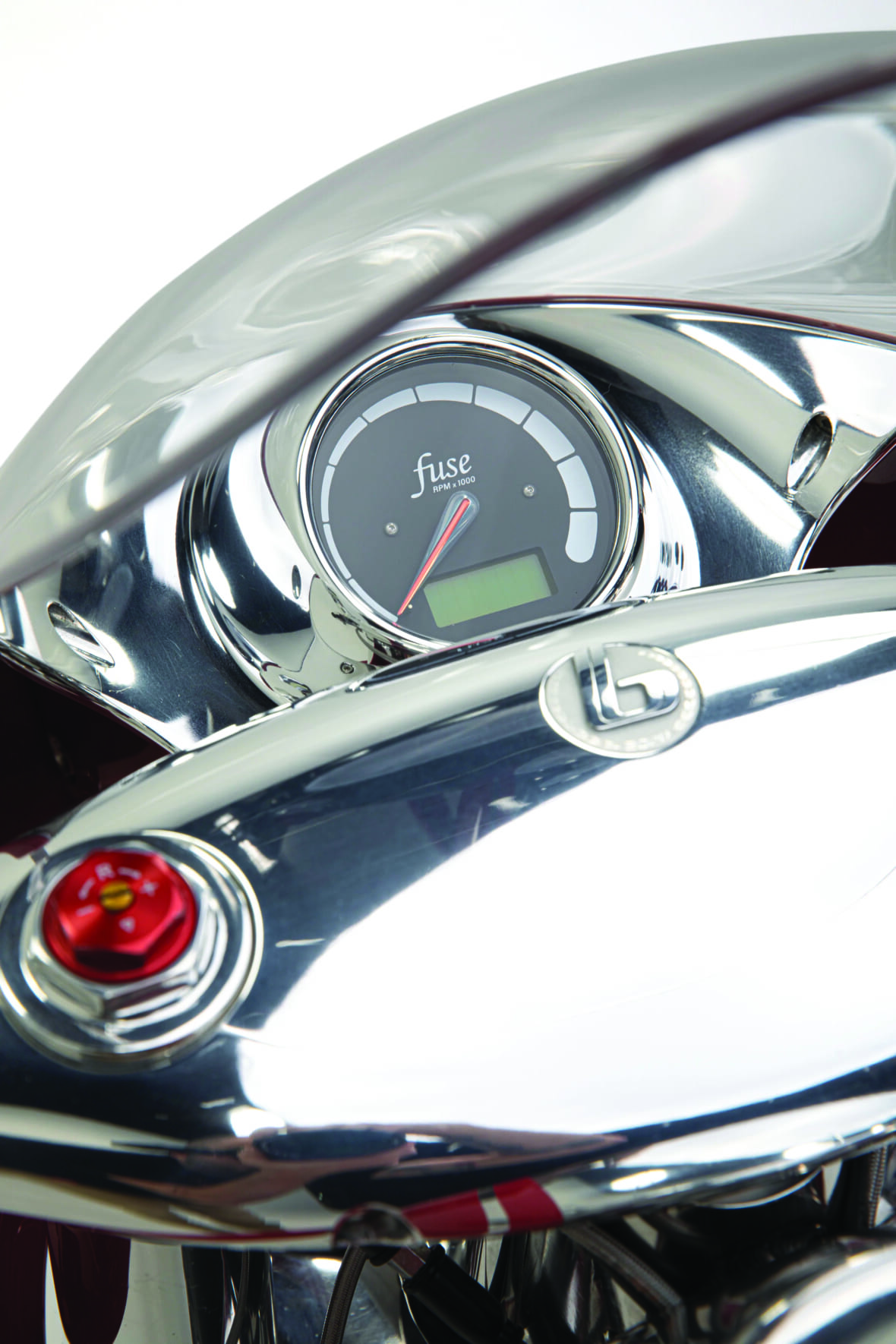 As an example of the Fuse's intricate build Stulberg mentions the top triple-clamp—essentially the handlebar that holds all the hydraulics, electronics, front suspension, brakes and clutch, etc.. That piece alone cost over $60,000 in labor to construct due to Ed repeatedly changing plans mid-build, requiring re-engineering from scratch, sinking 500 hours on that one single piece. It's part of the reason in the end the Fuse cost well over a half-million-dollars to produce—considerably beyond its original $100K budget.
"It just kept going because Ed's imagination as a guy who's built anything didn't want any restraints on what the end product would be," recalls Stulberg, praising his demanding but generous benefactor. "So we just kept going back to the table and redesigning pieces that could have been simple and off the shelf—but were not.