The $178K Rezvani Tank Is a 500-HP Military-Inspired 'Xtreme Utility Vehicle'
Holy crap.
With the Hummer H1 no longer for sale, there hasn't been an intimidating military-inspired SUV available for drivers looking to maximize their visual impact, but Rezvani Motors, creators of the Beast supercar, are filling that void with their newest creation, the Tank.
California-based Rezvani dubs the Tank an 'Xtreme Utility Vehicle,' or XUV, and the claim seems well founded.
Consider the 500-horsepower 6.4-liter Hemi V8 delivering 500 horsepower and 430 pound-feet of torque to a Jeep Wrangler-based chassis.
The Wrangler's body-on-frame construction lets Rezvani exploit its throughly developed four-wheel drive system and off-road suspension, while bolting an entirely unique body on top.
If the regular Jeep suspension doesn't cut it for your purposes, there is an optional off-road package that adds a 6-inch lift, 37 x 12.5" off-road tires, Dynatrac ProRock 44/60 axles with E-lockers, and Fox 2.5-inch remote reservoir shocks.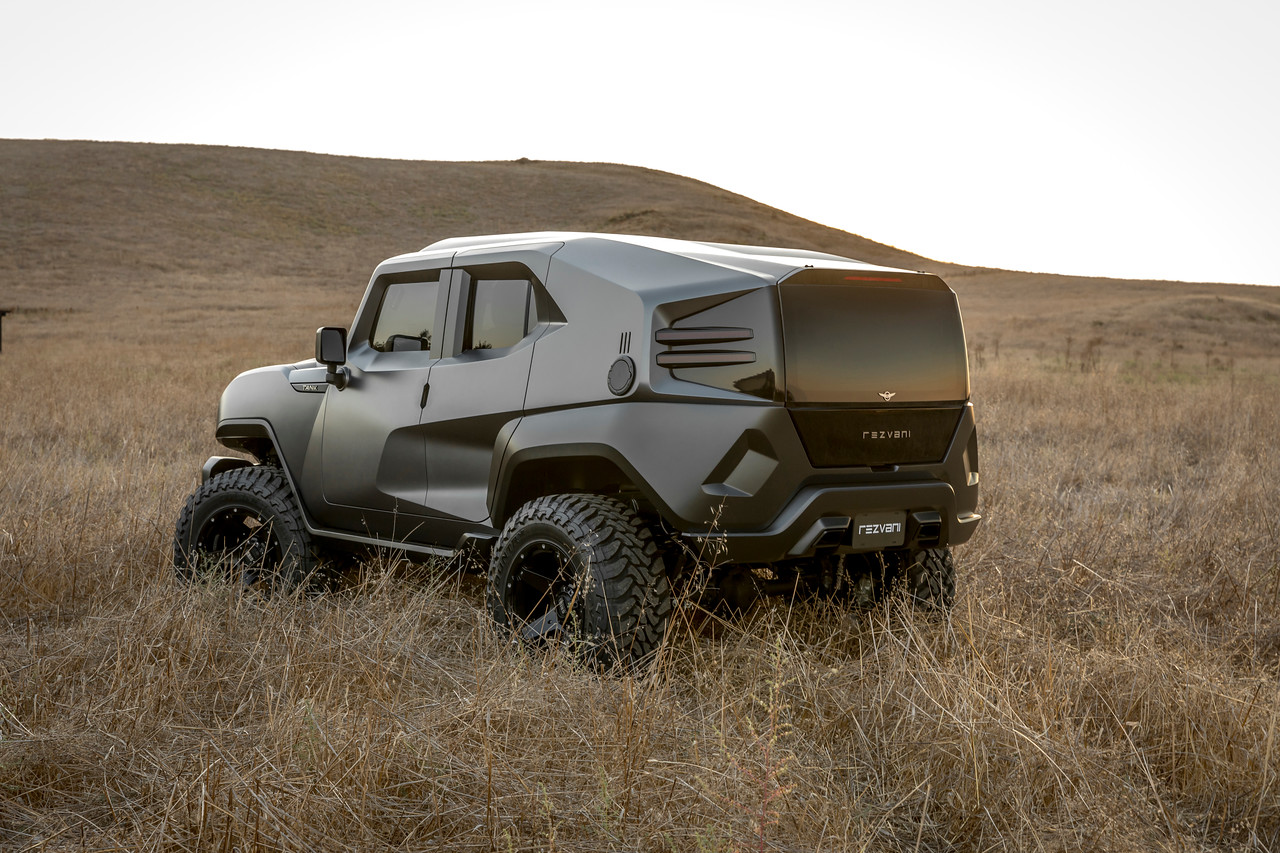 And the Tank even tops that with the off-road extreme package, which upgrades to 37 x 13.5" tires, Dynatrac ProRock XD60/80 axles with air lockers and an air compressor, Dynatrac ProGrip front and rear brakes, stronger front and rear driveshafts, and Fox 2.5-inch internal bypass shocks
The Tank can be equipped with an array of mil-spec options, such as FLIR thermal night vision, ballistic armor, bulletproof glass, run-flat tires, and Kevlar protection for the fuel tank, radiator and floorpan.
Inside, the Tank is no army truck. The cabin is appointed with a hand-stitched hand-stitched leather seats and a suede headliner, a 7.9-inch central infotainment screen and a suite of off-road apps. A fighter jet-style head-up display provides easy access to information without having to take your eyes off the road, just like in the Hummer H1.
Of course, buyers have expectations for drama, and the Tank provides that with rear-hinged rear doors that lets the cabin open wide for easy, and dramatic, entry and exit.
The Rezvani TANK starts at $178,500 with deliveries beginning late this year.