Ducati Created An Entire Category Of Motorcycle With The Monster, And They Just Keep on Perfecting It
It doesn't get more fun than this.
As surely as the Ford Mustang spawned the entire pony car genre with its launch in 1964, so the 1993 Ducati Monster M900 ignited the naked bike category, whose hallmarks are a sport bike-grade chassis matched to more upright and comfortable riding position and an absence of wannabe racer plastic bodywork.
For 2017 Ducati seeks to return this seminal model to its roots, with the Monster 797 that is stripped down to the most elemental components needed for a proper naked bike.
(Remember to scroll the above 360-degree video around to see forward)
This new Monster is smaller and lighter than its predecessor, but it boasts more relaxed riding ergonomics and more power from its simple air-cooled, two-valve twin-cylinder engine.
It is important for Ducati to get the Monster right, because it not only established a new market category, but it has also created a new sub-brand within Ducati. 
The company has sold 315,000 Monsters since the bike's debut, all incremental sales to a segment that didn't exist previously. As such, the Monster is as important to Ducati's finances as it is to Ducati's fans' psyches.
That original Monster was a 900, but the model split into various sizes, with the debut of a 750cc mid-range model and a 600cc "Monsterino" entry-level bike, explained product manager Stefano Tarabusi.
Today, the 797 represents that Monsterino spot in the product line, while a 1200 model with a pricier, more powerful, liquid-cooled, four-valve 1200cc engine is the flagship.
But power and sophistication don't dictate fun, and "Let's have fun," was the Monster team's mantra when developing the new bike. "We wanted a Monster that is more Monster than any other Monster," exclaimed Tarabusi.
A day in the saddle of the Monster 797 confirms they've achieved their goal.
The red steel-tube frame, "bison-back" gas tank, and exposed mechanical bits are all hallmarks of Monster style and the Monster 797 backs those traditional elements with cutting-edge Brembo radial-mount front brake calipers (with standard Bosch anti-lock function), a 43mm inverted fork and a direct-acting rear shock that is adjustable for rebound damping.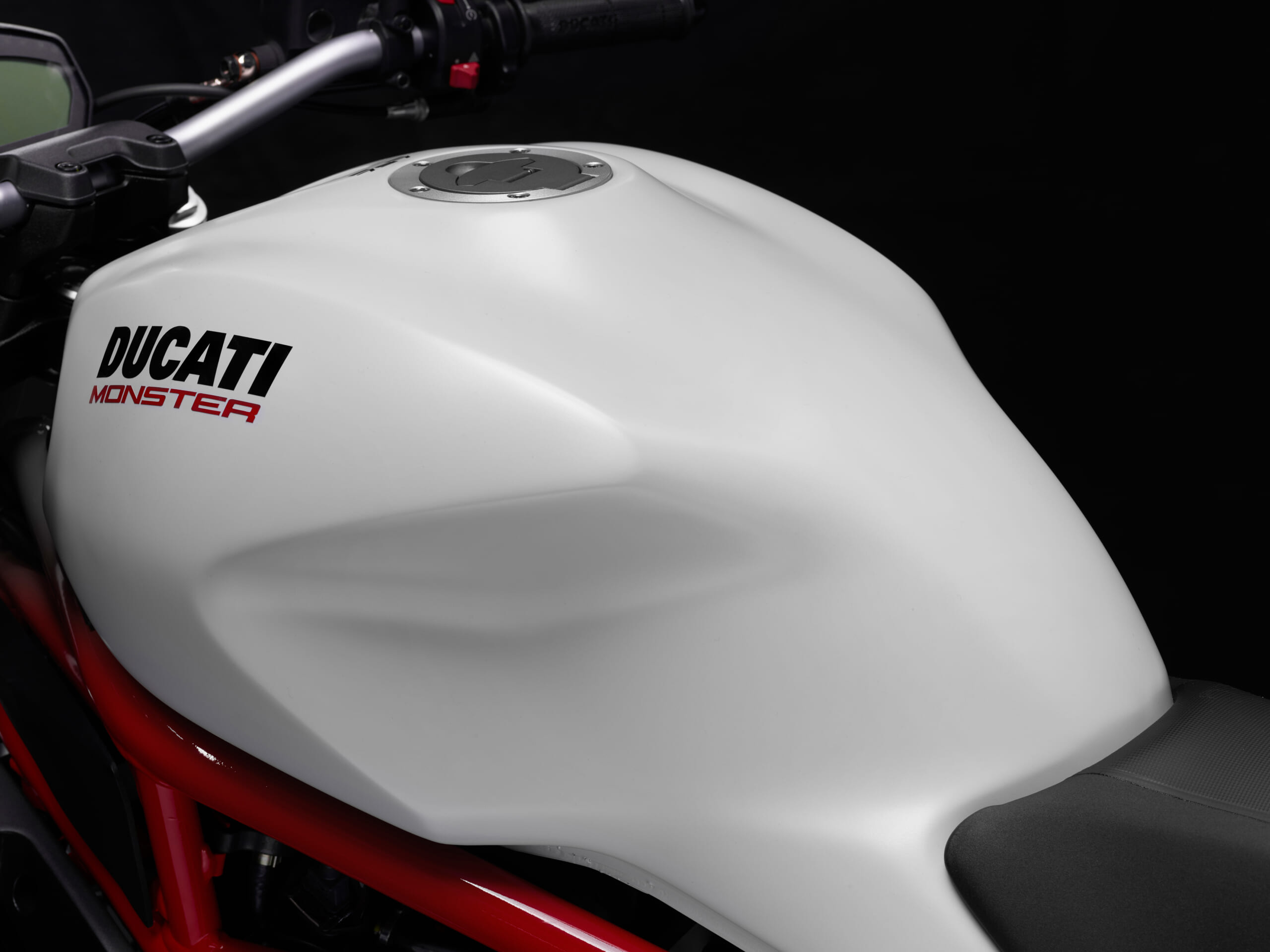 The Monster's riding position proves to be as comfortable as promised, as the design team moved the footpeg position forward and downward while pulling the handbars back, closer to the rider.
While the standard seat the position is excellent, Ducati offers an inch-thicker "comfort" seat for riders who don't fall into the iron butt category. It also gives taller riders even more legroom, while another seat for shorter riders is also available to help them reach the ground.
The Monster's 75-horsepower, 803cc L-twin (Ducati prefers the term to V-twin, as the front cylinder juts forward almost horizontally) is a pleasant powerplant, and it produces 80 percent of its peak torque from 3,500 rpm, so you don't have to spend the day revving to the bike's 9,200 rpm redline to keep things moving at a comfortable pace.
While the bike cooperates with the easy fun of quick riding, those Brembo brakes demand a light touch on the brake lever, as they seem to grab a bit more aggressively than might be expected. 
It is good to know the power is there, and the antilock circuit would prevent any unexpected lockups, but the main characteristic is just a bit more abrupt stopping than expected until you get used to their hard-biting performance.
Eschewing any hints of nostalgia in its design, the Monster 797 employs a monochrome digital display as its instrument panel to convey all the necessary information. In this age of vibrant color displays on refrigerators (really!), the cost-cutting monochrome panel looks cost-conscious without delivering the cool of circular analog gauges. Call us old-fashioned, but we'd prefer those old clocks to a half-measure LCD display panel.
And we wouldn't mind more effective mirrors. With these, the best bet is to try to get a glimpse behind through your armpit, in contrast to the great mirrors we enjoyed on the BMW RnineT Scramber a few months ago.
Both the Monster and the BMW have their naked styling blighted by the unsightly oxygen sensors sticking out of their exhaust pipes. In a perfect world, we'd like to see the component supplier for that part come up with a less-obtrusive solution. This gorgeous ride deserves better!
But that is extent of criticism. Ducati's team aimed to capture the essence of riding for enjoyment, and they've succeeded. "The fun has to be understood instead of a MotoGP race session on the road," said Tarabusi. A world of 200-horsepower, 200-mph motorcycles needs much of this thinking, so consider us all aboard for the Monster 797
Everyone who agrees with that outlook can find the Monster 797 in their local Ducati dealer starting in early May, with a base price of $9,295, plus $200 for the silk white paint featured on our test bike.