Robert Downey Jr.'s Boss 302 Mustang With a Modern 667-HP V8 Is a Restomod Masterpiece
Check out Iron Man's custom ride.
Photo: SpeedKore
We've known for a while that actor Robert Downey Jr. has fantastic taste in cars: His garage is home to an eclectic array of automobiles, from a stylish, sophisticated Mercedes-Benz SL Pagoda to a fun and economical Volkswagen Golf GTI. But we were blown away when we saw his newest toy, a totally custom 1970 Ford Mustang Boss 302 he commissioned from Wisconsin-based shop SpeedKore Performance Group.
https://www.instagram.com/p/BSgt7CIDRvH
Chopping up a first-generation Mustang Boss 302, now a coveted collectors' piece, took serious guts. The Boss 302 was Ford's response to Chevrolet's then-new Camaro Z/28, which at the time dominated the Sports Car Club of America's Trans-Am racing series. 
Ford produced a very limited number over two model years, '69 and '70, developing its performance Mustang around a high-output engine: a stout 302-cubic-inch V-8 with "oversized" heads, putting out almost 300 horsepower. New weapon in hand, Ford took the Trans-Am series title in 1970, and the Boss 302 mythos blossomed.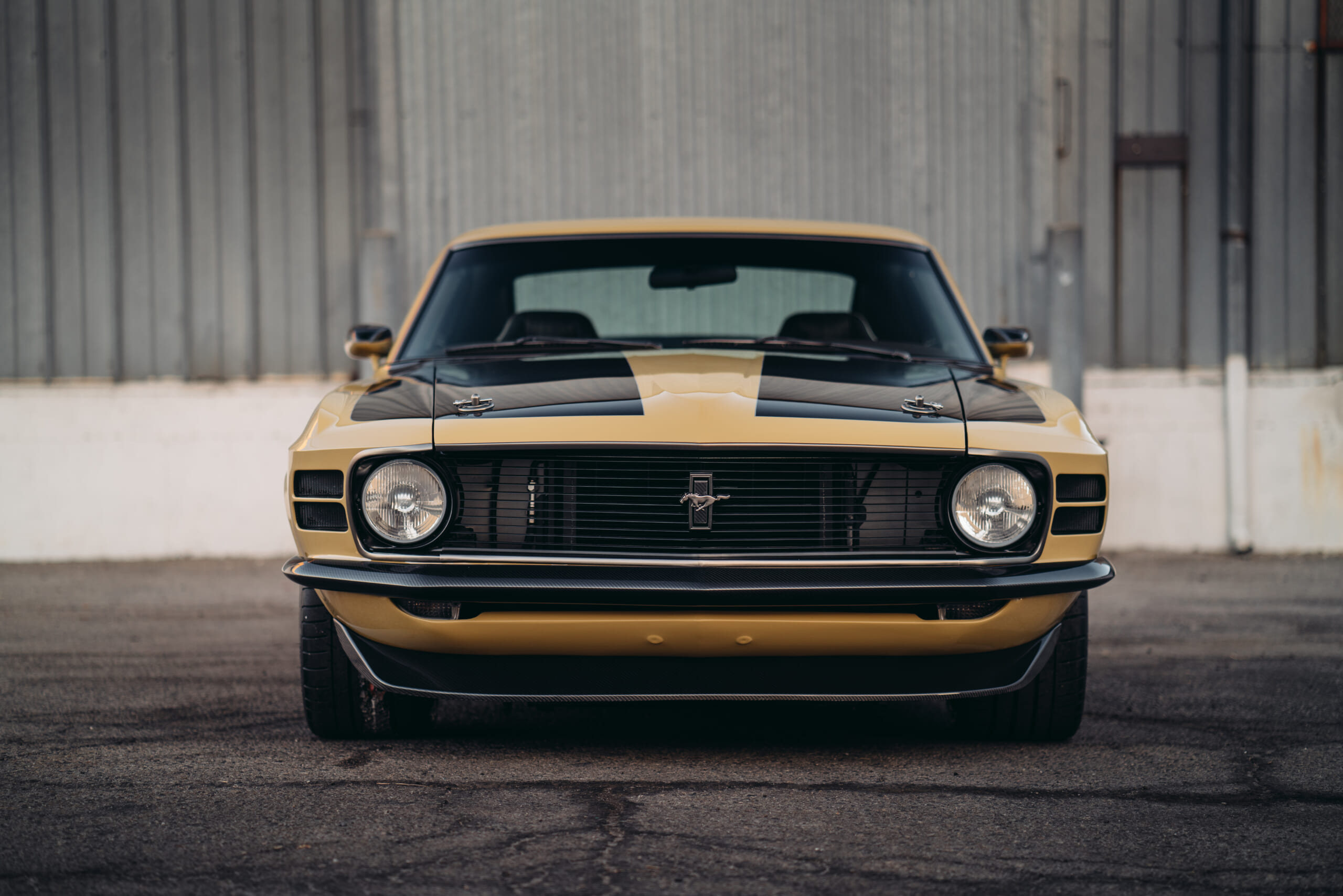 Diehard fans will think Downey's decision to modify a Boss 302 is sacrilegious, but his innovative overhaul may make them change their minds. The actor started by tearing out the Mustang's legendary engine and swapping in a modern 5.0-liter V-8 with a twin-screw supercharger, a package that produces 667 horsepower. 
"Our approach to this type of restomod project is 'heritage styling,'" says Dave Salvaggio, SpeedKore's cofounder and lead builder, who worked closely with Downey to help realize the actor's vision. "We add the efficiency and reliability of modern components to create performance cars with retro looks that drive great and have all the comfort features we now expect."
SpeedKore went over every nook and cranny of this Boss 302. The car is now built atop an aftermarket aluminum frame from Detroit Speed, which also supplied the "pro touring" QuadraLink suspension. "The 'stance' is the most important element when viewing a performance car, and I believe we nailed it," says Salvaggio. The custom suspension has this Mustang sitting just right, but it's the one-off HRE wheels that really make RDJ's Mustang pop. "Robert and the team worked with HRE to create a totally unique 'heritage' wheel design," says Salvaggio. "It's reminiscent of the Panasport wheel from the '60s. The key was to modernize it but retain a nostalgic appearance."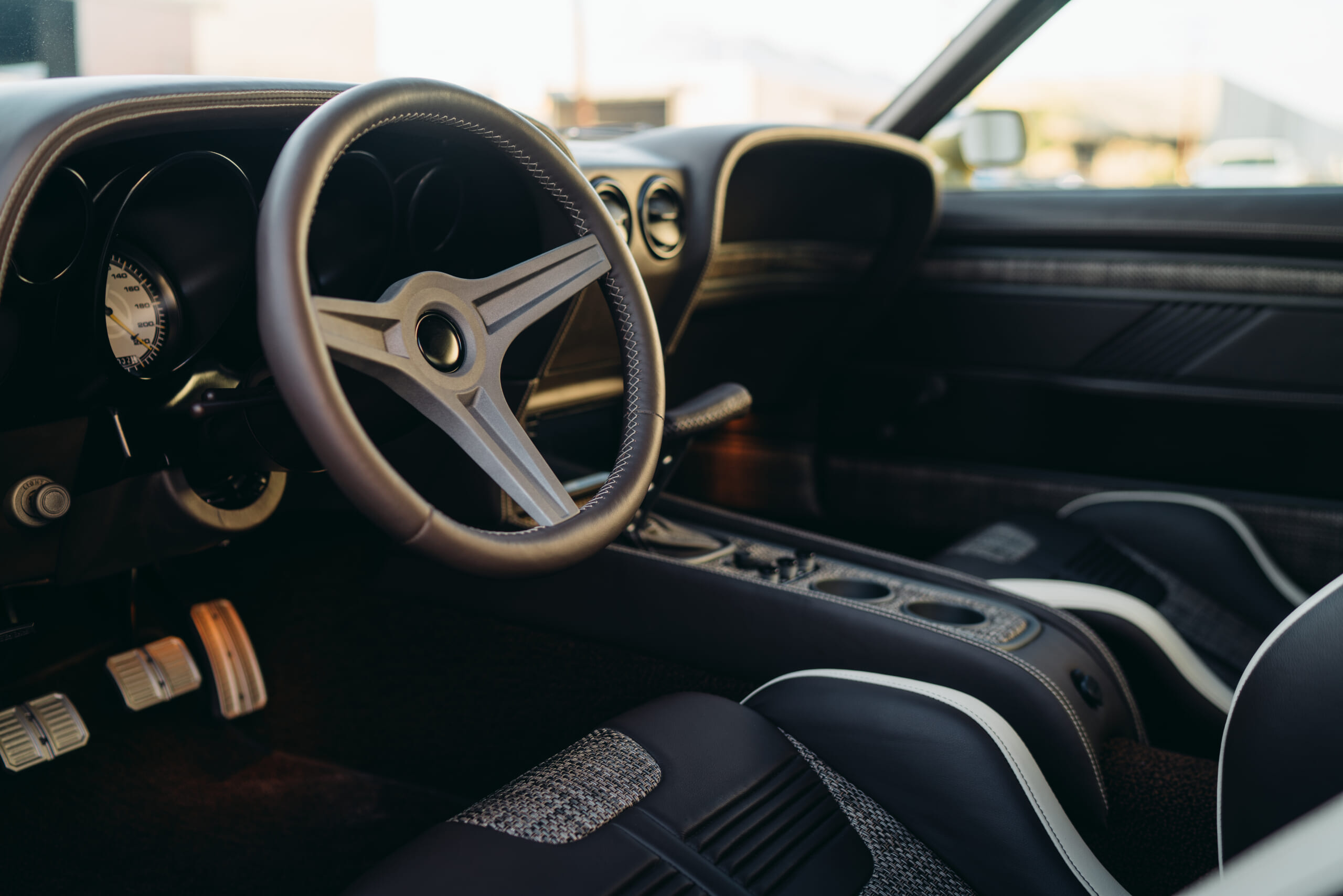 Blending vintage style with contemporary technology is what this Boss 302 is all about.
An analog-style gauge cluster and a simple three-spoke steering wheel complement a tactfully updated interior, and a majority of the Mustang's original steel body panels have been replaced with carbon-fiber pieces; the hood, fenders, bumpers, deck lid, chin spoiler, quarter extensions, and valance are all custom molds made from the lightweight composite. Downey and the SpeedKore team then went through 10 exterior colors before settling on the oddly beautiful, khaki-yellow paint called Tuscany.
"We're very proud of the car," says Salvaggio. "It turned out exactly as we planned, and Robert is very happy with the result. Hearing that a customer is going to be 'helping you' on a project is often unnecessary, but Robert has been a pleasure to work with because of his creativity… He's supercreative. Wait until you see his 1972 BMW we're designing now."