Check Out Fashion Designer Roberto Cavalli's 'Batman' Inspired Superyacht
The Dark Knight takes to the water.
The other day we told you about some of the ultra-cool yachts that took home trophies at Boat International (BI) exclusive Design & Innovation Awards, "honoring the creative talents behind the most innovative, elegant and inspiring new yacht designs [from] the world's leading yacht design studios."
However one of the finalists deserves a closer look as well. Italian fashion designer Roberto Cavalli, the king of luxe rock 'n roll style whose celeb devotees include everyone from Beyoncé to Cara Delavigne, has kept details of Freedom, the custom open-cockpit superyacht he commissioned from CCN (Cantieri Navali Cerri), under wraps. But as it was a finalist in both the Best Exterior Styling and Best General Arrangement categories we've now gotten a good look thanks to BI. 
The 92-ft. blacked-out vessel was inspired by Batman and it's easy to picture Bruce Wayne letting his hair down on deck with some of Cavalli's supermodel pals. 
Open cockpit yachts may not be big as the truly massive megayachts in the 200-ft.-plus range but on the other hand they require fewer crew members and can go a hell of a lot faster, and Freedom is a brilliant mix of performance and design with an eye-popping top speed of 43.5 knots.
Cavalli's new toy features interiors by Tommaso Spadolini that are suitably luxe-meets-louche with lots of the designer's signature leopard prints. "Everybody knows me for my animal prints," Cavalli tells Boat International. 
The high-living designer specified that his stateroom have direct access to the bridge as he intends to drive the yacht himself – fast – as well as access to the lounge/beach area and a small sun deck.
The yacht has two dining areas, one indoors and one out, featuring leopard print seating, natch. The outdoor dining space is protected by the wind with two large custom glass panels etched with the Cavalli logo, "designed for sea views, comfort and protection from the elements."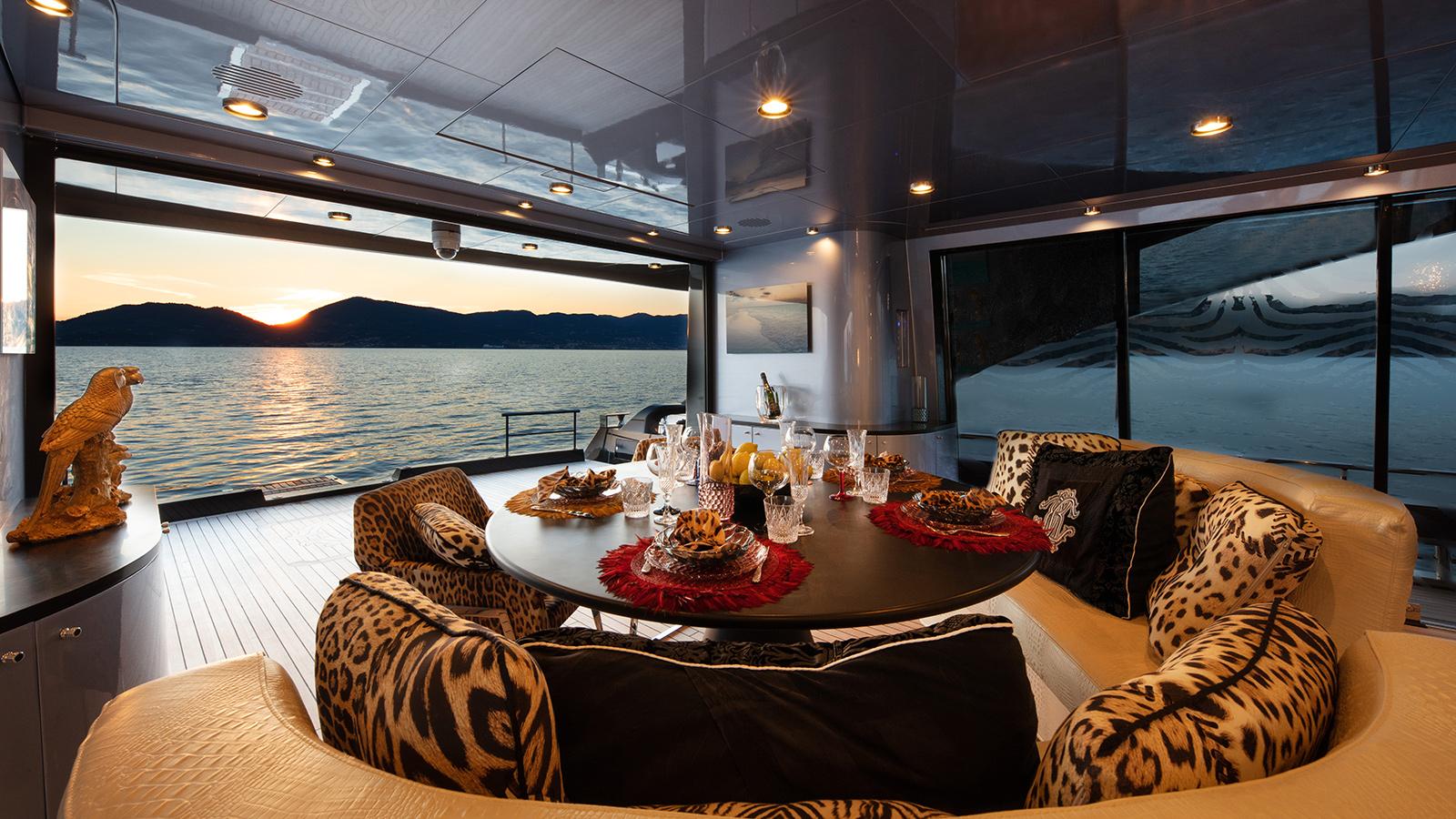 The yacht is set up for entertaining and Cavalli, whose parties are legendary, will no doubt host many on-board soirées both in port and at sea. And we can only speculate about what might go on in the leopardskin-laden staterooms once the lights have been turned out.
Should you be lucky enough to score an invite be sure to compliment the designer on his beautiful boat and excellent taste. 
Maybe he'll even let you drive….