Behold the Most Badass Hyundai Ever Built
Deadass.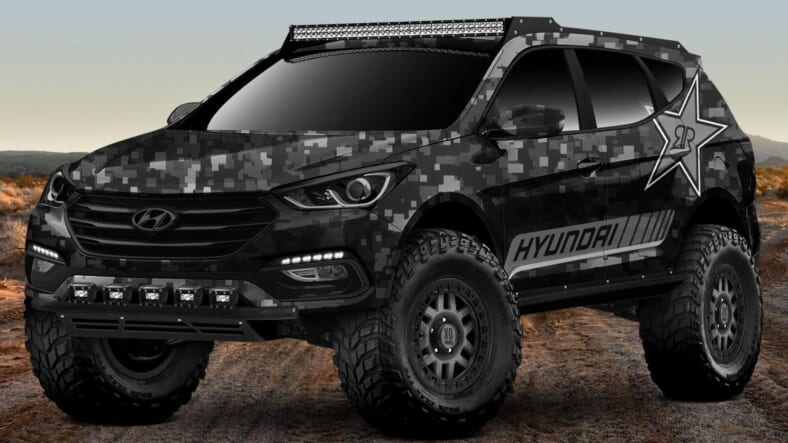 Hyundai
Moab, Utah is known for the difficulty of the four-wheel-drive routes over its treacherous rock trails, so much so that Jeep make an annual trek there for its Jeep Easter Safari to prove cool new concept vehicles have the mettle to handle the rocks.
Rockstar Energy wants to do the same with a kick-ass new Hyundai Santa Fe off-road concept truck that it says is built to take on the rocks at Moab.
"The Rockstar Energy Moab Extreme Concept was specifically designed to withstand the extraordinary demands of Moab off-road terrain," said Nic Ashby, of Rockstar marketing. "Leveraging the outstanding Santa Fe Sport platform and powertrain, we definitely pushed its capabilities to new limits to conquer the pinnacle of challenges at Moab."

So this concept Hyundai isn't just a black digital camo paint job and some knobby tires. It includes killer brakes from R1 Concepts, King coil-over suspensions with 2.5-inch internal bypass, external reservoir racing shocks, KMC bead-lock 17-inch wheels and, of course, Mickey Thompson 35 x 12.5-R17 Baja MTZ off-road tires.
A Mishimoto intercooler and AEM cold air intake help boost engine output and drive train accessories from Yukon Gear and Axle fortify the four-wheel drive system for serious work.
Those parts are all protected by skid plates and bumpers from Rockstar Performance Garage, and a Warn winch is ready in case excessive optimism puts the Santa Fe someplace even the Mickey Thompsons can get traction.
Look for the Rockstar Energy Moab Extreme concept to debut at the 2017 Specialty Equipment Market Show in Las Vegas.