The Rolls-Royce Black Badge Cullinan SUV Is Decadently Dark
Sinister swagger.
Rolls-Royce's stylish Black Badge ensemble just debuted a new blacked-out Cullinan SUV.
The special-edition Cullinan's shell is finished in multiple layers of black paint and lacquer that were meticulously applied and hand-polished 10 times at Rolls' headquarters in West Sussex, England. 
The Spirit of Ecstasy mascot is presented in high gloss black chrome, while the "Double R" badge in front gets a silver-on-black treatment. Other chrome surfaces, such as the front grille surround, side frame finishers, boot handle, boot trim, lower air inlet finisher and exhaust pipes are also darkened.
Moving below the body are 22-inch gloss back alloy rims—reserved exclusively for Black Badge Cullinan— and the marque's first-ever colored brake caliper in red.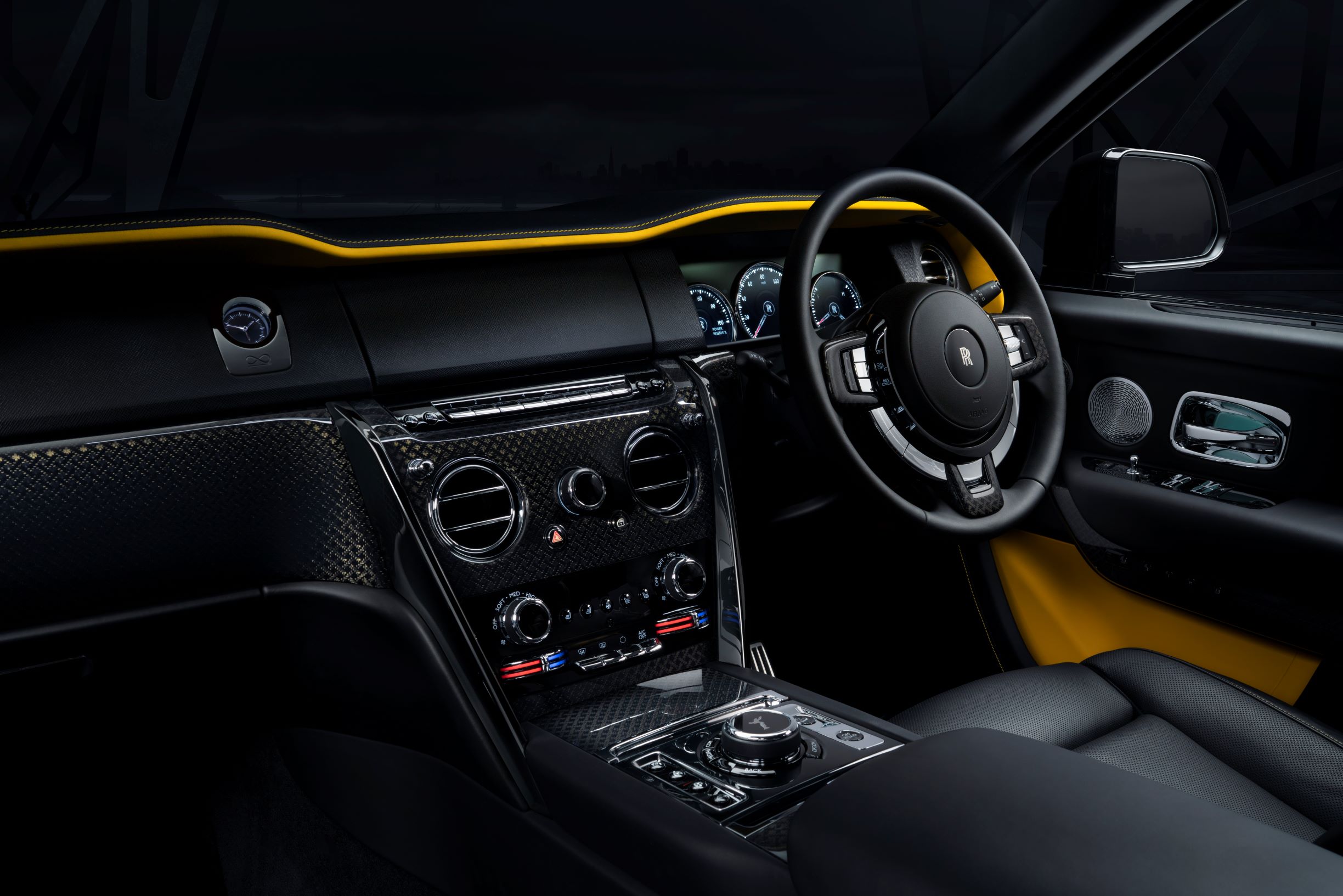 While the dark exterior exudes stealth, the interior is decidedly decked-out with a naked-weave carbon-fiber finish of repeating geometrical shapes on the dash and consoles. A bold new leather color dubbed "Forge Yellow" provides an element of bright contrast, but the highlight of the cabin is its black leather starlight headliner, which glimmers with 1,344 fiber optic lights to mimic the star-lit sky. Alternatively, one can admire the Earth's real stratosphere from the Cullinan's rear-seat "Viewing Gallery." 
For a power upgrade, Rolls tuned the Cullinan's 6.75-liter twin-turbocharged V12 to crank out just under 600 horses. The proprietary aluminum architecture that debuted in the Phantom and eight-speed gear box have remained unchanged. 
The Rolls-Royce Black Badge Cullinan is available via commission only. Expect to pay quite a bit more than you would for the $325,000 base model.