Mansory's 740 HP Rolls-Royce Dawn is a Cruise Missile in Convertible Clothing
It's been called "the sexiest Rolls Royce ever built."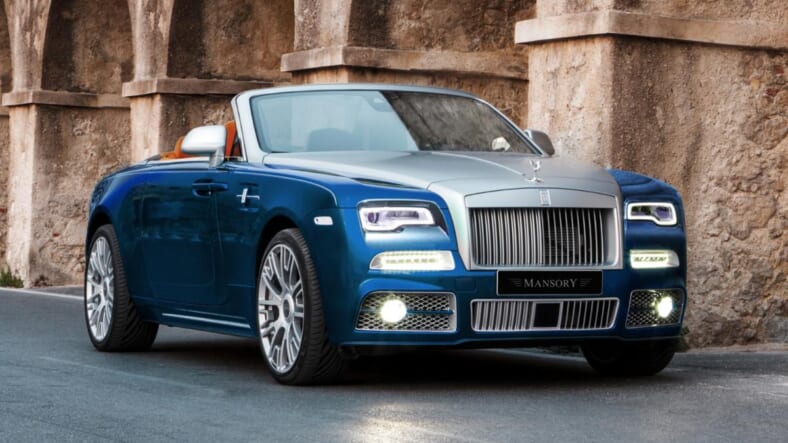 Driving a Rolls-Royce is a very stately experience by design. You are "wafted" along in Rolls' phrase of choice, literally on an exalted automotive plane with 110 years worth of power, luxury and style carrying you to your destination like a sort of god among men.
Well even gods like to have a bit of fun now and then. And UK-based super-tuner Mansory, creators of some of the world's most extreme super and luxury cars, have done their bit for the deities with their upgrade to the new Dawn, which Rolls' CEO calls "the sexiest Rolls-Royce ever built."
Mansory's version starts with larger air intakes, new front and rear spoilers, new carbon fiber front lip, side skirts sculpted to both boost airflow and give the car a lower and sleeker look, and 22-inch V6 rims– an immediate indiction that this is no ordinary Rolls (not that there really is such a thing).
The interior of the Dawn is already ridiculously gorgeous but Mansory has added even more brushed aluminum, carbon fiber and burled wood, along with hand-stitched embroidery for the floor mats and head rests. And then there's the engine.
The Dawn rolls out of the factory in Goodwood, UK packing an impressive 6.6-liter twin-turbocharged V12 good for 570 hp and 780 Nm of torque. Good but good enough for Mansory, who have pumped it up to an eye-popping 740 hp and 1,000 Nm of torque. This translates to 0-62 mph in just 4.5 seconds with a top speed of 177 mph. 
Which is pretty damn fast for a massive four-seat convertible packing every conceivable luxury. We don't know whether Rolls really approves of this sort of thing, but we most certainly do….