This All-Electric Rolls-Royce Vision Next 100 Autonomous Concept Is The Future of Luxury
Absolutely stunning.
Rolls-Royce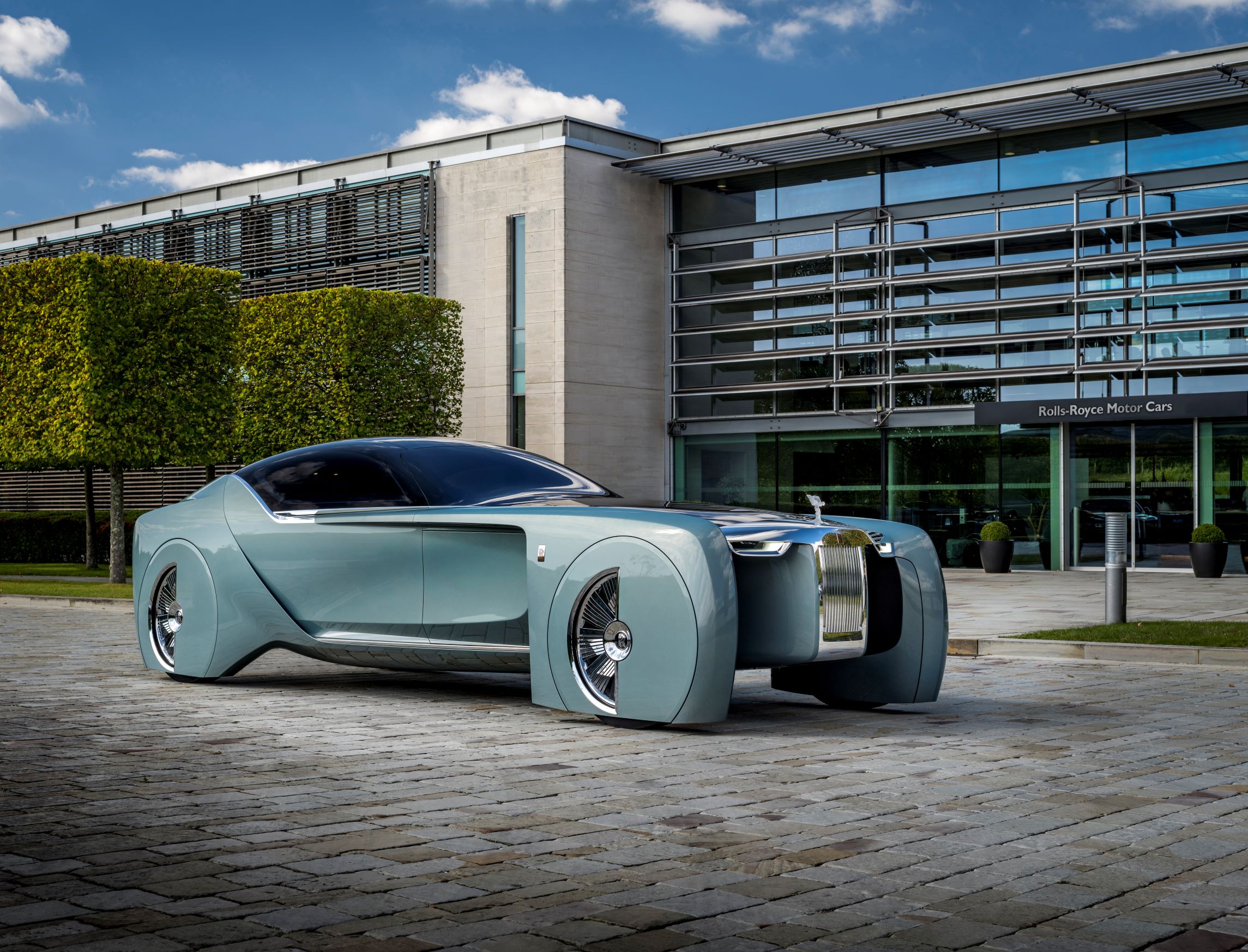 The Rolls-Royce Vision Next 100 concept car has arrived at its permanent home at England's Goodwood Festival of Speed after a four-year global tour, and the eye-popping EV looks just as stunning as it did when we were first introduced to it back in 2016. 
If you need a quick refresher, the Vision Next 100—codenamed 103EX—is an all-electric, fully autonomous luxury car tailored to transport elite VIPs in high style. Rolls' engineers designed it with four themes in mind.
The first is "Personal Vision," which is realized in allowing customers to configure the car to their wants and needs using innovative manufacturing technologies, advanced lightweight materials. 
A second "Grand Sanctuary" theme is delivered by the cabin: a swanky private haven fitted with top-end materials such as the Macassar wood and silk upholstery and carpet. 
An "Effortless Journey" is guided by a virtual representation of Eleanor, a reference to Eleanor Norton, who modeled for the naked lady riding atop the grille of every Rolls as the Spirit of Ecstasy hood ornament. In the futuristic Vision Next 100, Eleanor serves as a Siri- or Alexa-like digital assistant with the ability to learn passengers' personal preferences, like their favorite foods or entertainment. 
Finally, there's the "Grand Arrival," which refers to the elongated hood, couple silhouette, free standing wheel arches and crystalline paint job that give the Vision Next 100 its strikingly unique design aesthetic.  
Torsten Müller-Ötvös, Chief Executive Officer of Rolls-Royce Motor Cars, said: "We are delighted to welcome 103EX home to Goodwood. After almost four years on international duties, we felt it was time for the experimental model to return home. 
It is a chance for those who worked on the project to relive some great memories, and for people who have joined us more recently to discover one of the most important cars we have ever built." 
If you make it to the British marque's Goodwood plant, be sure to pay a visit to the Vision Next 100.