Bow Down To This Super Rare, Samurai-Inspired Motorcycle
The two-wheeled tribute to Japanese warriors is way cooler than a Kawasaki Ninja.
Denver, Colorado's Ronin Motorworks' unique vision for what Buell's American sportbikes could have been is winding down. The boutique builder has completed all 47 of its planned run of the Ronin 47 (named after the Japanese legend of 47 freelance warriors), so it is now or never to buy one of the remaining bikes before they are all sold.
These stunning machines are rolling artwork built by building Buell 1125 motorcycles without any of the plastic bodywork and by emphasizing the cool metal hardware that would otherwise be hidden away.
Key engineering changes for the Ronin include a switch from Buell's conventional telescopic forks to a girder-style front suspension and relocation of the water-cooled V-twin's radiator to the spot where a headlight might typically reside.
Bike number 45, which lists for $38,000, is one of the two remaining of the Ronin 47. It is named for Kimura Sadayuki, a horseman among the famous 47 warriors. The bike is finished in matte titanium and black.
The Ronin retains Buell's unique rim-mounted single front brake rotor, whose larger diameter eliminates the need for a pair of hub-mounted brake rotors. It also applies braking forces directly to the rim, permitting thinner, lighter spokes in the front wheel because they do not need to transmit braking forces from the hub to the rim.
The Ronin is upgraded with all-solid-state electronics that eliminate physical relays for the various lights and electrical parts and uses a Motogadget instrument panel that is integrated into the center of the handlebar mount to convey information to the rider.
Ronin replaced Buell's underslung muffler with one of its own design. Where Buell focused on functionality and cost for the out-of-sight component, Ronin put it on display and redesigned it to be worthy of display.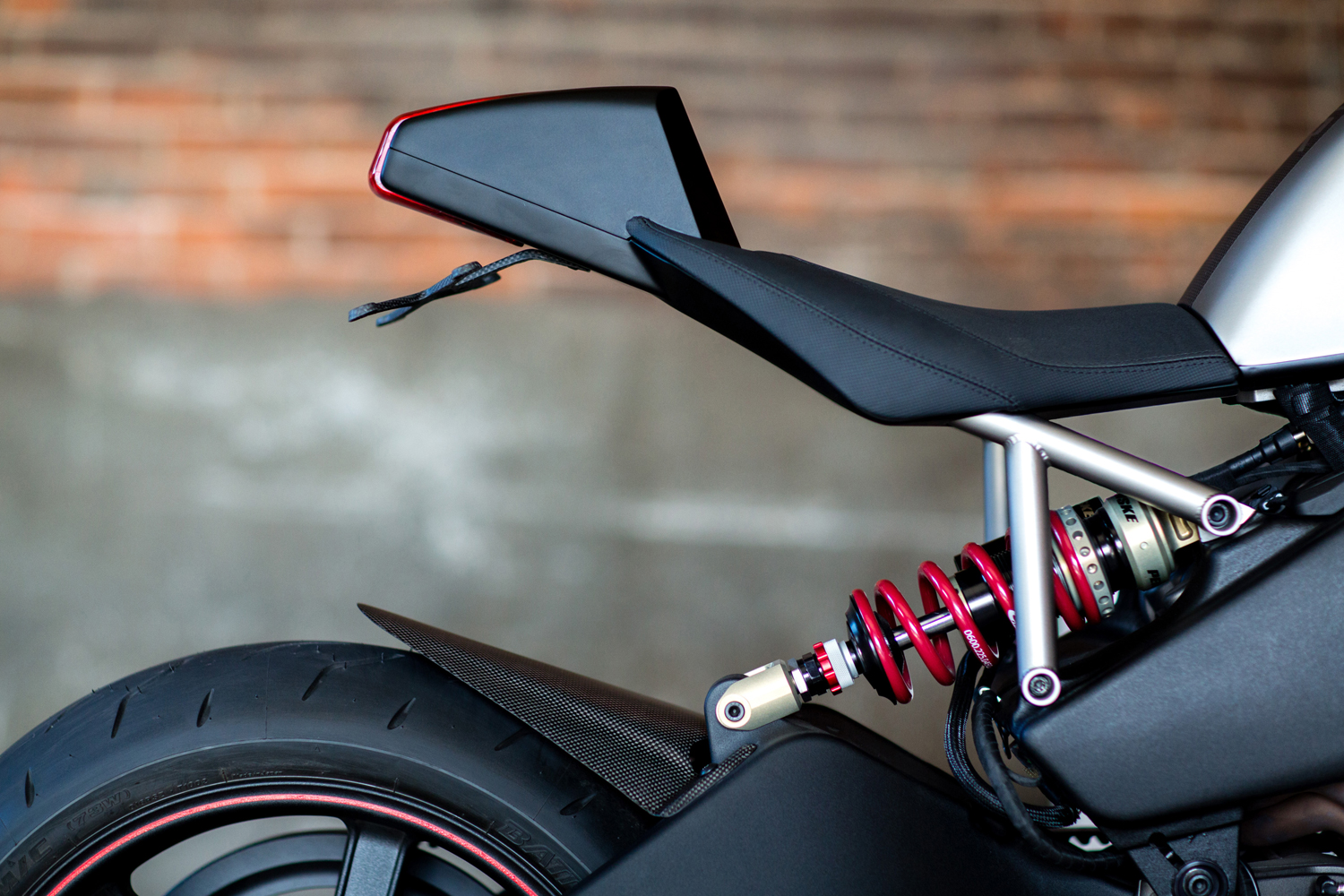 With only a couple of these stunning rides left (Ronin's site also lists bike #46 as still for sale), now's the time to act to get your own version of what might be the best interpretation of the Buell design.
For more, check out the Ronin video here:
https://vimeo.com/96428318″ tml-render-layout="inline