With 727 Horses, the WWII Fighter Plane-Inspired Roush P-51 Mustang Is the Most Powerful American Car
That is, until Dodge starts delivering Demons.
The North American P-51 Mustang was such a legendarily successful fighter plane that the name still resonates today. Ford named the Mustang after that plane, and now Roush Performance has gone a step further by adding the P-51 moniker to its souped-up Mustang.
Roush's P-51 carries styling cues inspired by the classic fighter plane, with silver paint echoing the plane's polished aluminum skin and an anti-reflective flat black hood mimicking the glare-reducing paint ahead of the plane's glass canopy.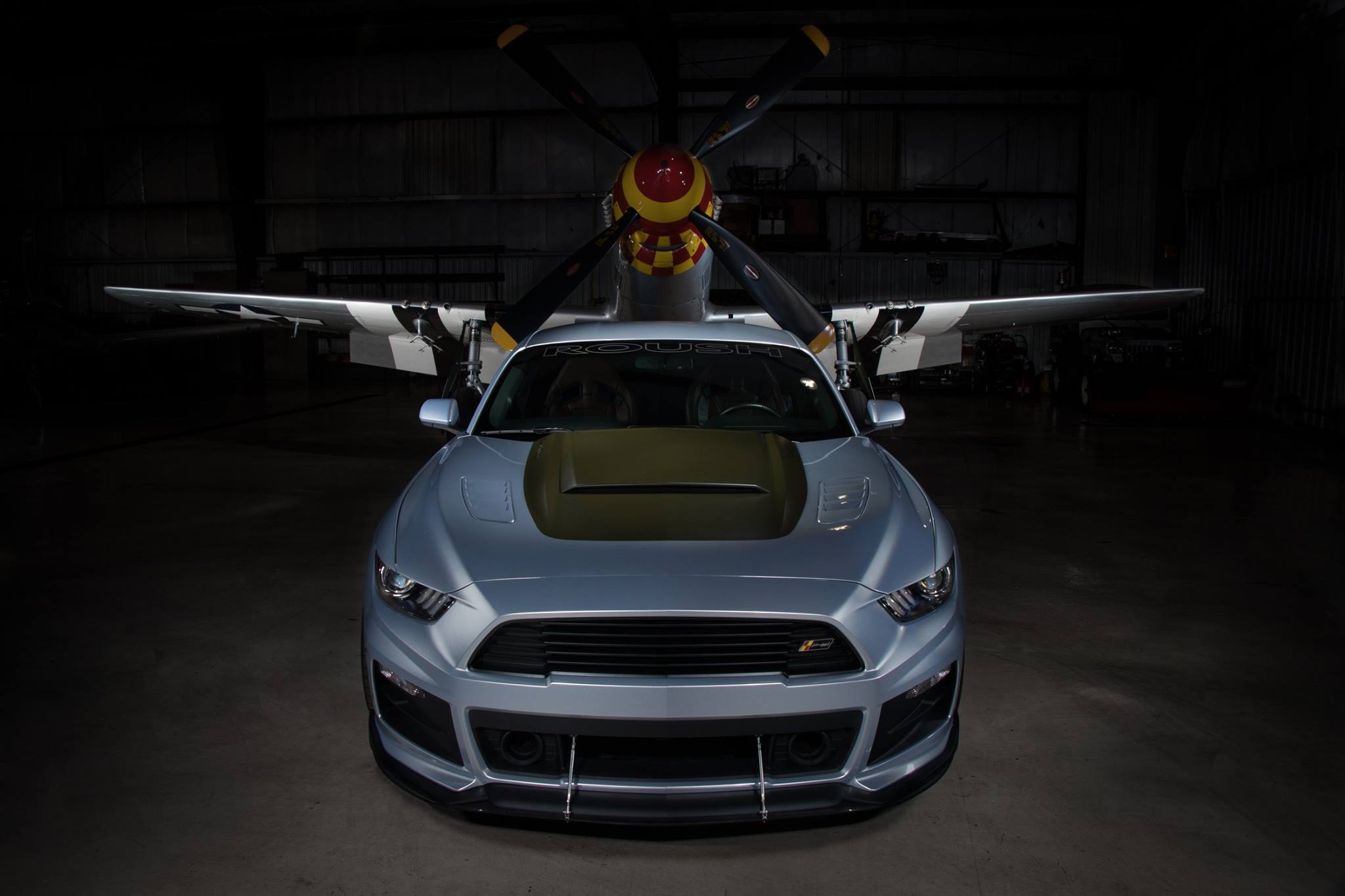 There is also a carbon fiber rear spoiler and a carbon fiber front splitter to properly manage high-speed airflow around the car.
The P-51 plane's success was thanks in part to the power of its Packard-built Rolls-Royce supercharged Merlin V12 engine, and the Roush P-51 also employs a uniquely powerful 727-horsepower supercharged V8 Ford motor.
An Eaton Rootes-type supercharged boosts output of the Ford 5.0-liter Coyote engine engine that is so well-known from the Mustang GT, and it is matched in the P-51 with either a properly sporting six-speed manual transmission or a six-speed automatic.
Suspension features three-way adjustable shocks, lightweight 19-inch Weld forged wheels and Continental ExtremeContact Sport tires. 
If you get the right transmission (the manual), you also get upgraded brakes with Performance Friction two-piece rotors and high-performance pads.
In the cockpit, stunning custom P-51 Amaretto Tuscany leather seating matches the leather door inserts for warbird-inspired styling, complemented by a P-51 gauge logo, red Roush shifter ball, Roush Performance pedals, and a P-51 interior plaque.
Roush says that it will only build 51 2017 P-51 Mustangs. Bring your wallet, because Roush charges $42,500 on top of the purchase price of the base 2017 Mustang GT.