This Cargo Ship Turned Luxury Yacht Will Take You Anywhere on Earth In Style
As long as you have $62 million just sitting around.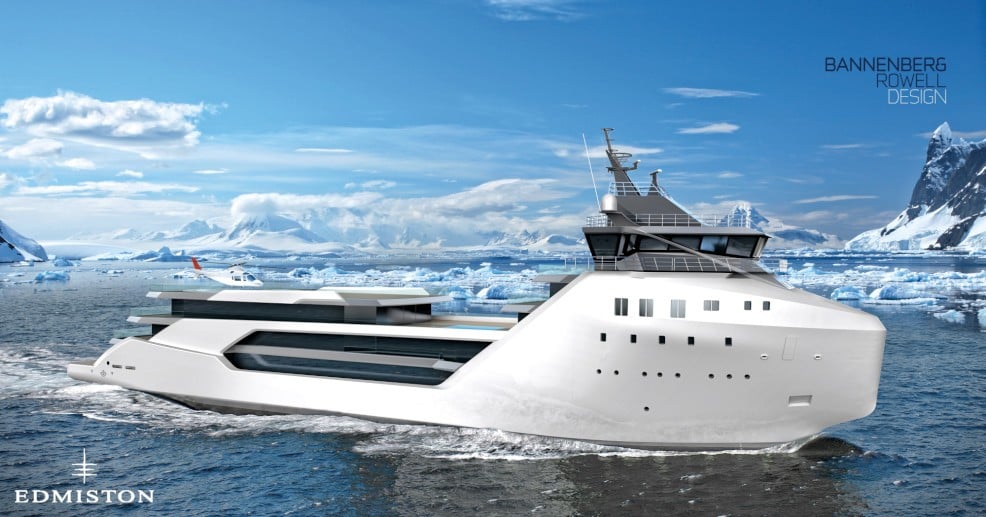 If you're in the market for a multi-million dollar yacht, there's no shortage of places to start your search for an over-the-top luxury vessel. There are so many companies making these decadent sea-going wonders that the Travel Channel has an entire series showcasing them. But do any of them do more than cruise around the Caribbean in fantastic style? 
The technical answer is not yet, but there's about to be. The Kilkea explorer yacht is a one-of-a-kind project currently under construction at Norwegian shipbuilding company Vard's Vietnam shipyard. When finished, the yacht will allow passengers to travel to every corner of the globe while enjoying the creature comforts one would expect on the finest super yachts. 
The thick steel hull of the ship comes from the Vard 1/08 supply vessel. This allows the ship to operate in light ice conditions, making it suitable for travel to just about anywhere. The luxury aspects — master apartments, saloons, indoor and outdoor pools — are being added by the award-winning luxury yacht design company Bannenberg and Rowell. 
At 270 feet long, the vessel will accommodate up to 36 guests, but its fuel consumption is expected to be relatively low, meaning that not only can you actually take this thing to the Arctic Circle, but you don't even have to feel bad about possibly leaving a giant carbon footprint behind either. 
Of course, this thing won't come cheap. It's listed on Edmiston for $62 million. But hey, if you've always wanted to see a polar bear while soaking up some arctic rays in a heated pool, this is definitely your best bet.