This Russian Billionaire's Bombproof Yacht and Bombshell Wife Are Both Jawdropping
Nice life, buddy.
In addition to a private Boeing 737, sprawling English estate, Manhattan penthouse and villa in the French Riviera, Russian billionaire industrialist Andrey Melnichenko—currently the world's 139th richest man—owns the gargantuan $300 million Motor Yacht A.

Designed by talented French conceptualist Philippe Starck, the behemoth 390-foot superyacht somewhat resembles a battleship or submarine. Although it's not really made to go underwater, it can supposedly stand up to fire, with "bombproof" 1.7-inch thick windows.
To give an idea of just how nice this mega-boat is, take a look at the decadent interior above. No, that's not a lounge on the actual ship, but simply a peek inside one of its two tenders, shown piloted by his wife Aleksandra in the image at top.

Mrs. Melnichenko is a Serbian former model and former member of the pop band—appropriately enough—called Models. The two apparently met back in 2003 in the South of France and got married two years later at a private villa, flying in the likes of Whitney Houston, Christina Aguilera and Enrique Iglesias to perform at their extravagant three-day wedding.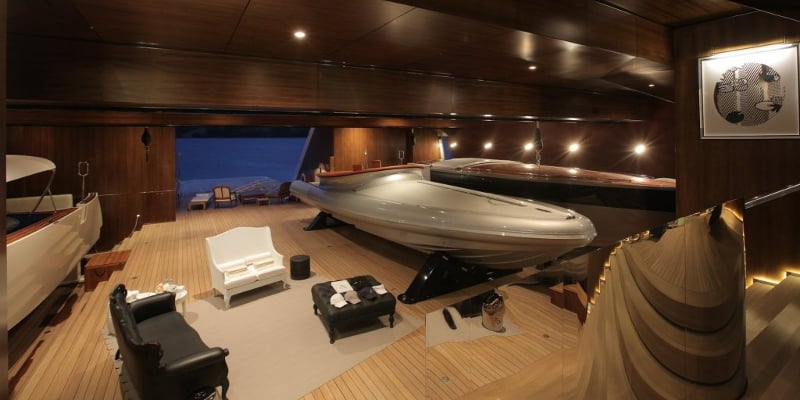 Most recently, Motor Yacht A—one of the 25 biggest yachts in the world—was spotted in London, punting on the Thames. The photos of it sneaking under the Tower Bridge and mooring alongside the otherwise imposing HMS Belfast speak volumes. To be sure, if nothing else, this floating palace sure has volume!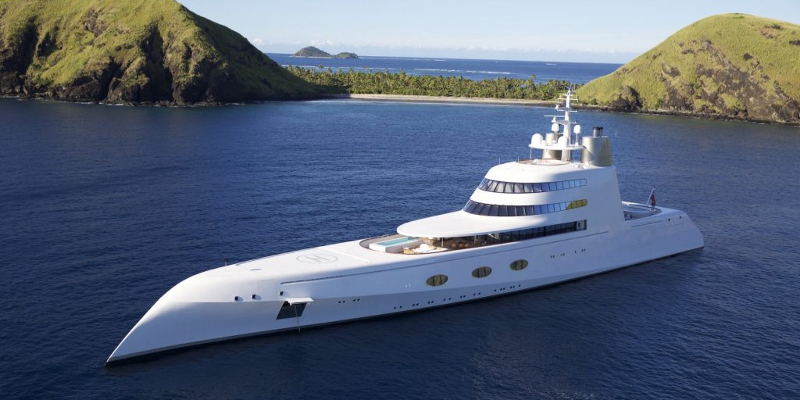 Area-wise, it boasts around 24,000 square feet of living space, with ample accommodations for 14 guests and 42 crew. Three swimming pools, a helipad, mirrored discotheque and dedicated wellness area are provided for the comfort and relaxation of those aboard.
Access to the all-white 2,500-square foot master suite requires a fingerprint. Once inside, a rotating king provides perfect views through the curved panoramic windows and of the retractable plasma TV.
If this all sounds good to you and you happen to have a few hundred million bucks lying around, good news: Melnichenko put the barge up for sale in April. Why? To get a bigger boat, of course. In this case, the world's largest sailing yacht, with a length of almost 500 feet and masts over 300 feet tall.
Not surprisingly, Melnichenko is known by some as the "King of Bling." And based on what we've seen, we tend to believe them.
h/t: alux.com, Daily Mail